'World's Best Restaurant' Mirazur Comes to Mumbai, Chef Mauro Colagreco Recreates Bespoke Dining Experience
Mirazur, located in Menton in France, was voted as 2019's World's Best Restaurant and has earned three Michelin stars—the culinary world's highest honour.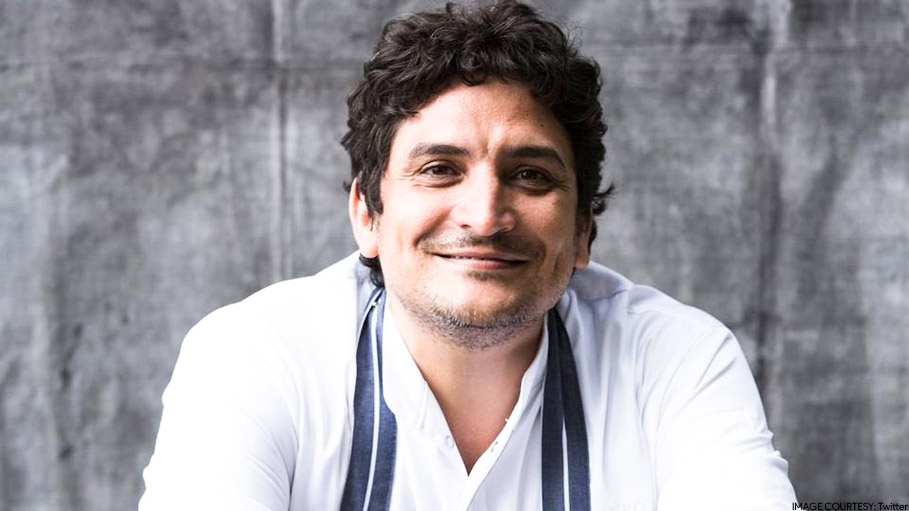 Masters of Marriott in association with Culinary Culture, India's largest food platform, are set to host the most decadent culinary experience with Italian-Argentinian chef Mauro Colagreco from the acclaimed restaurant Mirazur, in the city of Mumbai.
Mirazur, located in Menton in France, was voted as 2019's World's Best Restaurant and has earned three Michelin stars—the culinary world's highest honour. Chef Mauro Colagreco will be recreating his award-winning restaurant Mirazur with two special dinners at The St. Regis Mumbai on March 6th and 7th respectively. The menu will comprise of a 9-course gastronomic experience featuring his signature dishes such as Fish Lotus, Goat Cheese Ravioli, and smoked eel and caviar tartlet amongst others. Colagreco will also debut a very exclusive dish inspired by India, he will use locally sourced ingredients and Indian cooking techniques in the making of this one.
Known as the world's greatest contemporary chef, Colagreco draws his inspiration from the beauty of land around him, growing his own vegetables and working with local producers to source ingredients; making every dish on the Mirazur menu sublime, with the original taste of the products captured in all their natural beauty. Colagreco will be accompanied by a team from Mirazur and will also take part in a special interaction hosted by Culinary Culture and Masters of Marriott, where he will be in conversation with distinguished food connoisseur Vir Sanghvi on March 6th, 2020.
Talking about the upcoming exclusive dining experience, Chef Mauro Colagreco said that he feels very honoured to be coming to Mumbai to cook. India has always been a very special destination for me: the diversity of its cuisine and products, the richness of its culture, the kindness of its people. He feels happy to be able to share my cuisine with such an exciting culture, he said.
Commenting on the association with Chef Mauro Colagreco, Neeraj Govil, Senior Vice President, Marriott International, South Asia, said that they are delighted to welcome the immensely talented and world-renowned, Chef Mauro Colagreco from Mirazur – 'The world's Best Restaurant' through Masters of Marriott, on his maiden visit to India. As a front runner in the F&B space, Masters of Marriott secures their expertise and prominence in the art of elevated dining experiences. This association marks the start to several exciting culinary and customer experiences they have planned for the year.
Talking about the event, Vir Sanghvi, Chairman, Culinary Culture said that culinary Culture is the biggest, most comprehensive venture launched in the food space in the history of India. It will cover everything from the world's best chefs to the superlative chaatwallahs of India. They welcome Mauro and the Mirazur team to Mumbai. And this is just the beginning! Stay tuned for further announcements, he said.
Both dinners will be interactive events allowing guests with plenty of opportunity to speak with the World's No. 1 chef. A limited number of seats will be open to Indian food lovers to attend this exclusive experience on March 7th.
With a huge focus on growing its F&B reputation in the country, Marriott International Inc. launched Masters of Marriott last year. This initiative allows Marriott's talented culinary experts to share kitchens with globally renowned chefs and provide guests and culinary enthusiasts with an array of enriching moments. The Masters of Marriott initiative has previously hosted legendary chefs such as Marco Pierre White, Heston Blumenthal and Julien Royer to India. After a successful collaboration with Mauro Colagreco for the fourth installment of Masters of Marriott, the brand will continue to host such exclusive experiences for its guests, including ticketed events, master classes and meet-and-greets with globally renowned culinary experts in the coming months. Marriott International looks at maintaining F&B as its driving focus, for the year.
Culinary Culture as a platform encompasses all aspects of the food space in India. Founded by Sameer Sain, Co- Founder of Everstone Group and veteran journalist Vir Sanghvi along with celebrated Indian Chef Gaggan Anand as company's mentor, the platform will rate restaurants in an objective, unbiased manner, recognise achievers in the industry and organise knowledge exchange sessions with globally acclaimed chefs. Besides recognising and rewarding India's best chefs and street food vendors it also organises global culinary exchanges, bringing the world's greatest chefs to cook in India and sending Indian chefs to cook at the best restaurants in the world. The platform has previously hosted events with the likes of Manish Mehrotra, Vineet Bhatia, Asma Khan, Rohit Ghai and Three Michelin starred Chef Dani Garcia from Spain.
Get our hottest stories delivered to your inbox.
Sign up for Scrabbl Newsletters to get personalized updates on top stories and viral hits.