11 year Old Naomi Wadler Inspires the World and Galvanizes the March for Our Lives Movement
Naomi Wadler is the 11 year old girl from Virginia who galvanized the movement "March for our lives" in Washington, DC.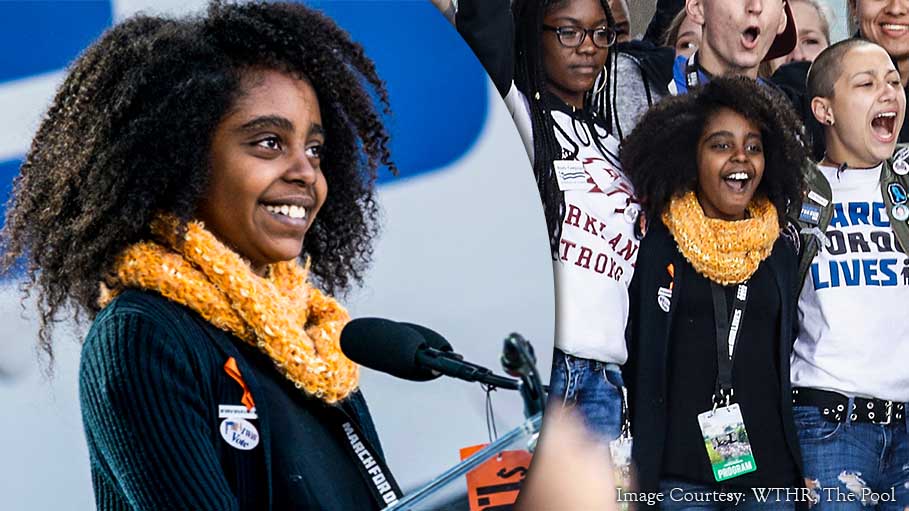 Naomi Wadler is the 11 year old girl from Virginia who galvanized the movement "March for our lives" in Washington, DC.
This elementary student spoke on issues which adults shy away from. She spoke with composure and eloquence bringing to light the fact that black women are the ones who suffer the most from gun violence and there is no one to speak about it. She took not more than three minutes thirty seconds to motivate people to join the movement. Her main aim was to represent the African-American girls whose stories do not make headlines and are lost into oblivion. She mentioned Courtlin Arrington, a seventeen year old kid whose killing did not make headlines. Naomi said people should value the lives of black girls too. She was of the opinion that black girls and women are not represented appropriately as victims of gun violence. Her hard hitting words surely drove home a few embarrassing truths. She stated, "We might still be 11, we might still be in elementary school, but we know that life isn't equal for everyone," said Wadler. "We also know that we stand in the shadow of the Capitol, and we know that we have seven short years until we too have the right to vote."
A few of her critics were of the opinion that she was merely the voice behind an adult's thoughts but she countered her critics by saying, "That isn't true." She urged everyone who were listening to her to join her in telling the stories of colored girls and women that largely get ignored and are forgotten and blown away in the winds of time.
Naomi even managed to get the attention of reality TV star, Kim Kardashian who was moved by her speech and re-tweeted it. Kim Kardashian has three kids with African-American singer, Kanye West.
It was not only Naomi who stole the show. There were many more kids younger to her who helped stir the crowd. Granddaughter of Martin Luther King Jr, Yolanda Renee King shouted the lines,"Spread the word. Have you heard? All across the nation. We, are going to be, a great generation." Quoting her grandfather she said, "My grandfather had a dream that his four little children would not be judged by the color of their skin, but by the content of their character. I have a dream that enough is enough! And that this should be a gun-free world, period."
Christopher Underwood, 11, lost his fourteen year old brother who was shot dead in the corner street of Brooklyn, New York. His words were very deep and meaningful. He said,
"Senseless gun violence took away my childhood and nothing in my life was ever the same because I no longer have my best friend." He also mentioned what he would like doing instead of worrying about dying. In his words, "For me, I would like to not worry about dying, and focus on math and science and playing basketball with my friends,".
The Parkland shooting survivors were also present. One stood silent on stage for the length of time the shooting took place. There was Paul McCartney who spoke about his friend John Lennon's death.
Mya Middleton, a sixteen year spoke about her ordeal in a store where a customer pulled a gun on her and said, "If you say anything, I will find you." Yet she was there speaking about it. She said, "Join me in sharing my pain and my anger."

Get our hottest stories delivered to your inbox.
Sign up for Scrabbl Newsletters to get personalized updates on top stories and viral hits.