112 Years Old Japanese Recognised as the Oldest Living Man on Earth
Japan's Masazo Nonaka is officially awarded the title of Oldest Person Living (Male) by Guinness Book of World Records at the age of 112 years and 259 days.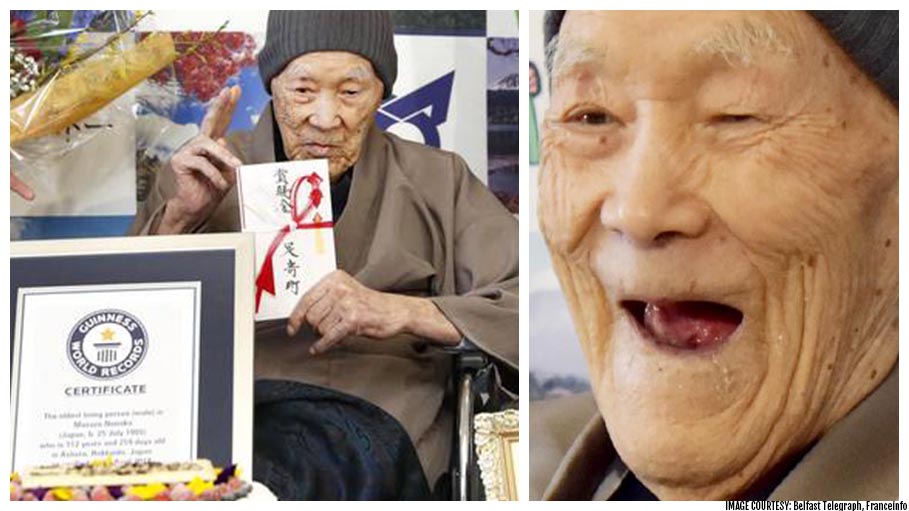 Japan's Masazo Nonaka is officially awarded the title of Oldest Person Living (Male) by Guinness Book of World Records at the age of 112 years and 259 days. The award was presented by Guinness World Records Vice President in Japan, Erika Ogawa, who personally went to meet Masazo Nonaka at his hometown in Ashoro in Japan, which is on the island of Hokkaido to present him the certificate for holding the world famous record.
It was decided, to confer the award to Masazo Nonaka after the death of last surviving oldest man on earth Francisco Nunez Olivera. Olivera is from Spain and has died in the month of January at the age of 113.
Francisco Nunez Olivera was born on 13 December 1904 and spent most of his lifetime working as a farmer. He led a very active life and enjoyed going for walks around his village of Bienvenida in Badajoz and was able to do so till he was 107 years old.
While Masazo Nonaka was born on 25 July 1905, just over a year before the Wright Brothers earn the distinction of inventing the First power driven flight and just a few months before Albert Einstein published his theory of relativity.
Masazo Nonaka has six brothers and one sister and his large family grew larger after he married his wife Hatsuno in 1931 and they both have five children. He has been a very colorful and adventurous man all through his life as a farmer. Now he spends most of his time watching TV, in particular he loves watching Sumo wrestling. He loves reading Newspapers and keeps himself updated. Apart from this his fondness lies in sweets and cakes. The organisers therefore make it a point that while conferring the award and record certificate, his favourite cake was there too.
He loves to spend most of his time with his family at home. Masazo is really fond of his pets and spends quality time with two of his pet cats Kuro and Haru.
And yes he believes his longevity to his habits of soaking in hot springs and eating sweets. But his daughter has a different take on this, she says it is because he loves to live his life without stress. She says, if he doesn't want something, he will ensure that everyone knows about it, she says.
Masazo's longevity record was confirmed following an extensive research and review by a team led by Robert Young, who is a Senior Consultant with Guinness World Records and also a co director with Gerontology Research Group.
The record of the oldest person ever (male) was also by a Japanese. Jiroemon Kimura who was born on 19 April 1897 and died on 12 June 2013 lived for 116 years 54 days. Jiroemon was four years older than Masazo.
While, the record for the oldest person ever is held by Jeanne Louise Calment of France. Jeanne Louise Calment lived for 122 years 164 days, between 1875-1997.
At present Guinness World Records is searching for the title holders for the oldest person living (female), as no one has claimed this title since the passing away of 117-year-old Violet Brown (Jamaica) in the year 2017.
Get our hottest stories delivered to your inbox.
Sign up for Scrabbl Newsletters to get personalized updates on top stories and viral hits.