2018 Content Marketing Trend – A Sneak Peek
In 2018, content marketing strategy will go through a lot of changes. This is why, you need to know what the experts are saying about the upcoming trends.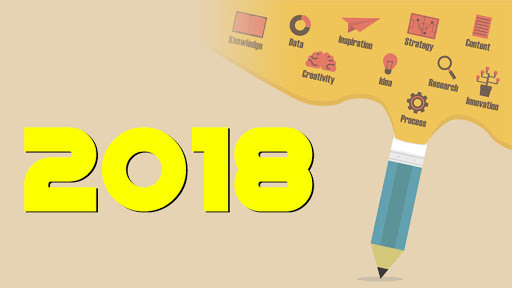 According to the digital marketing experts, content marketing strategy has become more important than before. After a detailed comparison of the data which the experts have produced, it is clear that with time, content marketing strategy is transforming. Some factors play significant role in making the content marketing strategy a success. Content quality, content development strategy and also content targeting are the elements which the experts opt for when developing their content strategy.
However, keeping the rapid change in mind, the experts predict that the strategy which had yielded success in 2017, might not be enough to make a difference in 2018.
To come up with a success formula, you need to be able to foresee the changes which the upcoming year will bring forth. Also, you need to anticipate the transformation in people's behavior which usually occurs due to technical changes.
After research, we have come up with some trends which every marketer needs to be aware of in 2018.
Changes in Approach
If you explore 2017's report and analyze the transformation, you will find that there has been a great change in content publishing. The new age marketers don't keep publishing content for the sake publishing only. They all are making a subtle approach.
A team of content writers helps, but, only a team of writers will not yield the desired success in 2018 any longer. You need a wider approach. You need better strategy. In addition, diverse range of talent will help in strategizing better as well.
In 2018, process will be given as much importance as quality content. Being able to match the demand of the people is important and you need to focus on that. The marketers will focus more on the process to find simple concepts for better engagement.
Content marketing is evolving from just blogging and article writing. The content strategy will expand in several segments in the coming year. The video production is about to become very significant in the coming year. Graphic designing will also grow to be significant in 2018. The experts encourage marketers to pay attention to the analytics reports and metrics. These will be the front runners in the years to come.
Targeted Approach
With time the technology has changed. Now, the readers have more options to read contents. They are not restricted inside the screen of a computer. This is why, the experts focus on more target based contents. The fact is people can access filtered contents anytime they want. This is why, you should pay attention to the industry specific contents if you want better engagement and more share. Similarly, time and platform also play a great role in this.
Transparency will Rule
If you look properly, you are sure to find that the digital world is flooding with advertisements. Brands are competing with each other to be seen and heard. In this scenario most of the brands are making false promises. Web visitors are tired of this.
This is the sole reason, experts are encouraging brands to be a little more transparent in their approach. Wanting to be able to seen or heard is not a sin. However, people just want some honesty now. As a brand you need to have a giving attitude, say the experts.
Your content must offer in-depth information and right analytics reports. This is one of the ways to give the readers something to look forward to. One thing the marketers need to be concerned about is the growth of influencers. In the years to come, the influence of the influencers will increase. This is why false promises are becoming more and more difficult to make.
Now, is the time to focus on building healthy relationship with the customers. Additionally, it is important that you make an effort to gain trust of the people. To do this, you need to assure you readers that the content you create offers required transparency.
Content is Going to be the Energy Drink
You heard that content is the king. However, in 2018, content going to be the only ruler of the digital marketing world. Marketers foresee a trend where the promotional tactics will require content for better engagement and higher reach. You need to be aware of the key marketing strategies which marketers usually adhere to. The most common marketing strategies are social media posting, ebook promotion, visual media promotion, infographic promotion and other tactics like these.
With time content marketing will get more importance because now, even for paid ads, you would need quality content.
In 2018, you would have to move your customers with the created contents. However, for better engagement in 2018, you need to change your content approach. Now, is the time to write on more diverse range of topics and be more focused on the approach.
Better Documentation
With time the content marketing strategy has become more organized than the past. Developing strategy properly has become more important. If the current trend is to be followed, you need to invest more time on developing the strategy. Additionally, you would have to spend more time on content development. It is important that you offer only the best quality content which you can afford.
With the New Year knocking on the door, it is time to have a clear concept of what you want and where you want to go. Your performance in the past will help you create the road map for the future.
This is why, you must document your approach and keep reviewing each step that you take towards your goal. This will enable you to acquire better engagement in 2018.
Lastly, what had been considered no effective in 2017, now will move to the front seat. Live videos are making their way ahead. In 2018, live videos will take over the market. If you are not familiar with video marketing, now is the time to get started. Learn the pros and cons of live video promotion. This will help you develop better content strategy in the New Year.
Get our hottest stories delivered to your inbox.
Sign up for Scrabbl Newsletters to get personalized updates on top stories and viral hits.