2018 Content Promotion Strategies That WORK
If a blog post lands on your website, but no one is around to read it, does it really make a sound? The answer: NO. You've got to make the noise.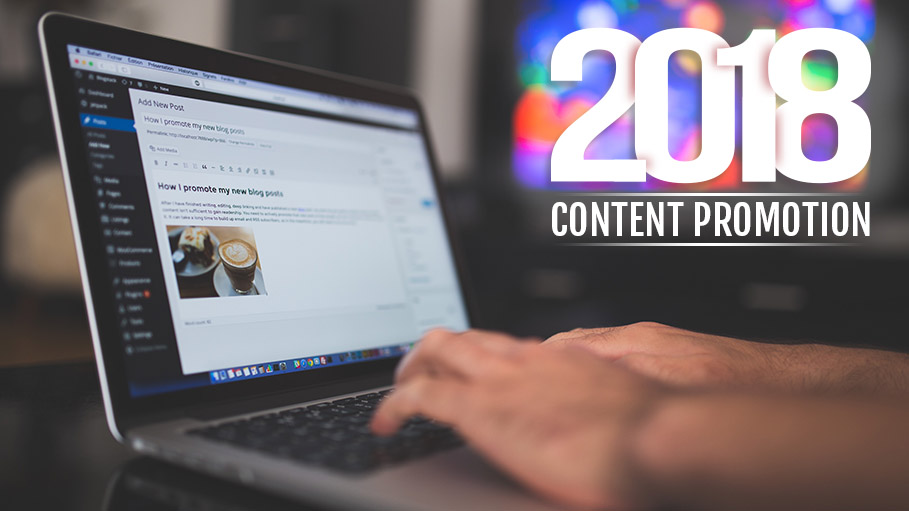 You can do months of content research. You can uncover tons of keywords. You can craft a 5,000-word masterpiece. But without content promotion strategies that work, it's all useless.
You won't appear on the first page of Google. Your post won't go viral. And you won't generate more leads.
You need to dedicate much more time to get the word out there. You may have already Googled how to promote your content. But with hundreds of different methods available, which ones should you trust?
Some may have worked in the past, but you need to know which ones are effective now. Let's take a look at four great content promotion strategies that work in 2018.
1. Think Long-Term
Every content creator will tell you how crowded the market is. Thousands of companies are throwing out blog posts, hoping to catch a juicy client. Unfortunately, a huge drop in traffic coming from socials has made the overcrowding issue worse.
A comprehensive study from BuzzSumo revealed social sharing of content halved since 2015. No longer will a blog post go viral overnight. Google sites now drive twice as many referrals to publishers, the study said.
More people are using long-term organic traffic from search engines as their solution. Evergreen content is far more sustainable for your businesses.
But, measure success after months (if not years).
The first thing you should do is get your editorial schedule in order. Start planning your content for the next six months to a year, rather than from week to week. Ask yourself: "Is this piece of content still going to be relevant in 365 days?"
If the answer is yes, then you've got a topic worth pushing. Next, you will need to promote your piece. Again, think long-term. One social media post will not be enough. You're going to need regular promotions over weeks and months. It may seem like a daunting task now, but it will pay off in the end.
2. Dive Into the Archive
Remember all those old blog posts you crafted but left untouched since? They could be part of a great new content promotion strategy.
That's because old articles may still be driving traffic to your site. But when the user clicks on, they see the content is old and leave. By bringing your post into 2018, your audience will be able to find the answers to their questions.
To do this, head to your analytics and search for any old pieces of content that are still driving traffic. Give them a thorough read and think about any updates you could make.
There may be some out-of-date information. You could bring in tips you've picked up since writing the original post. Or, you could repurpose the article, using only the bits that are still relevant. Whatever you do, make sure that the updated article has added value.
Once you've completed your changes you need to let your audience know about them. Adding the word UPDATED to the headline is pretty crude but effective way to do that. You could also re-promote them through socials or your email newsletters.
3. Build Relationships
It's an adage as old as business itself, but it's not what you know, it's who you know. Building relationships with industry influencers is a fantastic way to promote your content. That's because:
It's a quick way to pick up more citations

You'll receive more links to your articles

Your name will be mentioned in the right circles

Others may quote you in their blog posts
It should be your goal to build your personal brand as big as possible. But how do you do that? The first thing you need to do is identify the people you want to associate with. Earmark 100 influencers or content creators you admire.
Get their details: name, email, blog URL and social media profiles. Then start connecting.
Comment on their blog posts

Share their pieces

Like their social media posts

Thank them in an email for a great hint they passed on
Another great way to build rapport is to offer something to them — don't take straight away. You may have an idea they could use. You might have a connection they might need.
Whatever you can offer, do it.
It will take a while but after a few months you will have built yourself a small network of influencers. Once you've done that you'll start to see the benefits. Influencers will start linking to your site. Blog writers will start quoting you. And, best of all, their followers will start paying attention to your content.
4. Scout the Competition
Great content promoters always know what their competition is doing. They religiously read their blog posts. They stay up-to-date with their socials. And they can guess their rivals' next moves.
Questions to ask yourself include:
What are they currently pushing?

What is working for them and why?

What didn't work for them and why?
Answering these questions will give you a great insight into what your own blog should cover. Luckily, there are tools out there to make this job easier. BuzzSumo, for example, can tell you which influencers are smashing it in your industry.
It tells you which writers have trending articles, and how many social media engagements the piece has. The other benefit of competitor analysis is giving you a bar to aim for.
-- If a close rival is getting 1,000 more shares a month than you, you've got a target.
-- If they get mentioned in an industry-leading website, you know who to contact.
-- If they published a good topical guide, you'll publish a phenomenal one.
It's about providing more useful information than the people around you. The more value you add, the more results you'll see from any of the above content promotion strategies.
Get our hottest stories delivered to your inbox.
Sign up for Scrabbl Newsletters to get personalized updates on top stories and viral hits.