Alena Wedderburn Paints Rihanna On Her Body Using Fenty Beauty Products And The Results Are Amazing
Alena who is only 23 years old uses makeup (preferably Fenty Beauty products) to paint Rihanna on her own body and the results are unbelievable.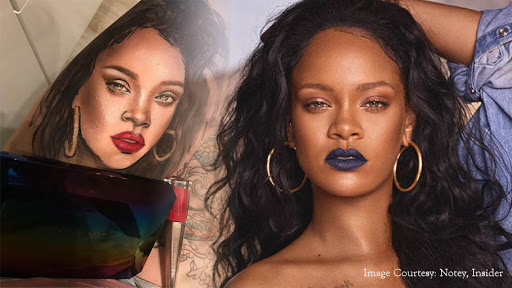 'Pop icon' Rihanna recently launched her makeup line called "Fenty Beauty" that was created to cater to the taste of women belonging to all shades and personalities. The array of beauty products are so attractive that it would make anyone who is fond of make-up, fall in love with them instantaneously. Fans are already going crazy over the newly released cosmetic range and one such fan is Alena Wedderburn. She is a Prague based tattoo artist and she can't get enough of Rihanna. You'll be surprised by the way she uses these makeup products. Alena who is only 23 years old uses makeup (preferably Fenty Beauty products) to paint Rihanna on her own body and the results are unbelievable. You can have a close look at her art by visiting her Instagram account @kiss_my_airs which is completely filled with her inspiring creations.
Alena Wedderburn's journey towards "Makeup portraits"
Most of Alena's paintings that are created by the use of makeup look extremely real and dapper. Alena believes that if she's using "Fenty Beauty" products to paint the icon, then the makeup is certainly not going to waste. Having said that, she can use any medium to paint Rihanna, it could be acrylic paint or watercolor.
Thisisinsider.com
Initially, Alena created these portraits using the products she already had at home. This was way before the Fenty products were launched. One specific Rihanna portrait inspired by the Sledgehammer music video got a lot of appreciation from her friends and followers. Her friends encouraged Alena to continue creating her beautiful portraits. Way before using makeup as a medium, Alena used to create fashion doll drawings that were made from graphite pencil, oil paints, acrylics, watercolors and so on. The journey continued till she became an expert in "Makeup Portraits."
Meeting the 'Pop icon'
Alena Wedderburn (Twitter)
Alena first met Rihanna backstage at her Diamonds World Tour. "It was an experience of a lifetime for me", she says. She stated that Rihanna is unbelievably humble and down to earth. Following the meeting, Rihanna followed Alena on social media since 2013. The 'Pop Icon' praised Alena for her talents and that paved the path for Alena to continue with her "Makeup Portrait" journey. When the Fenty Beauty products were finally launched, Alena's husband got her some of the products as a Christmas gift. It's no surprise that her artwork has grabbed the attention of "Fenty Beauty." They have shared her story on their Instagram account and her painting video views have skyrocketed to over 2 million views and over 1000 comments. Alena has taken her makeup skills to new heights as "Makeup Portraits" is something completely unheard of. Her talent has given rise to a new form of art that is as expressive as painting.
Now, Alena aims to acquire the new Mattemoiselle Lipsticks (Fenty Beauty products) to mesmerize her followers with upcoming "Makeup Portraits." The Fenty Beauty products are available in a wide range of colors and shades. To top it all, the names of the products are truly unique. To add a touch of humor to the collection, one such lipstick is named "PMS". The basic idea of creating the makeup range is to inspire women of all shades and cultures to play and experiment with makeup. Rihanna says "Makeup is there for you to have fun with. It should never feel like pressure. It should never feel like a uniform. Feel free to take chances, and take risks, and dare to do something new or different." And Alena is exactly following her footsteps. She's playing with makeup and in the process creating mesmerizing art.
Get our hottest stories delivered to your inbox.
Sign up for Scrabbl Newsletters to get personalized updates on top stories and viral hits.