Apple Inc. has Aggressive Plans for iPhone X - Is the Ultra Premium Pricey Handset a Success in the US Market?
Apple's ultra-premium product, the new iPhone X (pronounced iPhone 10), is chock-o-block with high-end features like Face Recognition, Sharpest Display ever in an iPhone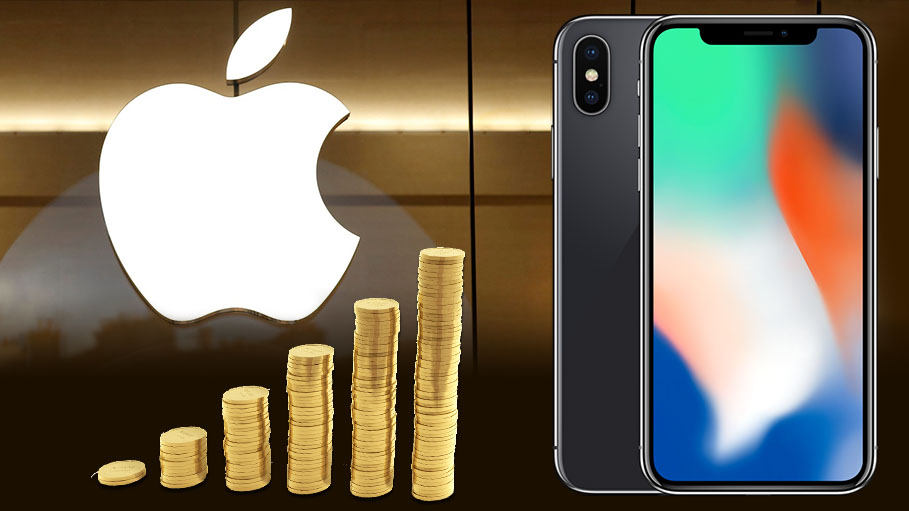 Apple's ultra-premium product, the new iPhone X (pronounced iPhone 10), is chock-o-block with high-end features like Face Recognition, Sharpest Display ever in an iPhone, OLED Screen, Wireless Charging, Powerful Camera, Animoji and many more. Pre-orders for the iPhone X began on 27 October, before it started shipping on 3 November. Apple is selling 64GB and 256GB versions of the iPhone X for $999 and $1,149, respectively. The future of iPhone X depends a lot on Apple's Q4 2017 report, scheduled for February 1, Thursday. There is lot of speculation about this report as it is one of the most anxiously anticipated reports of this earnings season.
The debut quarter for the expensive iPhone X will be closely scrutinized by investors looking for an insight into Apple's prospects in 2018. The success or failure of this pricey phone for the elite, will determine Apple's iPhone strategy going forward.
Note - Read my story on Top Trending Smartphone Features in 2018, in case you have missed.

Soft Demand for iPhone Components
Over the last few weeks, investors have already been unnerved by a steady stream of anonymously-sourced news reports suggesting soft demand for the components that are used in manufacturing of the new iPhone. According to research report of GBH analyst Dan Ives, Wall Street has gone into full panic mode as supply chain checks out of Asia indicate that March 2018 iPhone shipments are trending below expectations. While Ives believes Apple will notch strong and positive Q4 2017 results, driven by stronger-than-expected iPhone shipments and high average selling prices, Apple's guidance will be pivotal in driving the stock and influencing the investors.


Declining Apple Stock
Wall Street estimates currently forecast that Apple will generate approximately $68 billion in sales in the first three months of 2018 and ship about 62 million iPhone units. But with every news story about weakening demand for the iPhone X, fears are running rampant on the Street that Apple may guide significantly below expectations for this upcoming quarter.
So far those anxieties have pushed Apple's stock down about 5% from its recent high of $180 earlier this month. And given that Apple's stock is still trading near its 52-week high, there's plenty more room to fall if the company confirms people's fears with a weaker-than-expected quarter.

Apple maybe in a Hand Holding Period Strategizing Next Steps
Statistics suggest that Apple will miss Wall Street iPhone targets in the March quarter, with shipments between 57 million and 61 million, versus the 62 million average analyst estimate. Also the buying trend predicts a decline in 2018 iPhone estimate from 255 million units to 240 million units.
According to analysts, as many as 350 million iPhone customers could potentially upgrade to a new device over the next twelve to eighteen months. It is expected that three forthcoming iPhone models will be released in the next six to nine months, giving users more reasons to upgrade.
Is the iPhone X a hit in the United States?
As per records, none of the three new iPhones achieved the sales proportion in the Q4 2017 that either of Apple's prior flagship phones (iPhone 7 and iPhone 7 Plus) achieved in the Q4 2016. However, if we look at the combination of the iPhone 8 Plus, (which comes in at roughly the same price point as last year's iPhone 7 Plus) and the iPhone X, (which starts at a higher price point than where the iPhone 7 Plus topped out), we see that these two models combined surpassed the iPhone sales proportion of the iPhone 7 Plus last year.
From this angle, the iPhone X is a sure-shot hit for Apple, as it likely allowed for a year on year increase in iPhone average selling prices in the United States.
I have been reviewing plenty of smartphones over the past few years and this is a unique piece. It is a glamorous, slick, powerful phone which works brilliantly and at excellent speed. Over the weeks I have been using it, this gadget has been magnificently efficient and extremely user friendly, matching reliable performance with superb extraordinary features and, of course, not to forget mentioning the breath-taking beautiful design. I often wonder whether this is the best smartphone I have ever used. Frankly speaking, there are plenty of other handsets that come close, like the Samsung Note 8, Google Pixel 2 and Pixel 2 XL for instance, but the iPhone X with no doubt, puts Apple indomitably ahead in the race, leaving its rivals way behind. It will be interesting to know more when Apple unravels its financial results on February 1, 2018.
Get our hottest stories delivered to your inbox.
Sign up for Scrabbl Newsletters to get personalized updates on top stories and viral hits.