Apple Set to Launch Three New Mac Products and an iPad this Year - Self Designed Graphical Processor Units and AI Chips
Apple is working on three new products this year in the Mac category and a new iPad as well.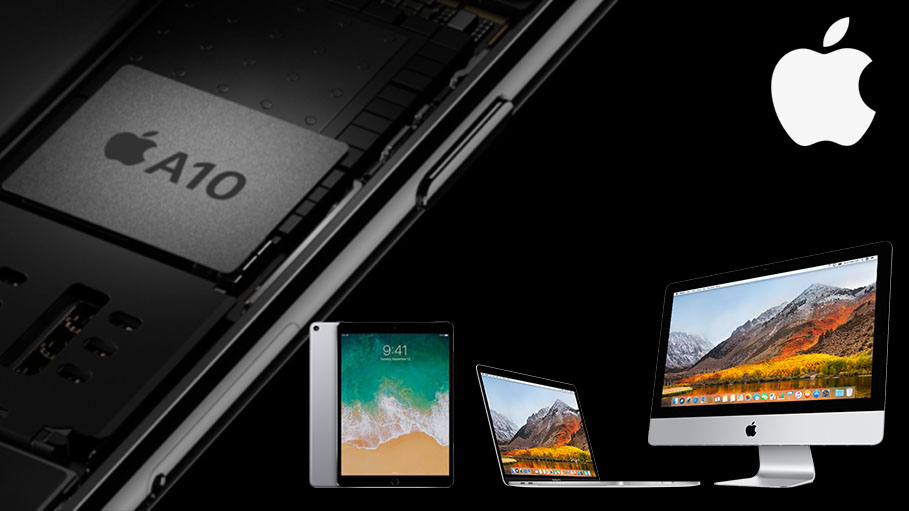 As reported by Mark Gurman of Bloomberg, Apple is working on three new products this year in the Mac category and a new iPad as well. The Mac models will include two new MacBooks and a new iMac. Apple is working on the architecture and development of its own custom modems and processors across devices. The Bloomberg report specifies that Apple's upcoming iPad will be powered by a new in-house designed graphics engine and AI (Artificial Intelligence) chip. In April 2017 Apple had already announced it was working on its own graphics processors. Apple products have been using PowerVR graphics processors till now, manufactured by Britain's Imagination Technologies, but the company declared plans that it would switch to its own GPUs in future products in fifteen months to two years time. Now the new report indicates, the Apple iPad scheduled for 2018 release, could be the first with Apple's own GPU (Graphic Processor Unit) chip.
Apple's Entry into the Chip World
The new Macs will have processors manufactured in-house. So far, the MacBook Pro (Touch Bar version) and iMac Pro have the custom Apple T1 and T2 Mac co-processors respectively. The company having developed chips in-house for its phones and tablets, recently came up with the new iMac Pro with a T2 processor that handles image processing for the desktop's FaceTime camera, as well as securing your storage and startup processes without taxing the main CPU. Prior to that, it added a chip to the 2016 MacBook Pro for powering the Touch Bar. The co-processors are used to control the Touch Bar on the MacBook Pro, while they handle power management and security on the iMac Pro.
According to the Bloomberg report, Apple is working on developing more of its own chips for its products. It could apparently challenge the existence of Intel and Qualcomm. It also points out how Apple's senior vice-president of hardware Johny Srouji has been poaching modem engineers from Qualcomm. Apple and Qualcomm are also in a legal battle in the US over licensing fees. The chipmaker is demanding that the US government ban Apple's iPhones and iPads being imported into the country over the payment of licensing fees.
Apple's Advantage in Building Custom Components
At present, Apple has custom SoCs (System-on-Chips) with co-processors piled on to accomplish tasks other than the current software and UI requirements that run its apps, like Touch ID for storing biometric data, and its Neural Engine for improving AI and machine learning apps. These co-processors are currently used in its iPhone lineup.
Probing deeper, developing custom components should give Apple a greater ability to control and improve performance in its machines, as well as differentiate its products from the rest of the competition by offering new cutting-edge features and functionalities. But the demand of the market is for Apple to go beyond innovations like better webcam performance and buttons on an LCD screen to make that happen. The company was rumored to be adding support for all-time-available Siri to its ultra-powerful iMac Pro, but it looks like that didn't work out at the moment.
Though Apple prefers not to divulge more details on the upcoming computers, analysts expect the company to eventually develop primary CPUs on its own, and drop Intel as a processor vendor. Meanwhile leaks have also claimed an Apple MacBook with a glass body and the glowing Apple logo might just launch this year. Developing its own chips makes Apple self-reliant and also allows the brand to exercise greater control when it comes to making quick modifications and adding new hardware enabled features. Considering the security loopholes created by CPU bugs Meltdown and Spectre, this could be a great strategic step for adding new feathers to Apple's success-hat.
Get our hottest stories delivered to your inbox.
Sign up for Scrabbl Newsletters to get personalized updates on top stories and viral hits.