As Covid-19 Cases Rise in Bangalore, No Lockdown in the City as of Now Says Government
There has been a steady rise in the number of coronavirus cases in the city of Bengaluru.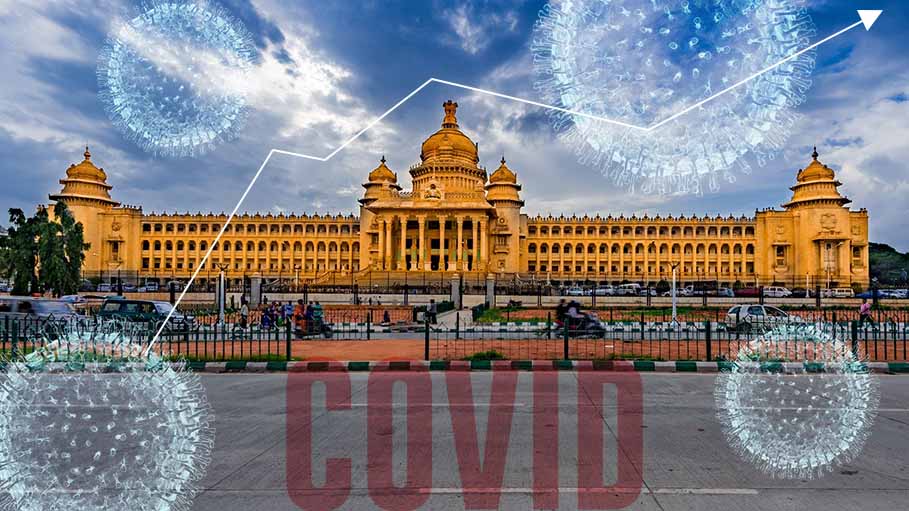 There has been a steady rise in the number of coronavirus cases in the city of Bengaluru. Keeping this in mind, the Karnataka government has banned all kinds of protests in the state for the next 15 days.
Chief Minister B S Yediyurappa has reviewed the Covid-19 situation in Bengaluru and other districts of Karnataka and has paid strict emphasis on no gatherings, no demonstrations or protests of any kind for a fortnight. He has urged the public to wear masks and maintain social distancing all the time as the number of cases rising in the city is alarming.
Health and Medical Education Minister Sudhakar said, "Karnataka is also seeing a steep surge. In 30 days, I can see almost 10 times more than in the initial days of March. We saw only 300 cases on March 1st, 2nd and 3rd. But by the end of March we are seeing almost 3,000 cases, predominantly in Bengaluru itself."
"We need to inhibit, regulate certain activities for sure. Any form of congregation whether religious or political should be discouraged irrespective of caste, creed, religion, politics - because this is the only way forward," he added.
He also affirmed that though the cases are on the increase the situation doesn't demand a lockdown as of now.
State government schools and colleges however have remained opened and have gone ahead with the offline exams from classes 1 to 9 as well as the board examinations. Though the health minister expressed his desire to close schools and colleges, education minister Suresh Kumar was quoted saying that those demanding online exams have limited knowledge of how government and BBMP schools are functioning however they will have another review on the final situation and take a final call after 2 to 3 days."
Regarding travelling it is mandatory for a RT-PCR Covid negative certificate for travellers only from Maharashtra and Kerala and not other states. "Considering business travellers coming from across the country a Covid-negative certificate has been mandated only for those coming from Kerala and Maharashtra. Visitors from other states need not secure a Covid-negative certificate if their trip is only for a couple of days of business travel", a CMO official said.
Karnataka reported 2,792 fresh cases on Monday. The number of active cases has increased to 23,849.
Get our hottest stories delivered to your inbox.
Sign up for Scrabbl Newsletters to get personalized updates on top stories and viral hits.