Beetle Bailey will Walk without Walker
Beetle Bailey, the comic strip character will continue bring smiles with its activities even after its creator Mort Walker passed away on 27th January 2018.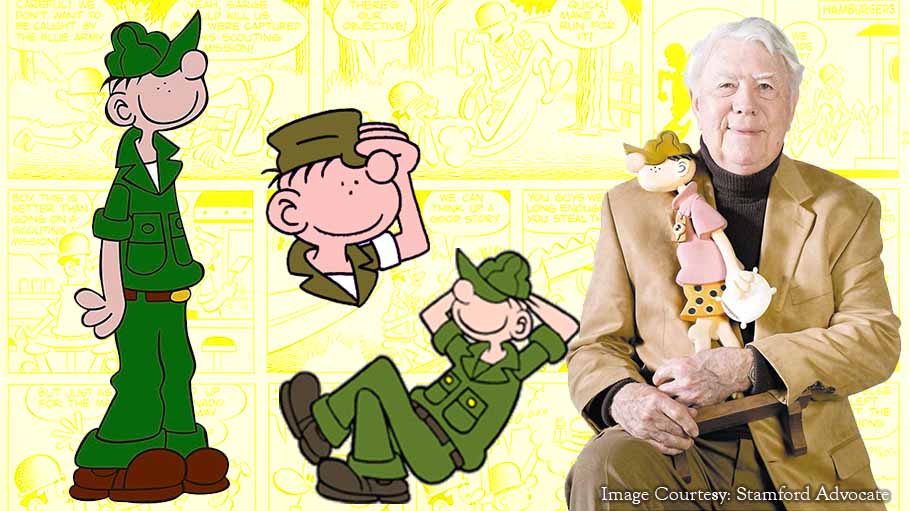 Beetle Bailey, the comic strip character will continue bring smiles with its activities even after its creator Mort Walker passed away on 27th January 2018. Mort Walker, the creator of Beetle Bailey, who is an army private and who always pretend to be ill or anything to escape work, through seven decades at Camp Swampy to the dismay of his commanding officers and to delight his fans in the armed forces and beyond.
Mort Walker's son Greg Walker, who co-wrote the strip with his father in his later years, confirmed Mort Walker's death at his home in Stamford, Connecticut because of pneumonia while recovering from a broken hip at the age of 94 years.
From a very early age of 11 years he started drawing cartoons and in later years he was involved with more than 6 comic strips in his career, including "Hi and Lois," ''Boner's Ark" and "Sam & Silo", but he found his greatest success drawing slacker Beetle Bailey.
In an interview to The Associated Press in the year 2000, Mort Walker admitted that at first the strip failed to attract readers and therefore King Features Syndicate through which his cartoons were distributed amongst the newspapers, thought to drop his creation after six months of its appearance. But again it worked after sometime and there was no looking back after that.
Walker drew his daily award-winning comic strip Beetle Bailey for 68 long years. "He was drawing up to the end, He holds the record. I don't think anyone will beat him," Greg Walker said. According to a statement released by King Features, which began its syndication of Beetle Bailey in 1950, Mort Walker had the longest tenure of any cartoonist on an original creation.
The character that was to become Beetle Bailey made his debut as Spider, a lanky student at Rockview University. The character tries to find out how to get his roommate to do all his work. The Saturday Evening Post published the cartoons in the late 1940s. Walker then changed Spider's name and launched "Beetle Bailey" appeared in Army uniform as a college humour strip in 1950, during the Korean War
Beetle Bailey, along with his foils Sgt Snorkle and Gen Halftrack, who are the inhabitants of the fictional Army Camp named Swampy are full of activities and pranks which brought smiles in people of all age group. The character is based on Mort Walker own experience of Army life during the World War II.
Mort Walker's "Beetle Bailey" went from a 12-newspaper run to eventually reaching 200 million readers in 1,800 newspapers worldwide according to King Features.
In the year 1954, the newspaper Stars and Stripes, which was published for the members of the armed forces banned Beetle Bailey from its Tokyo edition, thinking the activities of the cartoon character may inspire army man disrespect for their officers.
The ban, continuing for about a decade, as Walker recalled it, served only to boost the comic strip's profile, and it was eventually syndicated in some 1,800 newspapers around the world.
Along with Beetle Bailey, Mort Walker is also the co-creator of the long-running strip Hi and Lois, which is about a suburban American family, which continues even today. Hi and Lois is written and drawn by his sons Greg and Brian Walker and also artist Chance Browne.
Mort Walker on his 80th birthday said about his creation Beetle Bailey and humor in general, "Human frailty is what humor is all about. People like to see the foibles of mankind. And they relate to the little guy, the one on the bottom."
Addison Morton Walker was born on September 3, 1923, in El Dorado and grew up in Kansas City. His father was an architect and his mother worked as a newspaper illustrator. As a student in elementary school he drew for his student newspaper. In 1943 he was drafted into the U.S. Army, serving in Europe during World II. He continued sketching even after he joined the army in Italy, working in intelligence and later commanding a camp holding German prisoners of war. He was discharged as a first lieutenant, graduated from the University of Missouri-Columbia and pursued a career as a cartoonist in New York.
In the year 1974, Mort Walker founded the International Museum of Cartoon Art in Connecticut in order to honour and preserve the art of comics. It moved twice before closing in 2002 in Boca Raton, Florida. Walker then renamed it as the National Cartoon Museum and in the year 2005 announced his plans to relocate the centre to the Empire State Building in New York. But a year later, the deal to use that space for the centre fell through.
In the year 2000 Mort Walker was awarded with the US Army's highest civilian award, the Distinguished Civilian Service Award for his military service, his work and his contribution to a new military memorial.
As a tribute to the character and its creator, a life-size statue of Beetle Bailey, cast in bronze, stands outside the alumni center at the University of Missouri.
Greg Walker said that Beetle and his friends will go on in the funny pages as the legacy of his father will continue and alive with his characters. "He certainly was an icon, the last cartoonist of the golden age of comic strips," Greg Walker said on his Facebook page.
Get our hottest stories delivered to your inbox.
Sign up for Scrabbl Newsletters to get personalized updates on top stories and viral hits.