Christina Aguilera's Tribute at AMA 2017 - Hit or Miss? Find out!
Christina Aguilera gave a soulful tribute to Whitney Houston at the AMA 2017. But did Pink really find it cringe worthy? Here's what you need to know!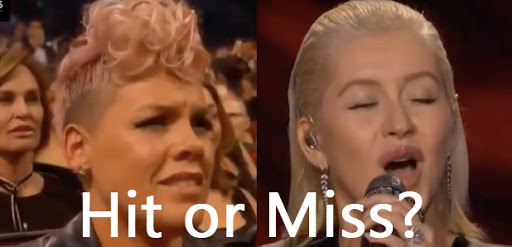 There are times when it's hard to decide that whether folks admire Aguilera's compositions more or her beauty. Well, if you open your web window you can just hardly miss fans talking about the singer's recent lip job or her appearance at events. But yes, this time it's surely far beyond her outlook on stage. And why not? It's Whitney Houston we are talking about, the American singing sensation of the 80s. Houston is one of the best-selling music artists of all-time, with 200 million records sold worldwide.
Aguilera's Tribute to Whitney - What's the Buzz?
Christina Aguilera, the Grammy award winner took the stage at the American Music Awards on Sunday night to pay tribute to Whitney Houston. The star performed a medley of Houston's hits from The Bodyguard, which marks its 25th anniversary this year. Viola Davis introduced Aguilera, noting the significance of the film's anniversary. "The movie has become iconic thanks to its soundtrack," Davis said. "What a voice Whitney had. What an artist."
What Inspired Aguilera?
One legend is an inspiration to many. And, Whitney Houston, the most awarded female actress-singer of all-time has been a true inspiration to Aguilera. "Thank you Whitney Houston for being the best inspiration ever!", cheered Christina Aguilera on this Sunday night, November 20 at the 2017 American Music Awards, following the medley of "The Bodyguard" soundtrack songs, the best-selling movie album of all time.
And What did Christina Aguilera Sing on Stage?
Aguilera sang snippets of smashes I Will Always Love You, I Have Nothing, Run To You, and I'm Every Woman, and while the first chunk of the performance started a bit flat the showcase gained steam near the end. A choir of "Every Woman" joined her — and seemed to finish strong.
So What Went Wrong?
Now if you think that everything went so smooth and things were in the right chords, then hold on! No! Many viewers immediately started talking about it on social media Sunday night to roast Aguilera for what some called a cringe-worthy performance.
Whoa! How Pink Reacted to Aguilera?
Lots of folks tweeted out a picture of Pink, who appeared to be cringing herself over the performance. Or she was just really into it (Nah! Her face doesn't look like that). Within moments the snap went viral on social media and fans just couldn't stop wondering what Pink really felt like! Cameras cut to fellow pop star Pink in the audience, her eyes locked on Christina, her expression — what? Pain? Concentration? Sadness? Horror? Who knows? Keep guessing fellas!
Still… No Worries Aguilera
No wonder, the internet and the Twitter is now flooded with mixed comments. And, Christina's fans are literally fumed seeing such reactions to her soulful tribute. Still, there are souls who never backed off praising the star performer's tribute. According to Whitney's sister-in-law, her performance at the 2017 AMA's was heartfelt, lovely and fabulous.
Once a star, always a star. And Christina has proved her merits over the years. No matter what, her fans will keep on loving her. Her tribute might not match the level of the original version, but her effort is surely commendable. 'We will always love you' Christina… you rock girl!
Get our hottest stories delivered to your inbox.
Sign up for Scrabbl Newsletters to get personalized updates on top stories and viral hits.