Daniels Denies Trump Affair Again
Stormy Daniels once again issued a statement denying her sexual relationship with Donald Trump in 2006.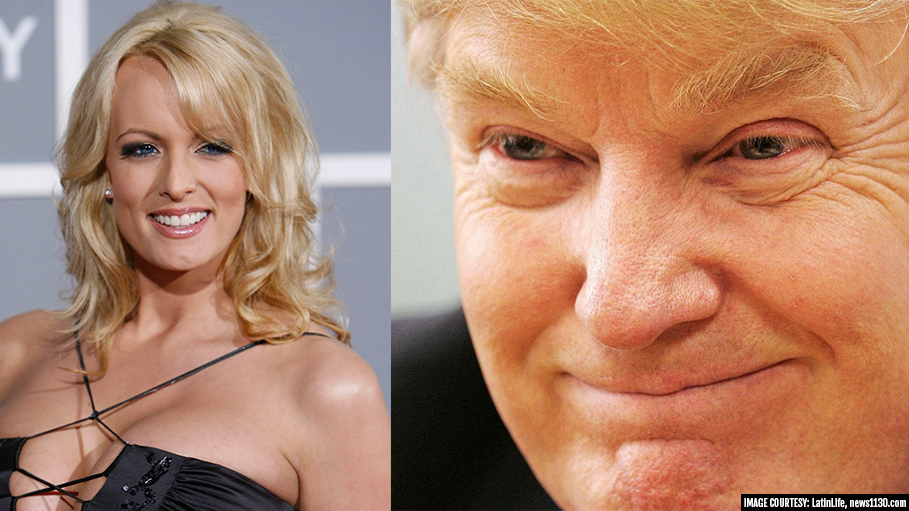 Stormy Daniels once again issued a statement denying her sexual relationship with Donald Trump in 2006. The adult film star was in news last month when a report on the Wall Street Journal surfaced with details, which showed Donald Trump through his longtime lawyer Michael Cohen paid her $130,000 for keeping her silent on the issue before the 2016 election.
Daniels whose real name is Stephanie Clifford wrote in a new and a brief statement this week. In which she expressed, that for past few weeks she has been asked number of times to comment on her alleged sexual relationship with Donald Trump many years ago. She continued that both of them of denied is existence time to time from 2006, 2011, 2016, 2017 and now again in 2018. She also said I am denying this affair again because it never happened and added, "no further comment" on the matter.
The alleged affair took place right in 2006. After which an interview of Stormy Daniels is published in In Touch, in 2011, where she has disclosed her alleged relationship with the Present President of United States of America.
She has also confessed during the alleged interview that she has met Donald Trump during a golf tournament in 2006 and afterwards the affair continued. The 38-year-old reportedly attempted to tell her story before in 2011 and again before the 2016 election.
Her new denial come hours before the real estate mogul and the President of United States of America is all set to give his State of the Union address. Daniels too is scheduled to appear on Jimmy Kimmel Live! after Trump's speech.
Apart from appearing on Jimmy Kimmel Live, Daniels can been seen co hosting with other anchors of The View on February 1, for the show's Hot Topics segment. Last week during an interview with Inside Edition, when she was asked about her sexual relationship with Trump, Daniels just smiled and didn't answer, but she did admit "it's common by looking at photos that I've met him."
Though Melania was seen always beside her husband, saying all the allegations against her husband are wrong. But after the alleged affair of her husband Donald Trump with Stormy Daniels was reported by the Wall Street Journal at the beginning of the year, it was revealed that Melania Trump spent multiple nights at a posh Washington DC hotel and away from the President.
Again, this time after Daniels, who has starred in movies such as 'Good Will Humping' and 'Operation Desert Stormy,' surfaced with a No Statement, First lady Melania Trump is poised to make her first public appearance after weeks riding by motorcade from the White House to the Capitol Hill, where she will attend her husband's State of the Union address.
All eyes and cameras will be on the first lady, who last week made an unexpected visit to Palm Beach, Florida after cancelling her planned trip with President Donald Trump to Davos, Switzerland, where the President held court at the World Economic Forum, an event the first lady is scheduled to attend.
On the other hand the first lady Melania Trump made a surprise visit to the Holocaust Memorial Museum in Washington before her departure for West Palm Beach. Prior to the museum visit, she had only been heard from on her social media channels this month. Her last post on social media is a message on January 20 to mark the one-year anniversary of the inauguration of the museum with a photograph from the day that did not include her husband, but a uniformed military escort.
Her communications director Stephanie Grisham cited "scheduling and logistical issues" for the cancellation and has not yet provided a reason for the trip to Florida.
After the issue involving Donald Trump and Stormy Daniels surfaced at the outset of the month and the year, the first glimpse of the first lady came when she boarded Air Force One to return to Washington from Florida, January 15, walking up the stairs to the aircraft in blustery wind and rain, behind her husband, who carried an umbrella, but did not offer it to his wife.
Though few days back, the couple marked 13 years of marriage with no public statements.
The first lady has had by many accounts a difficult start to 2018, facing news stories about a dalliance her husband allegedly had with porn star Stormy Daniels. The alleged affair between Trump and Daniels which allegedly took place in 2006 four months after the birth of couple's only son, Barron.
Get our hottest stories delivered to your inbox.
Sign up for Scrabbl Newsletters to get personalized updates on top stories and viral hits.