Donald Trump Paid Porn Star to be Silent
The President of United States, Donald Trump has paid $130,000 to a pornographic film actress in October 2016 to prevent her from going public with claims of a consensual sexual encounter with him.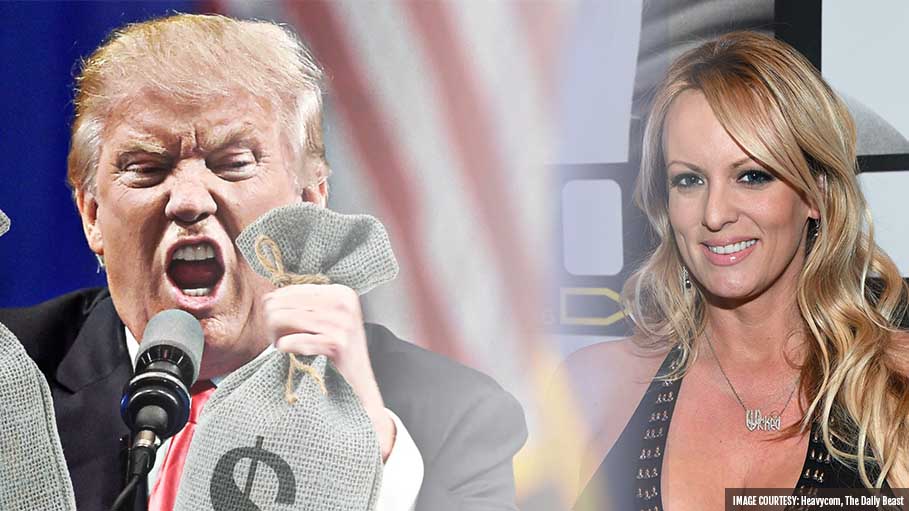 The President of United States, Donald Trump has paid $130,000 to a pornographic film actress in October 2016 to prevent her from going public with claims of a consensual sexual encounter with him. According to the reports the payment was done before the presidential election, as the actress, Stephanie Clifford, was discussing and planning to share her account with ABC's Good Morning America and the online magazine Slate.
According to Jacob Weisberg, Editor-in-chief of the Slate Group, in a series of interviews with 38 year old actress Stephanie Clifford in August and October 2016, she told him she had an affair with Trump after meeting him at a Golf tournament in 2006.
She also told Weisberg that a lawyer of Donald Trump, Michael D Cohen, had agreed to pay her the $130,000, during the presidential campaign if she kept the relationship secret. Weisberg also said that Stephanie Clifford had told him, she was planning to go public because the lawyer from Trump was late in making the payment as agreed and she was fearing he might back out of the agreement.
Michael Cohen, who often introduces himself Trump's "fix-it man" and was also a part of the investigation into Russian meddling in the 2016 election for his emails to Russian officials about a business project there, including a note to Vladimir Putin's spokesman.
Stephanie Clifford who is also known as Stormy Daniels has privately told during the interview by the Journal that she and Trump had a consensual sexual encounter in 2006, the year after he and Melenia Trump were married. Stephanie Clifford was 27 years old at the time of the alleged encounter in Lake Tahoe.
The interview continued in a text message exchange with Jacob Weisberg, Editor-in-chief of the Slate Group, who provided to The New York Times, where Weisberg says, he pressed her on details of the agreement. "Was the Trump lawyer Michael Cohen?" he asked. "Yep!" responded Stephanie Clifford. In continuance Clifford also forwarded Weisberg a draft of the original agreement where the both the parties were referred by pseudonyms against their name, which Weisberg with The New York Times.
According to the draft, Clifford was referred to as "Peggy Peterson" and was represented by a lawyer called Keith Davidson, while the agreement and negotiations were done between parties named as "David Dennison" and "David Delucia".
Few days after the text message exchange, Clifford stopped responding to Weisberg. Jacob Weisberg said that this conversation between him and actress was on record, but since he did not intent to write the story without her consent, so the story was on hold.
The White House also has declined to comment on the upcoming media reports about the payment, but an official said that the allegations of the interaction between Trump and Clifford were "old, recycled reports, which were published and strongly denied prior to the election."
On the other hand the alleged Lawyer, Michael D Cohen told in a statement that Trump has clearly denied the encounter, but at the same time did not comment on the alleged $130,00 payment. Michael D Cohen also said that this is for the second time now that the allegations were made against his client, Cohen said in the statement. "You have attempted to perpetuate this false narrative for over a year; a narrative that has been consistently denied by all parties since at least 2011."
Michael Cohen released the statement on 10th January, 2018 and was signed by Stephanie Clifford, denying the sexual encounter with Trump and saying that hush money rumors are "completely false." In the statement she also calls the article and media reports about her and Trump's relationship, "absolutely false". The statement, which according to the lawyer is of Clifford, reads, "My involvement with Donald Trump was limited to a few public appearances and nothing more. She says, When I met Donald Trump for the first time, he was professional, gracious and a complete gentleman to me and everyone in my presence. Rumors that I have received hush money from Donald Trump are complete lies. She also says, if she would have any relationship with Donald Trump, she would have preferred to write a book, rather going to the media. But the fact of the matter is these stories and reports in the media are not true".
Stephanie Clifford though did not comment directly and her lawyer also declined to comment on the matter.
Stephanie Clifford reportedly received the payment through her lawyer's client-trust account. If reports are to be believed the payments was made around the time when Trump made a comment about grabbing women "by the p----." Sources at ABC News told that Stephanie Clifford was in touch with the producers at ABC's popular show "Good Morning America" during 2016 about a potential interview and was prepared to discuss something about Donald Trump, but she backed out just days before the 2016 election. Stephanie Clifford, a native of Louisiana, also considered running against then-U.S. Sen. David Vitter (R) in 2010 but decided against it.
The allegation of Sexual harassments and assaults against Donald Trump surfaced from more than 10 women, during his election campaign in 2016 and again during the rise of the "Me Too" movement. Donald Trump though has repeatedly denied the allegations. But time and again resurfacing of old files, speaks volume though unspoken from confirmed quarters.
Get our hottest stories delivered to your inbox.
Sign up for Scrabbl Newsletters to get personalized updates on top stories and viral hits.