Emma Wren Gibson Is That Miraculous Baby, Born From An Embryo Frozen In 1992
Can you believe that babies can be formed from embryos that were frozen way back in the 90s? Here's the true and miraculous story of Emma Wren Gibson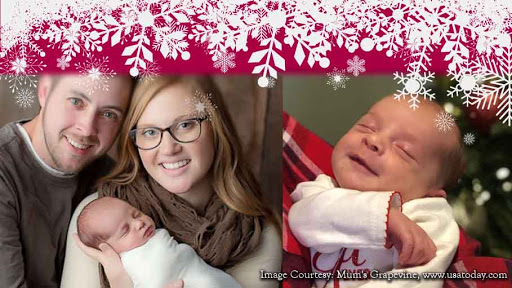 Can you believe that babies can be formed from embryos that were frozen way back in the 90s? Here's the true and miraculous story of Emma Wren Gibson who was born on November 25 astonishingly from an embryo that was frozen on October 14, 1992. That makes her 25 years old, almost as old as her new mother. The oldest frozen embryo that resulted in a healthy and beautiful baby Emma, beat the previous record holder who was 20 years old at the time of birth.
Parents react to the 'Frozen Miracle'
Embryology lab director at the National Embryo Donation Center, Carol Sommerfelt, thawed the miracle embryo of Emma on 13 March. Parents of Emma are totally shocked at this miracle. Tina Gibson, the new mother of Emma says that she was shocked to discover that she was carrying an egg that is roughly her own age.
Tina told CNN, "Do you realize I'm only 25? This embryo and I could have been best friends." Albeit, Tina doesn't care much about records. Holding her baby in her arms is what she desires the most. Even Emma's new father; Benjamin Gibson is pretty thrilled about her birth and he called her a "sweet miracle." He said "I think she looks pretty perfect to have been frozen all those years ago."
The National Embryo Donation Center
The parents who live in eastern Tennessee acquired the complete frozen embryo from the National Embryo Donation Center in Knoxville. It's a faith based organization that supplies frozen embryos to couples who desire to be parents. The organization which operates based on Christian faith has been successful in enabling 700 pregnancies which includes Tina Gibson's as well. The frozen embryos are otherwise called snow babies. When couples go through IVF treatment, sometimes embryos are left over. These embryos are frozen for later use. The National Embryo Donation Center encourages couples to donate these embryos that would be of great use to couples who desire to become parents. The embryos are only donated to couples who are married for at least three years. The National Embryo Donation Center is doing a wonderful job in fulfilling the wishes of couples who have a keen desire to become parents.
Tina and Benjamin are now proud parents and we wish that baby Emma grows to be a strong and a healthy child.
Get our hottest stories delivered to your inbox.
Sign up for Scrabbl Newsletters to get personalized updates on top stories and viral hits.