Facebook Trend 2018 - 24/7 Live Streaming for Business
Facebook 24 hours live video can give you a lot of leverages. You need to know how use the videos though. Here are some tips which you can use for your Facebook live streaming.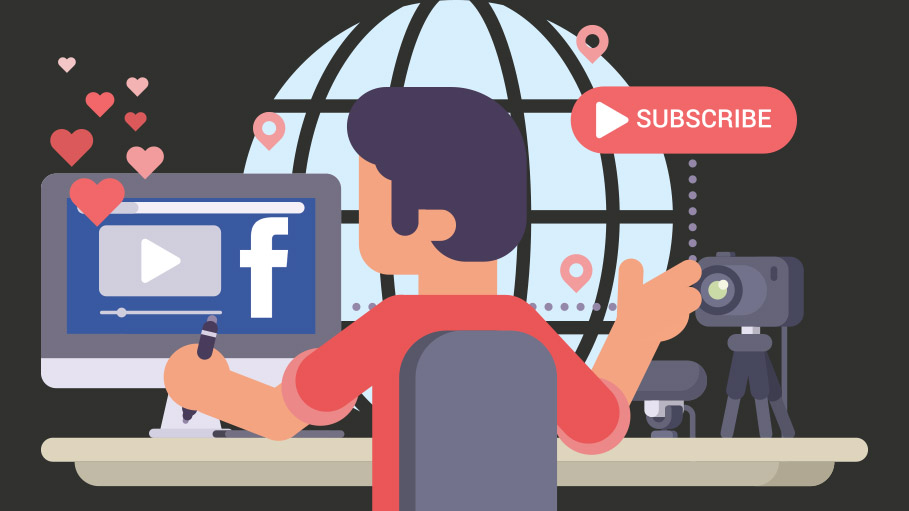 While exploring Facebook trend 2018, experts have tried and tested the power of Facebook's live video streaming. In the past the live streaming option has been restricted to 90 minutes only. However, now, the social media giant has made it possible to stream your video for 24 hours.
This feature can be used to engage the audience. In fact for the businesses that are used to uploading videos for their brand expansion, this will be a great opportunity.
Facebook has got unique vision for videos. In 2018, you would have to make videos part of your Facebook promotion strategy. Without videos, your social media promotion, especially Facebook promotion will be incomplete. The Facebook statistic reports suggest a great rise of the videos which can give your brand the desired promotional scoop.
Facebook has not only offered the chance to stream 24 hour live videos, the social media giant has updated the algorithm as well. Now, the live streaming would get additional boosts and higher feed.
So, now the question is – how can you use this opportunity for your own brand promotion? Yes, you can exploit the power of live videos for better engagement. But, you need to know that path before plunging into the depth.
What to Expect
Using the 24 hour live streaming, you can offer your potential customers a glimpse of what you are offering them. For example, if you are running a training institute, you can give them an in-depth tour of the class rooms. You can have the staffs talk about the classes. You can even have the trainers offer demo classes through live videos.
You can use the live streaming to announce upcoming events as well. The live streaming video of Facebook offers better chance to get creative with the videos.
Offering Video Customer Care
This is going to help your business get better engagement from the users. The live streaming offers you the chance to run an effective customer care service. This can be a 24/7 service for the customers. The effort can help you create a bond with your potential customers.
Instead of featuring a FAQ page in your website, you can offer live question-answer session. This will offer better engagement and higher brand loyalty.
Live Education
This is going to be a great opportunity for the trainers. Using Facebook's live streaming you can run an online course. However, those who are not into teaching profession can exploit the opportunity as well. They can very well offer educational course about their products.
Say, if you make mobile application, you can create a course for the users and educate them about the use of the product. If you are running a wellness blog, you can offer live course on meditation. This can offer you greater reach and earn you greater influence.
Convenience along with Transparency
Because the customers get an option to ask you questions when you are running the live Q&A session, you will be able to establish a transparent relationship with the customers. The live streaming offers a great opportunity for the small scale businesses or the start-ups. Now, you can accomplish great height with the help of the live streaming.
If you are running a vegetable store, you can have your customers order live by using the live streaming option. People will be pleased when they have the chance to select the order live.
For better transparency, you can give the customers a view of your kitchen as well. By doing this you can tell your customers that you offer when you promise.
Those who are into jewelry business can offer a live view of the product launch. Also, the painters can use the live streaming by offering an exhibition.
Project Status
The real estate industry can use the live streaming to get more customers for their project. They can cover the development of their project by using the live streaming. They can offer step by step view to the potential home buyers. They can talk to the buyers and answer their queries.
Better Media Attention
Ever thought how you are going to get media attention for your brand? Well, it is not easy and everyone knows that. However, you can use the live videos to get media attention for your brands. This can do the job of press release. It has been seen that when brands use live videos to announce a product launch or an event, they get better attention from the viewers and the media.
Live Event
This is another way of using live videos for your brand promotion. If you have an upcoming event, you will benefit from showing it live on the social media platform.
Earlier covering an entire event could have been a problem with the 90 minute restriction. Now, with the 24 hours live streaming option, you can comfortably cover an entire event.
Okay now that we have covered most of it, there are some facts to be aware of. While using live streaming, people usually end up with making some mistakes. You need to avoid them if you want to acquire success from Facebook live streaming.
Lack of Planning
This is one of the mistakes which the first timers make. You cannot just walk through it. You need to plan your live streaming. Without the right planning, you are bound go astray. So, take pen and paper out and jot down your live streaming plans right now.
Lack of Promotion
Though live streaming is a way of promoting products, you would have to promote your live videos to attract viewership.
Lack of Consistency
Well, if you have planned to upload live videos, you need to have a consistency plan. You need to go live regularly on the same time and day. Therefore, think twice before announcing anything. People will expect the videos to be there when they log in.
Lastly, this is an effective way of catching the attention in a classy way. This can give you a celebrity status if you use it well. However, you would have to use it well to make it work for you.
Get our hottest stories delivered to your inbox.
Sign up for Scrabbl Newsletters to get personalized updates on top stories and viral hits.