Horror Movie 'A Quiet Place' Tells Us That Silence is Scary
Movie-goers loved the newly released horror movie- 'A Quiet Place.' The silence in the movie is what makes it so unique and it gave movie-buffs a one-of-a-kind experience. Here's more on it.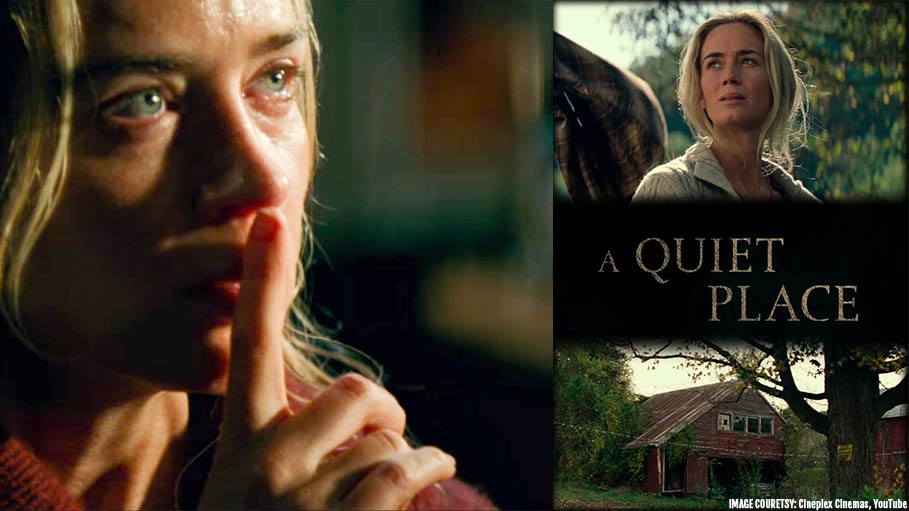 Movie-goers loved the newly released horror movie- 'A Quiet Place.' The silence in the movie is what makes it so unique and it gave movie-buffs a one-of-a-kind experience. Here's more on it.
The Plot
This unique horror movie is directed by John Krasinki and it also stars his real life wife Emily Blunt. A real life deaf actress has been chosen to play the role of the deaf daughter. The movie revolves around a family who live in silence and who communicate primarily through American Sign Language as they are hiding from creatures who hunt by sound. The family consists of husband Lee (John Krasinki), wife Evelyn (Emily Blunt), their deaf daughter Regan (Millicent Simmonds) and sons Marcus (Noah Jupe) and Beau (Cade Woodward).
Lee tells his son Beau not to use a Space Shuttle toy warning him that the noise emitted from it could attract the creatures. Lee's daughter Regan has pity on Beau and hands the toy back to him who puts the batteries back into it and uses the toy, unseen by the family. This attracts one of the creatures who ultimately slaughters the kid.
A year passes by and the family is seen living in the farm. Regan is unable to forgive herself even though her father convinces her that it's not her fault. This leads to tension between father and daughter. Meanwhile, Evelyn is pregnant and is in her final stages of pregnancy. The movie pays great emphasis to survival skills and the safety of children in the family. The parents are consumed to protect their kids as they are living in a highly unpredictable and threatening environment. How will Evelyn give birth without producing noise? How do these creatures look like? How will it be possible to raise healthy children by living in silence? Will the creatures finally hunt the Abbott family down?
Amazing response on social media
The film has already topped the US box office and on rotten tomatoes, the film holds an approval rating of 97% based on 193 reviews. The unique movie has acquired good reviews from critics who have defined it "smart, wickedly frightening, good time." John Krasinki is seen as a rising talent as a director.
This unusually silent movie has received amazing response on social media too:
"I swear..."A Quiet Place" was absolutely incredible!! If you want to experience the strain of not moving, eating or breathing in a theatre go see it!!! Beautiful storytelling!! Gut wrenching and horrifying!! Best horror film I've seen in Ages!!!" #AQuietPlace
"I'm annoying but !! If y'all haven't seen a quiet place you should go see it, it's an amazing movie and worth the time & money. If you like thriller/jump scare movies you'll definitely enjoy it, and it casted an actual deaf actress to play a deaf character which is important!!"
"When you're seated for a quiet place and someone sits next to you with a big thing of popcorn."
"Trying to eat popcorn during A Quiet Place was exhausting"
"I cannot stress enough that every bit of audio is important. From ambience, to dialogue, to the 'jumpscares'. It's perfect. It's amazing how they made SILENCE one of the scariest things."
Actress Millicent Simmonds, 14, who plays the deaf daughter has been appreciated for her excellent performance. The young actress also acted alongside Julianne Moore in drama Wonderstruck.
So, if you'd like to know what it is to watch a movie without sound, then 'A Quiet Place' is awaiting you.
Here's a glimpse of the movie:
Get our hottest stories delivered to your inbox.
Sign up for Scrabbl Newsletters to get personalized updates on top stories and viral hits.