India Records 174 Children Missing Every Day
Human trafficking, kidnapping and abduction cases in India is growing day by day.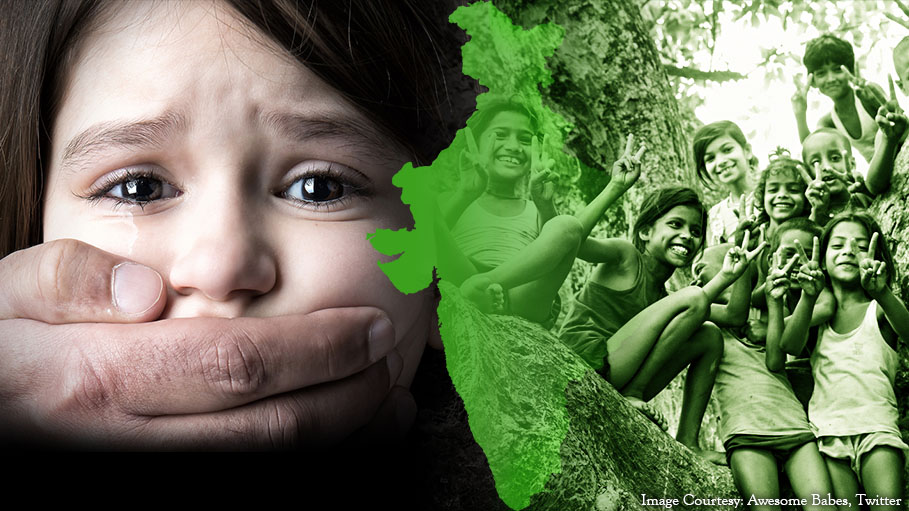 A phone call at the dead of the night is most of the time an indicator of bad news. The incident happened to the Aimol* family of Manipur, that changed their lives forever. Recently the family has celebrated when their daughter Julie* bagged a job opportunity abroad. An employment agency had taken her and seven other girls and the family was waiting to unfold many more good news to come from their daughter.
The family was not aware that the reality would be dark, dangerous and gloomy. On the pretext of the job, Julie and other girls were first taken to Myanmar, from there after forging their identity documents were supposed to be taken to Singapore. The girls then realized that they had no clue about their final destination. They were forced to lodge in a hotel in Yangon en route to Singapore. From where Julie managed to call home to inform about what had happened to her and other girls.
On the other hand in Churachandpur district of Manipur in India's Northeast, Julie's family was completely at a loss. They desperately contacted a member of Manipur Alliance for Child Rights (MACR), an organization working towards ensuring child rights in the state, the organization is supported by child rights organization CRY-Child Rights and You.
After the information came in immediate action was taken by the team, the local police department, the Special Investigation Team of the state police and with the immense cooperation from the Indian Embassy, the State Government, the External Affairs Ministry, and the Yangon police, the girls were rescued from Myanmar and six people were arrested.
Keisham Pradipkumar, member of Manipur Commission for Protection of Child Rights (MCPCR) talking about the incident said, "Manipur has become not only a source state for cross-border human trafficking, but also it is being used as an easy transit route. Children are soft and easy target, and it is definitely a burning issue for the state."
Meanwhile after being rescued Julie said, "I've got a second chance to live. Though I still get nightmares, I know I am lucky enough to be back with my family. Not everyone is as lucky as me. They go missing without a trace,".
Unfortunately, Julie is absolutely right. The data on missing children recently revealed by National Crime Records Bureau (NCRB) Report and cited by the Ministry of Home Affairs (MHA) in the Parliament (LS Q NO. 3928, 20-03-2018), more than one lakh children (1,11,569 in actual numbers) were reported to have gone missing till 2016, and 55,625 of them remained untraced till the end of the year. Simply put, that's 174 children that went missing everyday in India in 2016, and more worryingly, only half of them came back in the same time-period (MHA - 2016). To plot it on a scale of ten, five out of every ten missing children remained untraced till 2016.
Further analysis of the data released by Ministry of Home Affairs suggests that more than half of all missing children in the country are concentrated in just five states, namely West Bengal, Delhi, Maharashtra, Madhya Pradesh and Bihar. West Bengal tops the list with accounting for a whopping 15.13% of all missing children in the country in 2016, while Delhi UT closely follows with 13.14% during the same time. Maharashtra, Madhya Pradesh, and Bihar accounted for 10.8%, 8.9% and 5.2% of India's missing children respectively. Trafficking is the next largest form of trans-national illegal trade after arms and drugs.
Elaborating on the close linkage of missing children to organized crimes, Puja Marwaha, CEO, CRY-Child Rights and You said, "It is deeply disturbing that our children go missing and we can't bring them back home. The evidences on ground and numbers that indicate a large number of missing children are actually trafficked, kidnapped or abducted."
Presently, the Trafficking of Persons (Prevention, Protection, and Rehabilitation) Bill, 2018 is underway and the government initiatives like TrackChild, Operation Smile and Muskaan are trying to track detailed status of the missing children, one can be hopeful that the country will take meanwhile steps in addressing the issue of missing children seriously and for the good of all.
*Names have been changed to protect the identity of the child and her family.
Get our hottest stories delivered to your inbox.
Sign up for Scrabbl Newsletters to get personalized updates on top stories and viral hits.