Ireland Has Voted in Favor of Amending the Rigid Abortion Laws in the Country
Terminations will be allowed up to 12th week of pregnancy without restriction and in cases where there is a risk of life to the mother or in cases of fatal fetal abnormality.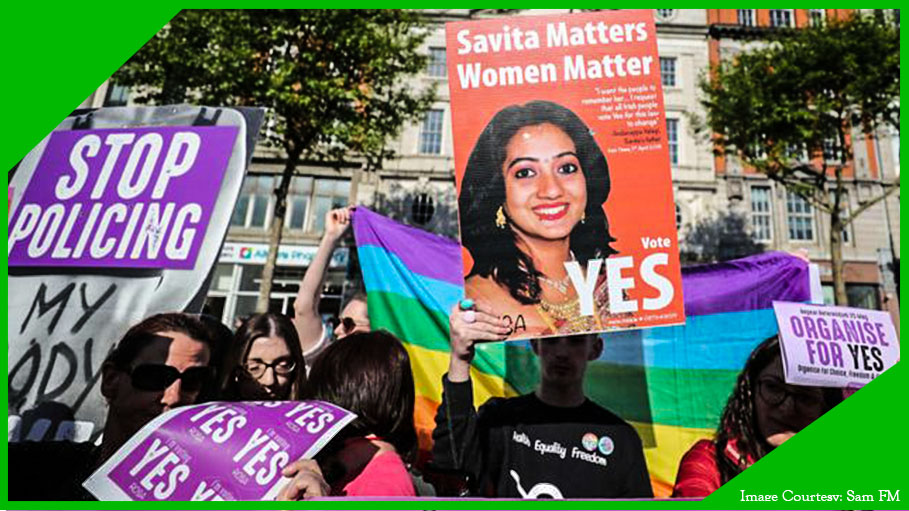 Ireland voted 'Yes' and in favor of amending the regressive abortion law in Ireland. A change that has been welcomed by the citizens and Savita Halappanavar's parents.
In a historic moment, two-thirds of the voters in Ireland have voted in favor of repealing the abortion law in Ireland. 66.4 voters had backed the repeal of the abortion law coercing voters to say "we made history." Irish Prime Minister- Leo Varadkar has declared the vote to be a "quiet revolution" and he hopes the new law will be passed by this year. As per new changes, terminations will be allowed up to 12th week of pregnancy without restriction and in cases where there is a risk of life to the mother or in cases of fatal fetal abnormality.
Savita Halappanavar's parents welcome the decision
Savita Halappanavar who worked as a dentist was admitted to University Hospital Galway in 2012 when she was 17 weeks pregnant with her first child. Though the fetal heartbeat couldn't be detected, medical staff did not agree to a termination despite repeated requests from Savita and her husband. A few days later doctors diagnosed infection as a result of rupture of membranes which later led to septic shock. This ultimately resulted in Savita's untimely death.
Inquiries suggest that Savita's death was unfortunate as the medics intervened too late, despite repeated requests by the family to act fast. Her death, however, had caused serious concern among the masses and the public woke up to the seriousness of the issue. Especially people from the Indian community were outraged. It was high time to reconsider the strict abortion laws of the country as it was posing a grave risk to the mother's life.
People remembering Savita
Savita Halappanavar's parents welcomed the decision and her parents expressed "Our daughter's soul is now consoled. It is a landslide opinion in favor of repeal of the abortion laws that have supported our cause," Savita's father Andanappa Yalagi told media. Savita's father however has one request. He told the Irish Times that he wants the new law to be called 'Savita's law'. He added the result also meant that justice has been served for his daughter. While speaking by phone from his home in Karnataka, he said "We've got justice for Savita and what happened to her will not happen to any other family now. I have no words to express my gratitude to the people of Ireland at this historic moment."
The mural of Savita who has become a symbol to the campaign, was covered with flowers, messages and candles. People flocked to her mural to honor the woman whose death acted as a catalyst to bring some serious change in the abortion laws of the country. Most of the messages dedicated to her were heart-touching. One read "Sorry we were too late. But we are here now, we didn't forget you" and another read "I'm so deeply sorry you had to suffer. You have changed our history and our destiny." Sean Drugan added "Sometimes it takes someone from a different culture to change their adoptive country. Your memory will not be forgotten."
Get our hottest stories delivered to your inbox.
Sign up for Scrabbl Newsletters to get personalized updates on top stories and viral hits.