Kate Middleton Shares 5 Royal Fashion Tips to Style Your Everyday Look
Kate Middleton, the Duchess of Cambridge leaves all of us enamoured with her each and every public appearance. Here sharing 5 royal fashion tips for all the ladies around us who are no less beautiful than a princess!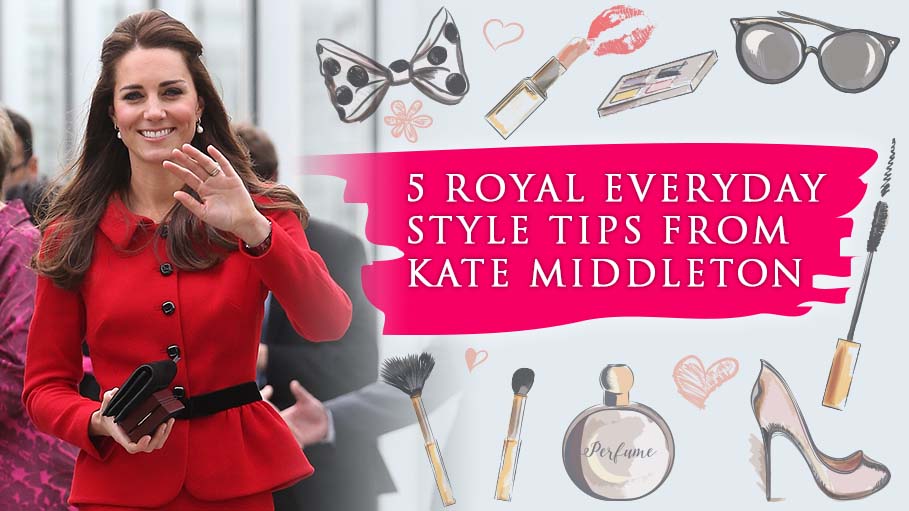 Catherine Elizabeth Middleton, aka Kate Middleton, the Duchess of Cambridge leaves all of us enamoured with her each and every public appearance. The perfect blend of royalty and fashion that not only exhibits her elegant taste in dressing but she's also a great exemplar for all the fashion lovers. Here sharing 5 royal fashion tips for all the ladies around us who are no less beautiful than a princess!
Image: Hello!
Beauty is synonymous with womanhood and we all want to look pretty, forever! Now, whenever there is some party or invitation the salons solve our problems by putting on the right makeup, grand hairstyle. And we definitely manage to catch the attention with some really nice dress.
Trouble arises when we don't find what to wear or how to look attractive in our day-to-day life. Well, Kate Middleton, Prince William's better half is definitely showing us a way!
And allow me to style your everyday look, Kate Middleton's way!
Hair
We girls do face a lot of issues with our hair. Need to rush to office and don't know how to manage our locks. That's why many women have opted for straightening it. I say, enough of straight hair, it looks quite flat and boring. Darling, it's curls and waves what you need!
Image:Glamour
The Duchess never leaves her hair out of volume. It's a trick to make you look younger!
Image:Good Housekeeping
Image:The Bridal Box
2. Facial Makeup
Minimalistic makeup is the best thing you can do to your pretty face. Now, let's face the reality. None of us here are Kim Kardashian, or Victoria Secret model who can literally take up anything and everything. Remember babes, flaunt only that suits your personality. The no makeup look or nude makeup appearance makes one look fresh and energetic. And Kate Middleton looks so suave wearing it.
Image: The Inquisitr
Image: Glamour
Defined eyebrows, lashes and bit of kohl with minimum shimmering eyeshadow - Kate is ready to charm the world!
Image: 9Honey - Nine
3. Clothing
Be it a formal, semi-formal, official event, evening invitation - Kate middleton has the best wardrobe for you! Become the centre of attraction at the gatherings you attend with your royal dressing sense. And I bet, no one can match that!
Image: harpersbazaar
Image: harpersbazaar


Make a style statement without skin show at all!
Image: harpersbazaar
If you want to show off your legs do it so gracefully. A soft look makes you appear more approachable, easy-going and younger!
Image: harpersbazaar
Pick something dark and velvety for the evening. A flowery touch strikes a balance between your boldness and beauty!
4. Shoes
Kate loves her heels and mostly we see her walking or strolling in them. If you are a heel craver then just follow her steps blindly! What if you're not? May be heels give you back pain or you tend to fall! Come on girl, keep smiling, we have the right thing for you too!
Image: www.cosmopolitan.in
Nude shaded heels help your feet look softer, smoother and slender, of course!
Image: Footwear News
Image: Splash News
Image: Footwear News
Roam around in comfort and ease. The Duchess enjoy hopping around in her flats and sneakers.
5. Accessories - Bag & Jewellery
When it comes to bags we girls know what and how to carry. Follow Kate Middleton to create a look of yours that's complete, stylish and oh so unique!
Image: Splash News
The famous Chanel clutch, Kate Middleton has been spotted carrying.
Image: Kate Middleton Style
Image: Hello!
Coming to jewelleries, as you have understood by now they must be minimum yet striking! Don't go for over the top gaudy and flashy ones. For that everyday bling keep it limited, prominent and classy!
Image: PopSugar
The beauty and her stones!
Image: StyleBistro
The bun, the ear stone and the glittery pendant! What else does a woman need?
Image: Orsini Fine Jewellery
A drop of pearl is all we ask for!
Girls, I just loved sharing all these tips with you. So just try these looks and don't forget to share your royal everyday styled look snaps with me!
I'll be back with more! Stay Royal, Stay Real!
Get our hottest stories delivered to your inbox.
Sign up for Scrabbl Newsletters to get personalized updates on top stories and viral hits.