Kim Arrives in Russia to Meet Putin and Discuss Nuclear Issue
The summit is going to take place at the Pacific port city of Vladivostok, where Kim has arrived a day before by his khaki green armored train from North Korea.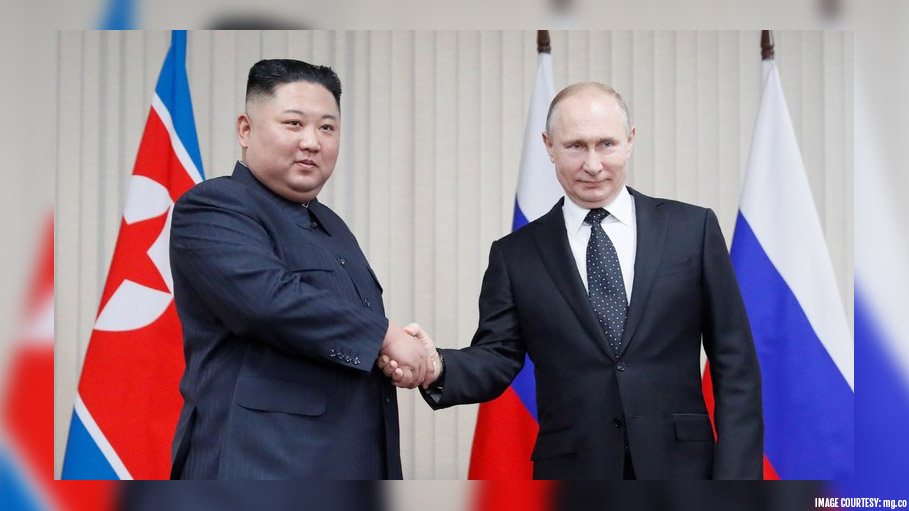 North Korean leader Kim Jong-un has arrived in Russia, where he is scheduled to meet Russian President Vladimir Putin to discuss the deadlocked diplomacy on his nuclear program. Kim became the first North Korean leader to visit Russia, since his late father Kim Jong Il, who visited Russia in 2011.
The summit is going to take place at the Pacific port city of Vladivostok, where Kim has arrived a day before by his khaki green armored train from North Korea. Russian Deputy Prime Minister Yury Trutnev, who also hosted a dinner reception in his honor, received him.
Kremlin adviser Yuri Ushakov has informed that the summit between Kim and Putin is going to focus on North Korea's nuclear program, noting that Russia will seek to "consolidate the positive trends".
Ushakov also said that the agenda of the summit would also include bilateral cooperation, as Russia's trade with North Korea has downsized to just $34 million last year, because of the international sanctions on Pyongyang.
Russia would also like to get broader access to North Korea's mineral resources, including its rare metals. Pyongyang on its part would look for Russia's electricity supplies and investment to modernize its dilapidated industrial plants, railways and other infrastructure.
After his summit with Putin, Kim may visit neighboring facilities or landmarks in Russia before departing for home on Friday.
In February, this year Kim's second summit with Trump in Hanoi failed miserably as it ended without any agreement because of the disputes over US-led sanctions. There have since been no publicly high-level contacts between the US and North Korea, though both sides say they are still open to talks and ready for a third summit.
Kim wants the United States to ease the sanctions following the disarmament steps he took last year. But on the other hand, the US maintains the sanctions will stay in place until North Korea takes all the significant denuclearization steps.
Experts now believe that Kim could try to bolster his country's ties with Russia and China to put pressure on US, while others say it is not clear how big the role of Russia, who can play in efforts to restart the nuclear negotiations using his influence in regional politics thereby sorting out the standoff over North Korea's nuclear program.
Chon Hyun-joon, Research Scholar at the Korea Institute for National Unification in Seoul says, "Kim wants to show that he's cooperating with Russia too, rather than looking to only the US and China. But I think it's not easy for Russia and China to provide North Korea with practical assistance that leads to the inflow of dollars".
North Korea has expressed frustration at the deadlocked of the negotiations several times. Last week, North Korea tested a new weapon and demanded that the US Secretary of State Mike Pompeo be removed from the nuclear talks.
Get our hottest stories delivered to your inbox.
Sign up for Scrabbl Newsletters to get personalized updates on top stories and viral hits.