Kim Kardashian Meets President Donald Trump
Before Kim Jong-un, the American social media and reality star Kim Kardashian meets the President to discuss prison reform and sentencing issues.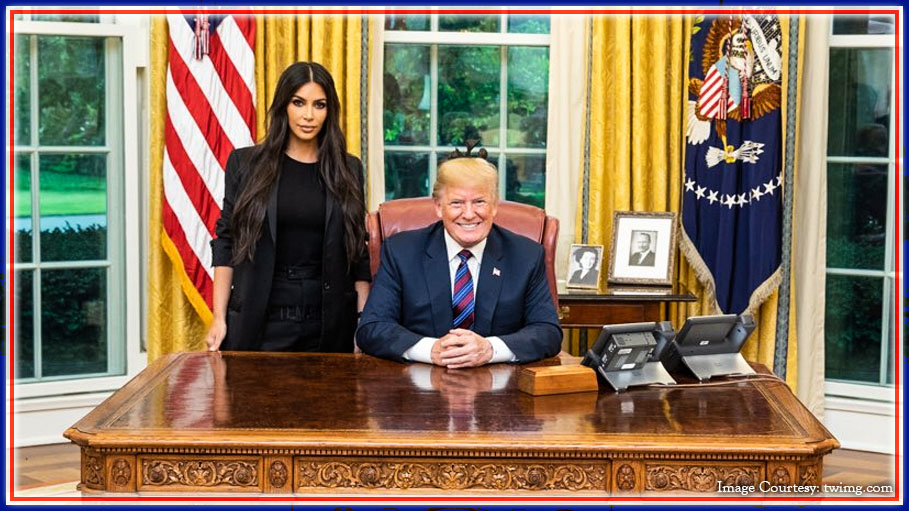 Though the most speculated meeting between Kim Jong-un and US President Donald Trump is still in dilemma, President Donald Trump meeting with another Kim recently, was a surprise to many. Here it is Kim Kardashian West, American reality television personality, actress, model, and socialite, who met with President Donald Trump and other officials at White House to discuss prison reforms.
Immediately after the meeting, President Trump tweeted, "Great meeting with @KimKardashian today, talked about prison reform and sentencing" while posing a picture with Kardashian West. Though, much is not elaborately known what they discussed in details about prison reforms.
She came with a small entourage and had accessed the car parking inside the White House grounds, which otherwise is not allowed to other VIP guests who come to White House.
Kim Kardashian, who wore a black suit with bright yellow stilettos, while leaving White House, she did not meet media and cameras awaiting her reaction and she didn't even roll down her windows to greet the media present there.
Before the visit, White House Press Secretary Sarah Sanders couldn't provide much details about Kim Kardashian visit to White House, she only said, "she is expected to be here at the White House. I can confirm she'll be here. We'll keep you posted on any meetings that take place and what those look like".
Model and Reality Star, Kim Kardashian has long been advocating for the release of a drug offender named Alice Marie Johnson, who has been prisoned for more than 20 years. Before meeting US President Trump, Kardashian tweeted, "Happy Birthday Alice Marie Johnson. Today is for you".
Though, at the end of the day finally, Kim Kardashian released a statement, saying, "I would like to thank President Trump for his time this afternoon. It is our hope that the President will grant clemency to Ms. Alice Marie Johnson who is serving a life sentence for a first-time, non-violent drug offense". She also said, "we are optimistic about Ms. Johnson's future and hopeful that she and so many like her will get a second chance at life".
Prison reform is one of the key issues in America today. Recently, White House supported First Step Act, which promotes some progressive programs for prisoners which also include more home confinement and the act was approved by the Judiciary Committee.
Kim Kardashian also said that during the 2016 US Presidential election, she supported the Democratic Candidate Hillary Clinton but her husband Kanye West has his support for Donald Trump as the President of USA.
Before this meeting, Kim Kardashian has met President-elect Donald Trump at Trump Tower in New York in 2016. In recent years Kardashian has grown very much influential with her active online presence which includes ten million followers on Twitter and Instagram. She was also featured in the Time Magazine with the list of 100 most influential people in the year 2015.
Get our hottest stories delivered to your inbox.
Sign up for Scrabbl Newsletters to get personalized updates on top stories and viral hits.