Long Form Content Can Augment Your SEO Effort
Long contents are coming back. In 2018, you need to write more long contents for better engagement. Here are some reasons why you should give up on short contents at once.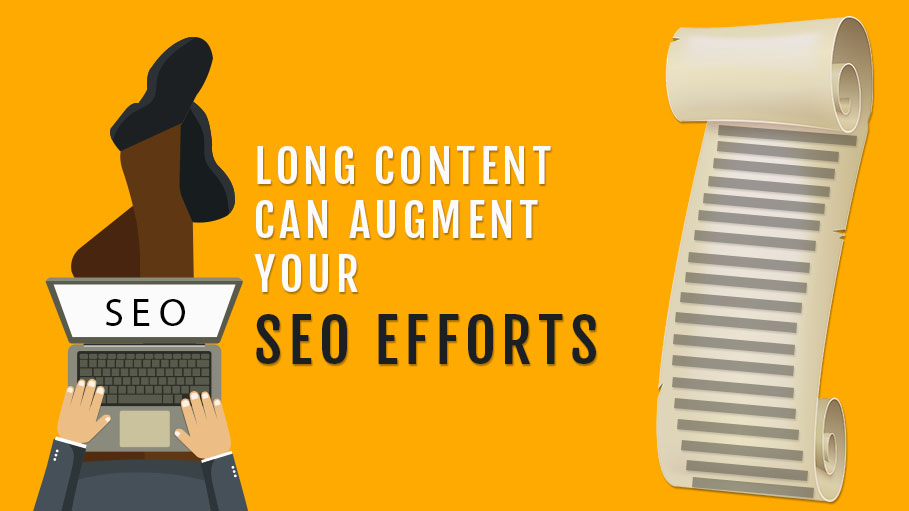 There is no doubt that with each passing day life is getting busier. There is no doubt that the rat race is getting faster. This is one of the reason the advice of the web world is to create short contents. It is said that such contents will help hold attention of the readers better.
The message, that you want to get out there, needs to be short, so that you can send it across in a couple of seconds. It is that or you lose the attention span of the readers. Following this advice bloggers have gotten inclined to writing short, snappy contents.
Well, there are times when short contents help drawing attention. But, the truth is long contents also have its place and time in the web world. Long contents are not dead. It is far from so. There are countless evidences of long contents drawing the desired promotional results.
No one can argue that when you write long term content, you look like an expert to the readers. This will open up the chance of getting more shares. This is one of the reasons to opt for long contents.
Therefore, if you follow the strategy of short form contents for promotion, you need to revamp your content strategy right now. You would have to take a closer look at the contents that you are sharing. The chances are, your contents would look and read incomplete to the readers. Even such contents get initial clicks, readers are not likely to remain on your website for a long time to read such content. Moreover, if you keep posting such contents, readers might not come back to your website.
The content marketing experts are also waking up to the need for text based promotional scoops. If you are selling a great product or great service, you would have to write great contents.
So, this blog post gives you a glimpse of the definition of the long content. You will learn why you should write 1500 words contents. Also, we will give you tutorial of how to write long contents.
Long Content Definition
So, what is long content? To many long content refers to detailed and in-depth contents. However, for the experts long contents are nothing but lengthy 1500 words contents. There are many bloggers who opt for 5000 word contents for better promotional scoops.
Reasons to Write Them
Why not write an ebook, many would argue. But, if you come to think about it, long contents have more to offer to the readers. First, you would have to invest a lot of time on research, if you want to write a long content. Such contents have higher chance of engaging readers. When you post a long content, you make it look like you are doing something for the readers. This will keep people coming back to your website.
Another reason for writing long content is – the search engine. It seems that with the arrival of 2018, short contents have taken a back seat. Now, no one likes short contents, no matter how snappy you make them. So, for the readers and for the search engine, you need to write contents which are lengthy and detailed.
The days of 200 words content have disappeared. Such contents will only work for you, if you are an authority figure or an influencer. Otherwise, there is no way, you can get away with short contents in 2018.
Long Contents Generate Higher Leads
The long contents can help you generate more leads. Through a study the experts have seen that long contents generate at least five times better leads than the short contents.
Long Contents Make People Stay
This is one of the tricks which the bloggers use to make people stay on their website. To read a 5000 words content, the readers would have to remain on the page. Google makes it a point to analyze the time people remain on the website. Later Google uses this time to decide whether your website is worth getting higher ranking.
Backlinks and Shares
Well, long contents get more shares from the readers. One thing you need to understand is – long contents are like classic books. Sharing such contents makes people look smart.
Long contents also have the ability to appeal to a broader range of people. Also, the more information you can put in the content, the more bloggers will want to use it for their links.
So, how do you write such contents?
You need to begin with the reason. Yes, first you need to know why you are writing this content. Remember that long contents will demand hard work. This is why, you need to define the reason to undertake the task.
Usually people create long contents to get brand awareness. They also write such contents to make it as an authority in that particular field. The reason is important. This will help you create the future promotional plan for your brand.
So, you need to find out the reason for writing such contents. You need to find out the people who will read such contents. You will also have to find out the path.
Topics or Niche
To write such contents you would need your niche. Once you have decided your target audience, it will not be a difficult task. The topics should attract the readers and give you the required authority.
Yes, once you start writing such contents, there will come a time when you get stuck. But, the fortunate fact is – there are countless resources which will help you research your topic.
Your content must be search engine friendly. This everyone knows. But, what they don't know is – how to make the contents search engine friendly.
Internal links

External links

Proper keywords

Proper use of bold and italics

Proper formatting
These are the ingredients of search engine friendly contents. Of course, you need to pay attention to the spellings and grammar to make your content appealing to both readers and Google.
Get our hottest stories delivered to your inbox.
Sign up for Scrabbl Newsletters to get personalized updates on top stories and viral hits.