New Zealand Police Has Released The Most Entertaining Police Recruitment Video And It's A Must Watch
Becoming a cop may not be everyone's cup of tea. But watching New Zealand Police's new entertaining recruitment video will make you want to join the police force right away.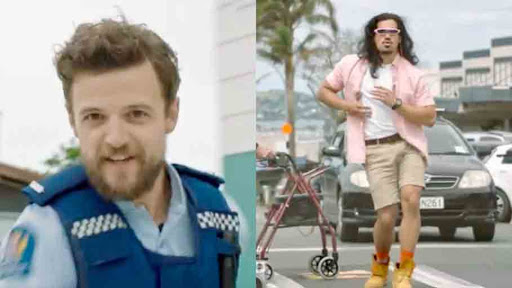 Sending across a message through humour
Recently, the New Zealand Police released the 'world's most entertaining police recruitment video'. The video is highly charged and packed with action. It depicts men and women in action belonging to various ethnic groups. The video encourages citizens to become cops and join the police force that offers 30 different careers to choose from. A large number of women folk are in the video too.
Loads of 'Kiwi humour' has been added to the video, probably to remove the 'serious and danger' element that's associated with the police profession. In one of the clips, a police officer is assisting a senior citizen to cross the road, at the pedestrian crossing. But the man is too old to cross the road fast. So, to keep the drivers in the vehicles entertained, a young guy with long hair comes forward and dances hilariously with peppy music playing in the background. There's a cameo from the New Zealand police pipe band and you could even catch a short glimpse of a cat running in a vest.
In another clip, one of the female cops states "We want new recruits who can make a real difference." Another cop mentions "As long as you care about others and other communities." The powerful punch lines will raise your adrenaline levels and will coerce you to join the thrilling profession right away. The punch lines also make us realise the diverse ways the police force, serve us. Perks of a good salary are also stated.
If you watch the credits at the end of the video closely, you'll find that all the people featured in the video are cops, constables and others from the police force. This goes to prove that these heroes in real life are capable of joining movies too. Kudos to their creative skills. Seventy staff members take part in this video which includes Sergeant Sonny Losefo who created headlines in 2016 with his dance moves in the Police running man challenge.
Objective of a high intensity police recruitment video
The objective of the video is to encourage and motivate youngsters to join the police force. It aims at motivating more women to the police force too. The video demonstrates that women are equally capable and equipped with skills for taking up high risk jobs, just as their male counterparts. The video also aims to attract recruits from various backgrounds to better reflect and serve their communities.
Owing to the 'risky nature' of the profession, most people are not comfortable taking up police jobs. Nonetheless, this video emphasizes on the 'service factor'. Police personnel often get opportunities to do immense service to their communities which can very satisfying. This is the right profession for people who crave adventure and challenges.
The video was shared on the NZ Police Recruitment Facebook page. It has received a whooping 28,000 likes and shares. In addition to this, it has received 6,000 comments. Looks like the numbers are going to skyrocket in the days to come. According to commissioner of New Zealand- Mike Bush, "There's never been a better time in recent years to fulfil your dream of becoming a cop and serving your community."
So, do you care enough to be a cop? If yes, you must certainly watch this one.
https://www.youtube.com/watch?v=f9psILoYmCc
Get our hottest stories delivered to your inbox.
Sign up for Scrabbl Newsletters to get personalized updates on top stories and viral hits.