Prince William's New Hair Style or No Style At All
Prince William new hairstyle took media to storm this week, when the Prince debuted his newly shorn head at an engagement.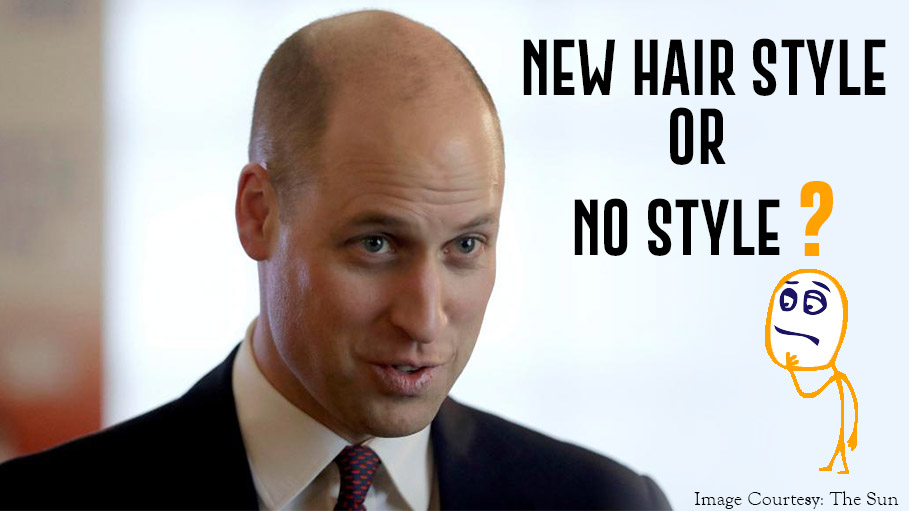 Prince William new hairstyle took media to storm this week, when the Prince debuted his newly shorn head at an engagement. The 35 year old Duke of Cambridge, who is second in line to the British throne behind his father Prince Charles, visited Evelina London Children's Hospital. It is here William debuted his new look while meeting ex-servicemen and women.
In the hospital Prince William who supports, the Step Into Health initiative - a program to help ease veterans back into civilian life. He also spoke about the Royal's contribution to charitable causes from his parents to his grandparents. Pointing to the royal family's dedication to the charity work, Prince William also said, "The Royal family have not done this charitable work because it looks good - they do it because charity is not an optional extra in society. 'We believe that, above anything else, charities nurture, repair, build and sustain our society. Without the work that charities do, society would be an empty shell."
As a teenager, Prince William is known to hide behind his long, floppy blond fringe hair, which suggests he has long been conscious of his receding hairline.
His younger brother Prince Harry is also known to tease him for his losing hairs, as evident, while chatting to a Second World War veteran in Barbados several years ago, Harry remarked that William 'was already bald aged 12'.
Harry's fiancée Meghan Markle also made fun of William's hair loss last Christmas by buying him a ginger hair hat.
In 2014, his wife the Duchess of Cambridge, Kate Williams too suggested a perfect solution to her husband's growing bald patch - an alpaca toupee.
During their visit at the Sydney Royal Easter Show, Kate was shown a tuft of alpaca wool - which was a similar shade of brown to the duke's hair - and pointed to William's head, remarking, 'You need it more than me.'
About William's new hair look, hairdressers across the world have their own views. According to Dylan Brittan, the Hair Stylist from Rainbow Room International in Glasgow said, "By having a buzz cut reduces the maintenance and as the hair is very short it is not completely shaved down to the skin, which also may be down to personal preference". He also explained "Shaving his head gives a dramatic change to his appearance as it has changed his face shape making his face appear fuller and I actually think it shows off his appearance clearly which also will give confidence to carry himself well. It is great to see him embracing his receding hairline and not opting for the easy way out like hair transplant as losing your hair is one of the worst things that can happen to a guy. This look makes him seem more down to earth and an 'everyday' guy."
The Sun reports, Prince William's dramatic new buzz cut cost £180. The Duke is believed to have taken advice for the short style from his wife Kate's hairdresser, Richard Ward. But it was Joey Wheeler, a assistant of Richard Ward, who cut the prince's hair in Kensington Palace, reports claim.
According The Sun "William's sought Richard's advice, but it was Joey who was the one to visit the Palace and give him his new buzz hair cut. While he didn't have much to lose in the first place, the duke decided to crop his hair even shorter - blending in with his receding hairline. And not only does it make his thinning less obvious but it also appears to make him look younger too".
As per, Wheeler, a senior hair stylist who has earlier worked at Ward's salon for nearly 11 years, says that the cutting is 'scissor over comb' freehand technique, giving the hair a soft finish.
Though Prince William also is known for his sense of humor about his hair—or lack of it. In September last year, William also joked about his mostly bald head with a hairstylist, during a royal visit, saying, "I don't have much hair. I can't give you much business." Another moment when the Prince is seen joking at himself was at the birth of his son Prince George, when William said that the baby had "way more [hair] than me, thank God."
Most important thing that comes out it is, Prince William outlook and approach towards life, he has come out with what he looks, he didn't went for any artificial hair transplant or any kind of hair treatment, to hide his baldness. This reflects his down to earth nature and also he looks a very down to earth, as person.
Get our hottest stories delivered to your inbox.
Sign up for Scrabbl Newsletters to get personalized updates on top stories and viral hits.