Ranveer's Take on His Quirky Fashion Sense and The Ongoing Bollywood Vs South Indian Films Debate
If there's one actor who has an "offbeat" dressing sense in the Indian film industry it has to be Ranveer Singh.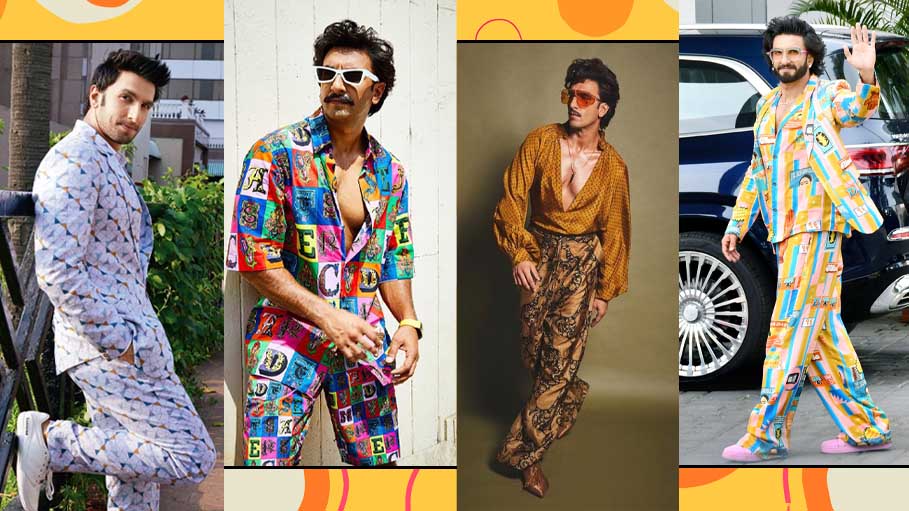 If there's one actor who has an "offbeat" dressing sense in the Indian film industry it has to be Ranveer Singh.
Rarely have we seen an Indian male star flaunting vibrant and colourful attires on a public platform.
As an Indian fan it is perhaps difficult to fathom desi heroes adorning bright coloured clothes nonetheless Ranveer Singh has shattered this conception.
When it comes to Ranveer, he adorns every bright coloured ensemble with elan and confidence.
And the actor admitted that he didn't build this image on purpose. It just came to him naturally.
He likes to express himself via clothes.
"I used to feel cagey about expressing myself. I felt judged. I would alter my way of being in accordance with the effects those judgements were having on me. At one point, I let that go. I was like, people are gonna judge anyway so you do you, dress the way you want and I'm glad that I have been able to evolve into a person who does that consistently now", he expressed.
The talented 'Padmaavat' actor recently stepped into the ongoing south vs bollywood films debate as well as the language debate that has divided the Indian masses and even famous stars.
He said that it is good that south indian films are doing well across India.
"I cannot speak Tamil, Telugu or Malayalam but I would love to. I keep talking to my peers and my colleagues, and I keep asking them how they work in different languages."
He admitted that he enjoys the song 'Oo Antava' from the famous Pushpa -The Rise. The actor rightly points out that cinema has the "power to transcend boundaries" and it has to do with the story of the film.
Ranveer told India Today, "When you have a potent story, rendered in this spectacular way, it will transcend boundaries, and I think that's a wonderful thing. I have seen Pushpa, I loved it. I have seen KGF part 1, I haven't seen part 2 yet, I'm dying to see it. I loved KGF part 1, I'm a big fan of the work these guys are doing… Allu Arjun, Rocking Star Yash. I had the privilege of seeing RRR in the theatre, it blew my brains. These are amazing movies, and I'm so happy they're doing so well, and have found audiences all over the world. I find the technical aspects of those films very solid, very impressive."
"Diversity is what makes India beautiful", he expressed.
He also acknowledged his admiration for south Indian stars. "I watched Dhanush, Allu Arjun, Ram Charan, Tarak, and Mahesh Babu, and I am a great admirer of their craft."
"And when these movies do well, I feel extremely happy because it all contributes to Indian cinema, which is how I have always viewed it. Not as Hindi cinema."
Ranveer has gracefully put his thoughts across concerning the ongoing south and bollywood debate without taking sides or being biased.
The actor has risen above the debate when he says that he considers "every film" a contribution to Indian cinema irrespective of whether it is a South Indian film or a bollywood flick. He focussed on movies and stories rather than region or language.
Despite his wild and colourful external facade his reaction to this heated debate just goes to prove that the star is grounded and a peace loving person within.
The actor is looking forward to the release of his upcoming comedy drama 'Jayeshbhai Jordaar' directed by Divyang Thakkar where he plays a humble Gujarati guy who fights his strict family to rescue his unborn daughter. He believes in equal rights between men and women.The film hits theatres today.
Get our hottest stories delivered to your inbox.
Sign up for Scrabbl Newsletters to get personalized updates on top stories and viral hits.