Second Royal Wedding This Year
Queen Elizabeth's another grandchildren, 27 years old Princess Eugenie is all set to marry her long-term boyfriend Jack Brooksbank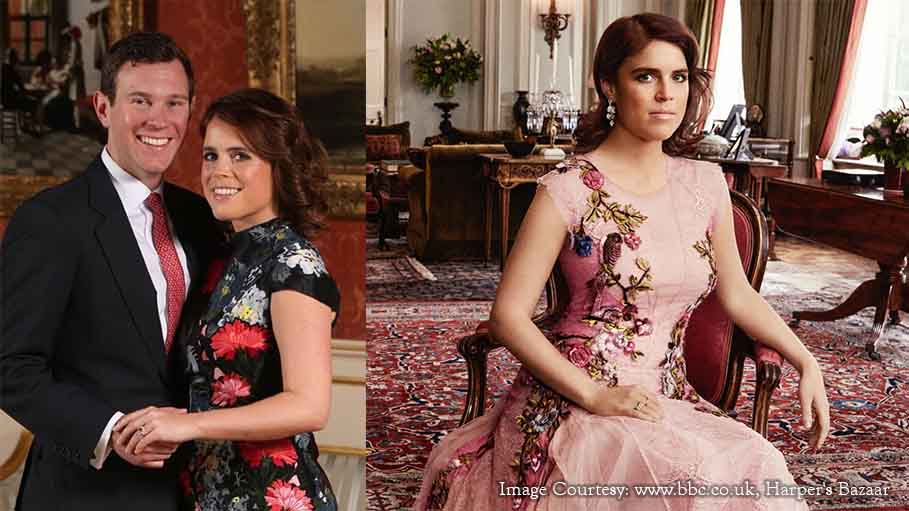 Queen Elizabeth's another grandchildren, 27 years old Princess Eugenie is all set to marry her long-term boyfriend Jack Brooksbank, announced on 22nd January 2018. Eugenie began dating Brooksbank about seven years ago after they met while skiing in Switzerland. Eugenie is the granddaughter of Queen Elizabeth II and is eighth in line to the throne, right after her sister, 29-year-old Beatrice.
The wedding of Princess Eugenie and Jack Brooksbank will also take place in the autumn in St George's Chapel, Windsor, where Eugenie's first cousin, Prince Harry is about to marry his American fiancée, Meghan Markle in the month of May.
The couple came together for the first time during the wedding of Pippa Middleton, last year - Pippa is the Duchess of Cambridge, Kate Middleton's younger sister.
In a statement by Buckingham Palace followed by the announcement on Twitter that declared "The Duke and Duchess of York are delighted to announce the engagement of Princess Eugenie to Jack Brooksbank. Her Royal Highness and Brooksbank became engaged in Nicaragua earlier this month. The wedding will take place in the autumn of 2018 at St George's Chapel in Windsor, with further details to be announced in due course."
St George's Chapel at Windsor Castle, which has the capacity to host 800 guests at a time, has been a venue for most of the Royal weddings since the King Edward VII married Princess Alexandra of Denmark in the year 1863. Though the original building was built dates back to the 13th century, the chapel as seen today began with King Edward IV in 1483.
Also Posing for pictures in Buckingham Palace, Princess Eugenie showed off her engagement ring that contains the rarest of all sapphires. The dress Princess Eugenie is wearing for her wedding also has a story. As with any member of the Royal family posing for a portrait to commemorate an important moment, Princess Eugenie gave her engagement picture look meticulous consideration, the pink blooms pick out the rose tones of the Padparadscha sapphire in her ring while the red floral echo the walls of the Picture Gallery in Buckingham Palace and Brooksbank's Scarlett tie.
But instead of scouting out a new outfit for the special occasion, Eugenie rather choose from her own wardrobe wearing an £1,288 Erdem cocktail dress which she was first photographed in for a shoot which appeared in the September 2016 issue of Harper's Bazaar US.
Her decision to wear a dress already in her wardrobe is a contrast to the Duchess of Cambridge - who carefully matched her Issa wrap dress to the sapphire in her engagement ring - and Meghan Markle, who nodded to her pre-royal life by wearing a Line the Label coat when she and Prince Harry announced their engagement last November.
On the other hand the Queen herself is overseeing the dealing of marriages and engagements of her grandchildren. Eugenie and her elder sister, Princess Beatrice, 29, are the daughters of Prince Charles's younger brother Andrew, the Duke of York, 57, who is divorced from his wife, Sarah Ferguson, 58, but remains on good terms with her.
Princess Eugenie's parents, the Duke of York Prince Andrew and his former wife Sarah Duchess of York, said they were "delighted" to announce the engagement, while Brooksbank's parents said they were "completely over the moon".
In a series of Twitter posts that followed the announcement, the Duchess of York and Mother of Eugenie posted a picture of the couple overlaid with the words, "A total embrace of goodness and joy... Eugenie is one of the finest people I know and so together it will be pure harmony". Ferguson also wrote and blessed the couple "float with laughter and love."
The Duke of York and father of Eugenie later said, "I'm absolutely overjoyed. I'm thrilled". Jack is an absolutely outstanding young man and Eugenie and he have got to know each other over a number of years, and I'm really thrilled for them."
The Duke said attention would turn to planning for the wedding. He also added, "But today it's their day. I'm just completely overjoyed for them and wish them every happiness."
On the other hand Brooksbank parents, Nicola Brooksbank and George Brooksbank, spoke of their joy about the couple announcing their plans to wed. They said in a brief statement "We could not be more delighted with the news of the engagement. We are completely over the moon and are very excited for them both."
Prime Minister of England, Theresa May acknowledged the news from Buckingham Palace, saying: "My very best wishes to Princess Eugenie and Jack Brooksbank on their engagement - congratulations to the happy couple."
Eugenie's choice of partner is rather more conventional than her cousin Harry. 31 years old Jack Brooksbank is the son of an Etonian, who never had a university degree, but had his formal education at Stowe school in Buckinghamshire. By profession he is a barman turned wine merchant. He is also a former manager of Mahiki, the Mayfair nightspot that is a favorite among the rich and famous - including Princes William and Harry.
Jack Brooksbank is now the UK brand ambassador of Casamigos Tequila, which was co-founded by actor George Clooney.Where as Eugenie, who graduated from Newcastle University after studying English and history of art is now a director at the contemporary art gallery Hauser and Wirth in London.
Get our hottest stories delivered to your inbox.
Sign up for Scrabbl Newsletters to get personalized updates on top stories and viral hits.