Sourav Ganguly Is Set to Feature in a Bengali Music Video on the Occasion of Durga Puja Celebrations
'Joy Joy Durga Maa ', the music video will be starring former Indian cricket captain Sourav Ganguly, along with actresses Subhosree Ganguly and Mimi Chakraborty.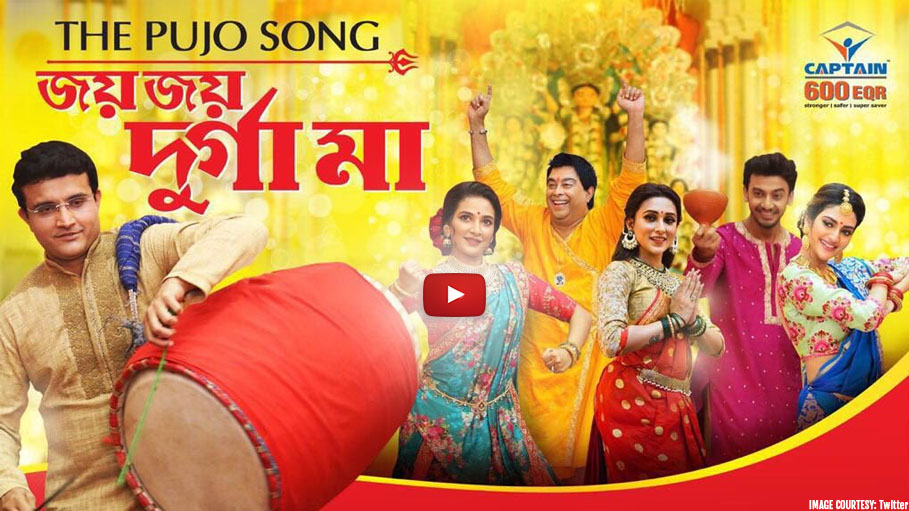 Indian cricket icon Sourav Ganguly will be seen for the very first time in a Bengali music video on Durga Puja alongside popular Bengali actresses. Here's more.
Indian cricketer Sourav Ganguly will soon be sharing screen space with Bengali actresses Subhosree Ganguly and Mimi Chakraborty in a music video called 'Joy Joy Durga Maa.' The music video will be launched on the occasion of upcoming Durga Puja celebrations. The video will be about a puja celebration in a household. Popular vocalists like Jeet Gannguli, Abhijeet and Shaan's melodious voices can be savored in this Bengali music video.
Speaking of his experience of being a part of a music video for the very first time, the cricketer said, "anything first time is good." The cricketer revealed that he was lucky that the director of the music video Raj Chakraborty did not give him difficult dance steps. These steps were kept for better dancers than him like Subhosree and Mimi, he told in a press meet on Monday.
When he was asked to share about his shooting experiences, Mr. Ganguly said, "After every shot, I used to check the monitor because I did not want to look like a fool. I understand cricket commentary, not the technicalities of a music video. But I had a great time", the former Indian captain said.
The director of the music video, Raj Chakraborty was all praise for Sourav's professionalism while he was shooting the music video. The director revealed that he sent the story idea to Sourav Ganguly aka 'Dada' when he was in London and he gladly accepted it. When the cricketer was asked to lip-sync the song during the dance movements, he was initially nervous. That said, when it came to executing his performance, he did an amazing job. "Once again we saw how professional he is", said Raj of the cricket icon.
Prior to this, the former Indian Captain has appeared in TV commercials and quiz show in a popular Bengali channel. He's one of the four members of the Indian Premier League's governing council which is responsible for all the functions of the tournament. The cricketer also published a book titled 'A Century is Not Enough: My Roller- Coaster Ride to Success' in which he has discussed his cricketing career in depth.
Sourav Ganguly enthusiasts will definitely be excited to see the world's leading batsman perform in the upcoming music video as this would mean seeing the cricketer in a different light altogether. A refreshing change from his stern persona. Once the video is officially launched, viewers will be able to view the "Prince of Calcutta" perform on YouTube and other digital platforms.
Get our hottest stories delivered to your inbox.
Sign up for Scrabbl Newsletters to get personalized updates on top stories and viral hits.