The 60th Annual Grammy Awards-2018
The 60th Annual Grammy Awards ceremony was full of surprises.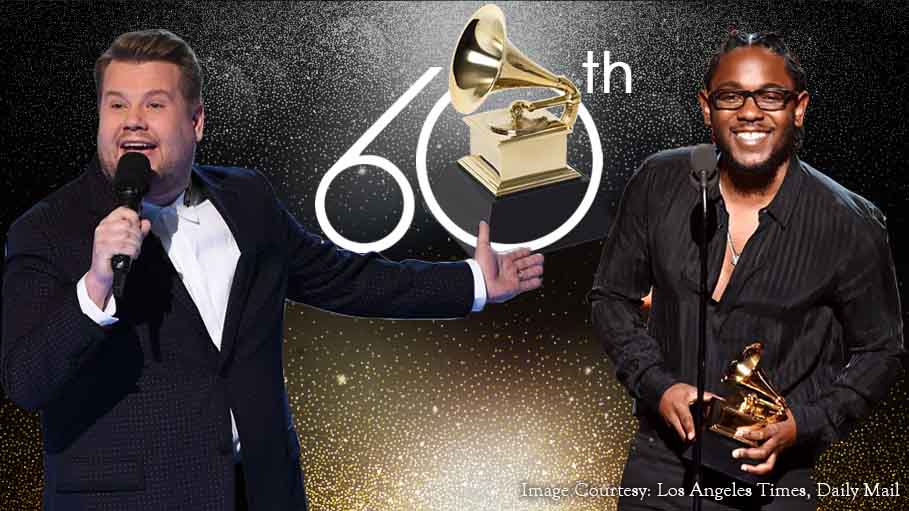 The 60th Annual Grammy Awards ceremony was full of surprises. It held on January 28, 2018. The show was broadcast live from Madison Square Garden in New York City. For the first time the ceremony was held outside Los Angeles since 2013. James Corden did a splendid job as host.
Kendrick Lamar's fiery performance received a standing ovation. His show was a medley of his songs, with a giant American flag and dancers in red. The scene looked quite political when the dancers kept falling like ninepins to the sound of gunshots as he rapped. There were more moments which were politically charged.You had Hillary Clinton and Cardi B reading aloud from Fire and Fury: Inside the Trump White House. Then we had U2 showing their support for Dreamers by singing on a barge in front of the Statue of Liberty and shouting into a megaphone painted like an American flag. One of the key highlights of the ceremony was Kesha's performance. She sang 'Pray', a song about her experiences with sexual abuse and trauma, while surrounded by female singers like Cyndi Lauper and Camila Cabello.
Amidst all this, Bruno Mars was named as the winner of both Album of the Year, Song of the Year and Record of the Year for his album '24K Magic.'
Another politically charged moment was when Cabello made a plea in favor of Dreamers, referring to the debate happening in Washington D.C. over the repeal of DACA.
She then introduced U2, who performed their song "Get Out Of Your Own Way" under the Statue of Liberty.
There was yet another political moment when Corden suggested that President Trump could be involved in next year's award for Best Spoken Word Album.
Later Lamar was bestowed with the award for Best Rap Album for "DAMN." In his speech, he used the opportunity to thank those who came before him and he dedicated the award to hip-hop. Trevor Noah, the host of "The Daily Show," presented Chappelle with the Best Comedy Album award. Sting and Shaggy enthralled the audience with their performances. Sting entertained the audience with his song, 'Englishman in New York.'
Brothers Osbourne, Eric Church and Maren Morris sang a song to honor all the victims of the shooting at the Route 91 Harvest Festival in Las Vegas as well as those people who lost their lives in the the bombing at an Arianna Grande concert in Manchester, England.
On the whole we can say that this year's Grammy award ceremony was a bit different.
Get our hottest stories delivered to your inbox.
Sign up for Scrabbl Newsletters to get personalized updates on top stories and viral hits.