The Conversion Tactics which You Must Use in 2018
While big scale conversion tricks are getting all the priorities, some small scale tricks can transform your conversion rate with ease. Here are some tactics to look forward to this year.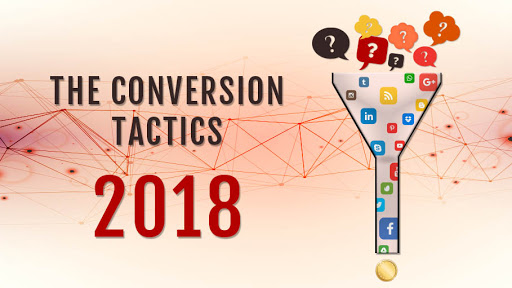 When it comes to creating a conversion tactic, usually marketers pay attention to the big scale ones. From quick loading design to endorsement, everything gets priority. Of course, these should get priority. However, in 2018, you need to pay attention to the details if you want to stay ahead of the competitors. This year you need to focus on the ignored aspects of the conversion plan. It is ok to miss these aspects in 2017. But, ignoring them in this year might cost you a lot of money. So, here are some tactics which you might not consider important, but, can create obstacles in the way of conversion.
CAPTCHA
By now everyone knows that they would have to prove to the websites that they are human by typing the random letters given by the websites. These numbers are difficult to detect. You need to use this to avoid spam.
You can be assured that CAPTCHA works. The problem is there are times when it works its wonder. It does not only keep the robots away, it keeps the humans away too.
Sometimes the developers end up making the numbers too critical for the people to understand. At times this gets frustrating and time consuming. People usually don't try thrice to fill out a form. They abandon the website. A critical CAPTCHA placed in the blog registration form might not create a lot of problem. But, when it comes to your sales page, you need to spend time considering.
Experts advise people to use easy to read CAPTCHA which increases users' experience.
Red or Green
Button color that balances the color theme of a website does not work well for conversion. This might sound strange but this is the case. You would need to think something unusual about the button.
So, you have two big contenders before you when you are trying to choose button color. You have the choice between red and green. Which one works well for the conversion? People in general opt for green when it comes to choosing button color. However, the experts claim that red button usually attract more attention.
Yet, color plays an important but secondary role in getting better conversion. You need to create the right contrast for people to notice the button on your sales page or registration form.
A little change can augment the number of leads surprisingly. This is why, it is time you do a little research on button color and color contrast to find what works and what does not. This little detail is easy to miss. But, keeping it in mind can help you get better conversion.
Don't Give Out Free Offers
This does not mean that you should charge for registration or feedback. This means that you need a subtle approach in soliciting registration. Web visitors have had their share of free offers in the past decade. They have gotten accustomed with the websites soliciting free registration. With time they have become cautious as well. Now, whenever the term free appears anywhere, people start looking for the catch in the website.
The fact is, this approach does not work anymore. People don't get lured by the temptation of free registration, free gifts or free ebooks. They know that in exchange of this free thing, they will have to share their personal information. This is why, have a different approach. Think past the term free or think around it.
So, you can have a direct approach by telling the visitors that they would not have to share their credit card details. Or, you can use quick registration as the Call to Action message.
Easy Return
This is for the e-commerce website owners. Because people don't get to touch anything before it appears at the doorstep, they are cautious about buying online. You need to erase this fear of buying by making the return option easier.
Video Description
This can be a key factor in augmenting sales for ecommerce websites. It is true that people are frightened to buy online. Some ecommerce portals are responsible for this fear. However, you can offer a small treat to your customers. While you are uploading the image of a product, why don't you upload a video description as well. This will enable the customers to see the product from different angles. It will also give them an idea about the size and the shape of the product. This approach will work better for the women's handbags. From the images of the websites, guessing the size of the products becomes a trying task. in such a scenario people usually decide to buy from the retail stores. However, if they get to see the product in video form, they can come to a buying decision. Yes, many of the visitors will not watch the videos. But, it is worth the try for better conversion.
Don't Go too Personal
People don't like to share personal information. This is one of the reasons, why they abandon registration forms or leave carts. So, you need to understand how far you can go while asking for personal information. People would not hesitate to share their email addresses with you. However, they will surely think twice if you ask or their phone numbers. Additionally, they might leave the page if you ask for residential address. Of course, if you are running a ecommerce website these details will be mandatory for delivery purpose. Otherwise, it would be better to be happy with the email address at the initial stage.
Also, it would help people if they know why the information you are asking is mandatory. This little fact is overlooked so many times. But, when you give out the reasons for asking the information, you gain instant trust. For conversion this is important.
Lastly, frequently companies forget that customers like to be the ones in control. This is why, you need to include several option buttons on the registration form. If the visitors are not willing to give out some information, they can always choose another option.
Get our hottest stories delivered to your inbox.
Sign up for Scrabbl Newsletters to get personalized updates on top stories and viral hits.