The Year Ahead – 2018 Influencer Marketing Trends to Watch Out for
In 2018, businesses will use influencer marketing for better promotion. Here are some trends which 2018 might see on rise.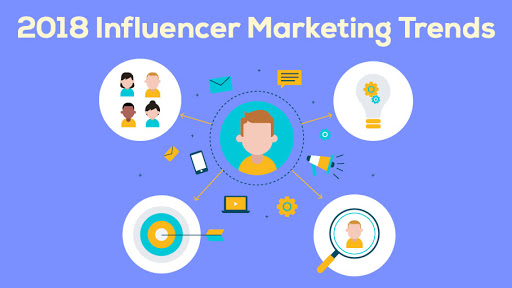 Even though it has been around a while, the craze for influencer marketing is still there. In fact, the demand for influencers is growing with time. If you look at the numbers, and you should, you will find that the influence of influencers in social media industry has gone up high. Since the trend is not about to disappear anytime soon, it is for your benefit, you need to learn about the upcoming influencer marketing tactics that will dominate the upcoming year.
Influencer Marketing Integration
Last year has seen the rise of micro influencer trends. However, this year is going to see an expansion of the trend. This is the year of influencer integration. With 2018 the demand for influencer integration marketing tactic will increase. The marketers will have to stitch together a lot of strategies to create one which will work its wonder for the business promotion.
To succeed in doubling the business profit, the marketers need to combine the force of micro influencing, macro influencing and mega influencing. Once it is done, they need to layer it with word of mouth marketing strategy. So, you can see, that 2018 will see a trend of many strategies combined together for better influence.
You need to first understand why influencers have gained the power in the first place. Why people trust them so much? Why the service of influencers is so in demand?
The influencers use their power to connect bonds with people. Eventually this bond make people to trust the influencers.
Awareness is one of the objectives which you can accomplish with the help of an influencer. The task of the influencer is to create contents which will inspire people to find out about a new product or a new brand. This elevates the image of the brands.
Attracting interest of the people is another reason why people opt for influencers. They create questions to evoke the curiosity of the people's mind. Sometimes the influencers take their followers by hand and guide through a question answer series which both educates and increases people's interest. This is a kind of art which is gained through practice and experience.
No doubt when the curiosity is evoked, the buying desire gets high as well. This is the ultimate objective of the influencers. They nudge the desire of the customers and make them take action.
2018 will see more of such strategies with the influencers taking over the market.
Value is Going to Increase
Well, here value does not signify price of the products. Whether the price goes high or not depends on you. But, the value of influencers' engagement in the business will surely increase.
In 2017, you would approach an influencer for better promotion and they would have used their power to promote what you have to offer. However, this approach is going to change in 2018.
Now, the influencers would look for better engagement in the form of partnership with the businesses. This is a trend which seems to be coming alive in 2018.
You cannot deny that the demand for strong social media personality has gone high. To keep up with this demand you need to strike a partnership with the influencers. They can motivate their followers to make a buying decision. Also, you must know that the task of reaching people through social media is getting more and more difficult by the day. This is why, you would need the influence of the influencers to make a strong social media approach.
Campaign to Strategy
In the past the influencers have been involved in campaign planning with the companies. They used to sit with the brand managers and used to plan how a campaign will go further.
Next year, which is about to appear in just a couple of days, this role is going to change. Now, the influencers will be involved on the strategy making task as well. Many companies have already taken this step. They have involved the influencers in their strategy making business. However, this handful of business numbers will grow with time.
If you are wondering about this sudden change of strategy, you need to understand that conversion depends on customers' behavior. What motivates them and what makes them take action are the questions you need to answer before you can make the right promotional strategy.
Influencers know their followers. They know what ticks them or what makes them buy a product. This is the reason, involving an influencer in the strategy making seems like a wise idea to many marketers.
Relevant Metrics will Come to Effect
Even today, people are not sure about involving an influencer for the business promotion. There is one solid reason which plays against the influencer marketing plan. Business owners complain that they cannot track the growth or failure of the influencer marketing.
However, that is going to change in 2018. Through relevant metrics tool, you can both track and monitor ROI (return on investment) and KPI (keyword performance indicator).
Video Content Marketing
Video content is perhaps the most looked forward to trend of 2018. With the flood of identical content everywhere, readers are getting a little tired. They now want something new. This is why more and more influencers are going for video content. This is going to rule the social media industry in the coming year. The best thing about video content is – it erases the scope of generic approach. There is nothing generic about a video content. Each video is different. When these videos get created by the influencers people usually check them.
In fact, video contents are more effective when it comes to conversion.
However, you need to be aware of something before signing an influencer for your brand promotion. The internet is loaded with fake people. There are fake influencers as well who have paid money to buy followers. You need to distinguish between the real people from the fake ones, if you want to get your conversion rate high.
Get our hottest stories delivered to your inbox.
Sign up for Scrabbl Newsletters to get personalized updates on top stories and viral hits.