Top Trending Features Expected in Smartphones in 2018 - Cameras and Chipsets Powered with Artificial Intelligence
Top Trending Features expected in Smartphones in 2018 - Cameras and Chipsets Powered with Artificial Intelligence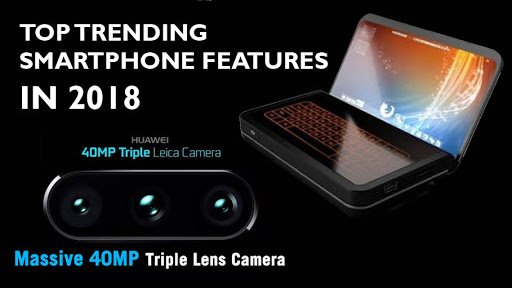 The current year did not produce much of the talk-of-tech hardware innovation or improvements in smartphone arena. Though tech giants, Google and Apple, did their best to introduce Artificial Intelligence and Machine Learning into smartphones, we did not see any highly impressive features considering the hardware space. Though fingerprint recognition and facial recognition created waves, we expect much more in the year 2018 with Huawei, China-based firm also making moves to forge ahead. Looking at the steps being taken by major manufacturers, we should expect following trends shaping up the future of smartphones in the coming year.
Artificial Intelligence Ready Chipset
Considering the importance of artificial intelligence and its implementation, we should see the next batch of chipsets equipped with AI. Apple and Huawei both shipped smartphones with an AI-ready chipset in 2017 and the trend is expected to continue uphill next year as well. The iPhone 8, 8 Plus and iPhone X shipped with an A11 Bionic chipset, which is custom-made for artificial intelligence and augmented reality workloads. The chipset features a 'neural engine' which will process tasks like FaceID recognition in the iPhone X and interpret voice commands for Siri, the AI virtual assistant.
Dual Screen with Foldable Displays
The ZTE Axon M handset with a dual-screen foldable display was launched in October 2017. It comes with a 5.20-inch touchscreen display having resolution of 1080 pixels by 1920 pixels. It runs Android 7.1.2 and is powered by a 3180mAh non removable battery. Though not perfect, this phone's foldable display makes it unique. ZTE (Zhongxing Telecommunication Equipment Corporation) is a Chinese multinational telecommunications equipment and systems company which is the world's fourth-largest mobile phone manufacturer. The company has made several Android smartphones and tablets. While the company mainly sells products under the ZTE brand, it is also an OEM (original equipment manufacturer). ZTE is going to face competition soon. Samsung, LG, Lenovo and Huawei all are working towards launching dual-screen, bendable smartphones. In fact, Samsung is expected to introduce its first foldable smartphone under the Galaxy Note brand sometime next year. Microsoft is also working on a new type of mobile device (dubbed "Andromeda") and this will be designed to mimic a conventional notebook. However, this is not an easy design to execute as the internal components need to be flexible, even the batteries. Making such a phone at scale will be another challenge.

High-end Cameras with AI, Triple Lenses
Many mobile companies launched high-end smartphones with dual rear cameras this year. However, few like Google still rule with the single lens camera, and we saw this implementation in the Pixel 2 XL and Pixel 2, with better effect than many of the dual lens cameras. In the new year, we are expecting artificial intelligence help smartphone cameras improve their results magnanimously. In fact, the buzz about the Huawei P11 camera is that it is the first smartphone to feature a rear triple-lens camera. It will be capable of taking up to 40MP shots and will come with 5x hybrid zoom feature.
Fingerprint Scanners in Displays
Biometrics company Synaptics has announced that it has developed the world's first in-display fingerprint scanner designed for smartphones with bezel-free displays. According to Synaptics, its Clear ID performs faster than alternative biometrics such as 3D facial recognition and requires only one touch to access the smartphone. Synaptics is already mass producing these displays and is likely to feature it with one of the "Top 5" manufacturers soon, most likely China's Vivo. The idea of embedding an in-display fingerprint scanner is linked to comfort, convenience, and ease-of-use, especially on a phone with a taller, edge-to-edge display. A fingerprint scanner on the back is often difficult to use, as we saw in the case of the Samsung Galaxy S8. In case of the Motorola sets, users would end up smudging the camera lens in their attempt to locate the fingerprint sensor.
So what will 2018 offer in the smartphone segment, it's going to be interesting to wait and watch.


Get our hottest stories delivered to your inbox.
Sign up for Scrabbl Newsletters to get personalized updates on top stories and viral hits.