Trump Challenged Oprah as an Opponent in the 2020 Presidential Race
It all started with on Twitter, when US President Donald Trump, accused actress and television host Oprah Winfrey as biased and challenged her for the 2020 US Presidential Election.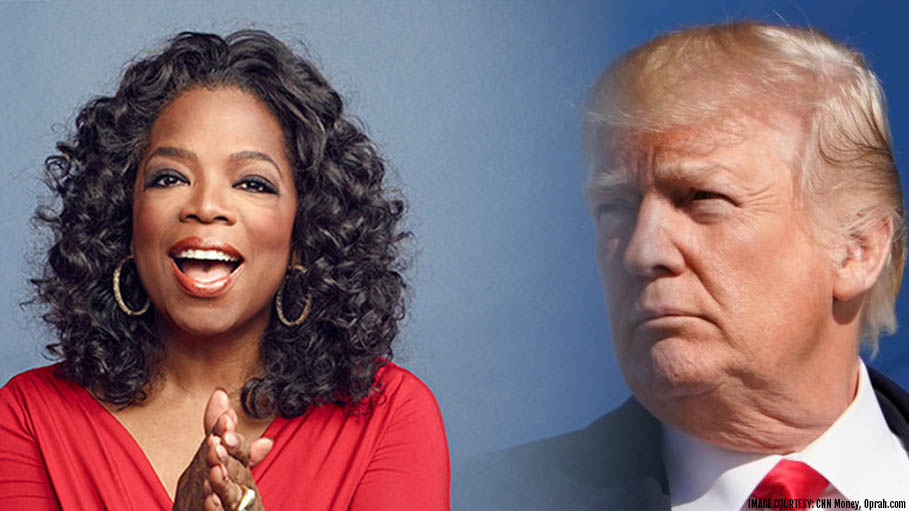 It all started with on Twitter, when US President Donald Trump, accused actress and television host Oprah Winfrey as biased and challenged her for the 2020 US Presidential Election. He reacted after Oprah's show on CBS's 60 Minutes where she has hosted 14 voters who supported Republican, Democrat or the Independent candidates from Grand Rapids, Michigan. The show was to analyze Trump's first year in office.
In his tweet US President Donald Trump wrote, he watched a very insecure Oprah, in the panel discussion on 60 Minutes, whom he knew very well. He also wrote that the questions she raised are biased and facts were incorrect. He also hopes Oprah runs for Presidential election then she will be exposed and defeated just like all of the others.
During the TV discussion, CBS's 60 Minutes Programs the panelists ranged from voters some of them are supporters of Trump while some of them participated as the opponent to his policies and ideas. The show was conducted and anchored by Oprah to see whether their perspective on the President and his supporters had changed during his first year in office. 
During the show it has been observed that each of the original Trump voters had remained supportive of the President after his first year and said that they would vote for him again, though some did criticise some of his attitudes. While many among the panelists questions involved Trump and his actions over the first year of his Presidency, other questions focused on the relationship between the voters who were often at opposite ends of ideological spectrums.
During the show Jennifer Allard, a republican supporter, vowed to never vote for Trump, said he lacked the temperament to serve as commander-in-chief. She pointed to his penchant for volatile tweets as a prime example. "I don't agree that it is okay to tweet the way that he does, getting in a war with North Korea", she said.
On the other hand self-described libertarian Tom Nemcek defended Trump tweets against North Korea as a "counter puncher" for responding to Kim Jong Un's taunt.
Though Winfrey made no declarative statements for or against the president in the programme, but she raised some relevant questions like the economy of is improving and the respect for the country is eroding around the world.
Oprah opened the show with this, "One year into Donald Trump's presidency, Americans remain divided, often unwilling to listen to what the other side has to say. It's happening in families, among friends and at the workplace."
One of Oprah's questions included asking the group about their thoughts on Trump's stability for office after increasing speculation about the 71-year-old's mental state. She asked, there have been some members of Congress, including Republicans, questioning his stability and fitness for office.
This panel and the panelist were not new, Winfrey has hosted a similar discussion in Grand Rapids, Michigan in August 2017, for a 60 Minutes show that aired the following month with the same panelists, where seven of the voters had supported him in the 2016 presidential race. After the show everyone the panelists and Oprah stayed in touch with each other through a Facebook group and continued arguing in politics and discuss various national events.
Members from opposite sides of the divide actually became friends, organizing outings and talking every day in a private Facebook chat group,' Winfrey said in the introduction to the follow-up segment. 'All of that made us want to go back.'
The late night tweet of the President Trump surfaced at around the same time as another contentious posting Trump penned Saturday night.
In his tweet, he used the Florida mass school shooting incident to criticize the Federal Bureau of Investigation for failing to investigate tips leading up to the Valentine's Day attack. Seventeen people were killed in the shooting, including 14 students.
Trump has spent the Presidents' Day weekend at his Mar-a-Lago estate, where according to the Washington Post reports he has spent much of his time watching cable news. He was at the Palm Beach mansion, greeting guests in the evening and sometimes at the nearby Trump International Golf Course.
There was a speculation about Winfrey Oprah possibly challenging Trump in 2020 emerged after she had delivered a fiery speech while receiving the Cecil B. DeMille Award for lifetime achievement at the Golden Globes recently.
Though Oprah has made it clear that she don't have any intention to fight for the Presidential election. "I am actually humbled by the fact that people think that I could be a leader of the free world, but it's just not in my spirit, it's not in my DNA."
Oprah also said "I was just trying to give a good speech and express my opinion on the issue of gender and class and race".
Get our hottest stories delivered to your inbox.
Sign up for Scrabbl Newsletters to get personalized updates on top stories and viral hits.