US Generic Business Going through Challenging Phase, Tough Days Ahead for Indian Pharma Companies
Analysts think that the current generic business scenario in the US would cause difficult conditions for Indian pharma companies.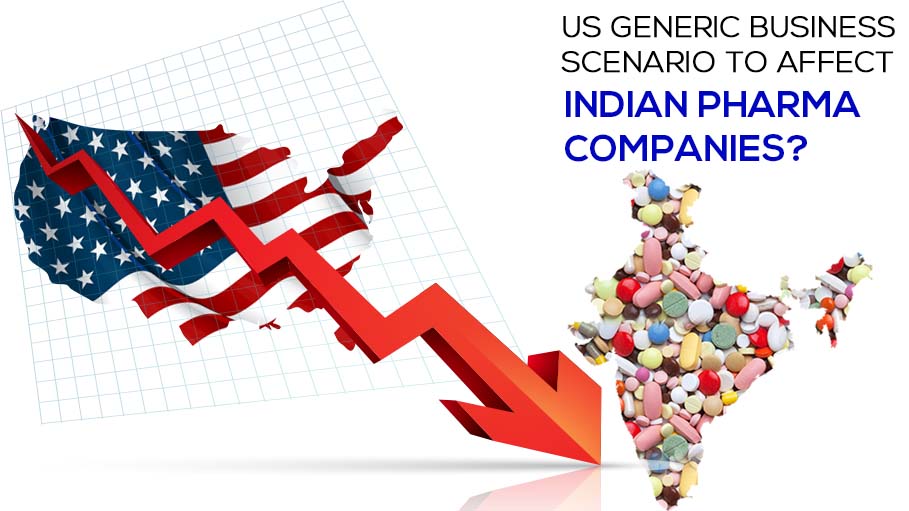 When it comes to the US generic business, there is nothing to write home about at this point in time. In fact, the US generic business is likely to remain challenging throughout 2018, according to sector analysts. And this certainly is not a good sign for the Indian pharma business, which depends on the US generic business to a great extent. Analysts think that the current generic business scenario in the US would cause difficult conditions for Indian pharma companies.
Significantly, the US generic business has been a (if not the most) significant contributor to growth and profitability to Indian generic companies over the last one decade or so. However, the US generic business has been going through a slowdown over the last couple of years. The business has in fact recorded a decline over the three quarters ending September 2017. The drop has been caused by increased competitive intensity, which in turn resulted in steep pricing pressure.
If the latest ICRA study is anything to go by, "India's domestic pharma companies are expected to face a 10-12 per cent pricing pressure on US generic business. And this may last for the next 12 months or so. And accordingly, it is likely to negatively impact profitability and cash flows before tapering off gradually".
"The US generic market is characterized by buying bulk volumes at lower prices and tend to have price erosion historically. However, pricing pressure on the US generic business has intensified over the last 12 months. The yearly price erosion which stood at approximately 5-7 per cent during Q2FY2017 for our sample companies has gradually increased to low teens in Q2FY2018 contributed by consolidation of distribution supply chain (trade partners) and faster ANDA approvals by USFDA post implementation of Generic Drug User Fee Act (GDUFA)," said Gaurav Jain, Vice President, ICRA.
There have been two major decisions, over the last one and a half year, which, in turn, led to consolidation in the US distribution supply chain. And in the new scheme of things, as high as 85 per cent of the generic pharma drug purchases is controlled by only three large buying consortiums. In May 2016, Mckesson (Wholesaler) and Walmart (Retailer) signed joint purchasing arrangement while in May-2017 the tie up between Walgreen Boots Alliance Development GmbH (WBAD) and Econdisc Contracting Solutions (Group Purchasing Organisation) came into being. The Mckesson-Walmart tie-up impact on prices has started to reflect in FY2018, though the impact of WBAD-Econdisc is expected to be fully reflected in FY2019 which will further lead to pricing pressure and keep the generic drugs prices down. Consolidation of distribution supply chain has also led to loss of market share in few products for companies on account of aggregation of demand by such purchasing consortiums or lack of economic viability for manufacturers to supply at reduced prices for larger volumes.
The other key consideration impacting generic prices has been faster ANDAs approval leading to higher competitive intensity. The pace of ANDA approvals by USFDA has improved significantly from 440 in FY2013 (October-September period) to 651 in FY2016 and 763 in FY2017. Compared to FY2013, 73 per cent more ANDAs were approved by USFDA in FY2017 and ICRA expects similar pace of approvals going forward. The increase was a result of implementation of Generic Drug User Fee Act (GDUFA) in October 2012. In addition to GDUFA, USFDA (United States Food and Drug Administration) has taken several other initiatives to increase competition in the market for prescription drugs and facilitate entry of lower-cost alternatives through Drug Competition Action Plan. FDA has also issued guidelines to promote entry of complex generics such as injectables, peptides and metered dose inhalers through conducting product development meetings, pre-submission meetings, mid-review cycle meetings and simplifying the scientific evidence required to show bioequivalence. These steps are likely to reduce regulatory uncertainties, promote higher investments in development of complex generics and faster approvals. While these initiatives will benefit generic players, they are also likely to increase number of generic competition for similar set of molecules.
Jain of ICRA said, "While ICRA expects the pricing pressure to sustain over the next 12 months, significant reduction in prices will render the US generic business unattractive for many players enabling stabilization and positive price changes in the medium term. Further, Indian companies having pipeline of complex generics will benefit from faster approval cycle and higher margins before other complex generics entry intensify pricing pressure. The sustained pricing pressure is likely to be credit negative for companies which are facing headwinds in the form of regulatory action for manufacturing deficiencies or weak pipeline of ANDAs (including complex generics, first to file opportunities and specialty molecules) inhibiting ability to launch new and profitable drugs to counter such sustained pricing pressure."
Get our hottest stories delivered to your inbox.
Sign up for Scrabbl Newsletters to get personalized updates on top stories and viral hits.