Wanda Dench And Jamal Hinton's Texting Story Teaches Us A Lesson Or Two
How many of us have received a text message accidentally and been invited for a Thanksgiving dinner? This is rare and this is the story of Wanda Dench and Jamal Hinton.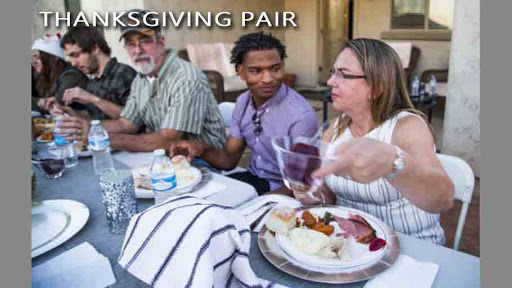 How did it all happen?
You must have come across the story of the 'great grandma' who accidentally texted a Thanksgiving invitation to a wrong number, thinking it to be her grandson's number. On 15 November 2016, Wanda intended to group text a thanksgiving invitation to her close family members. One of her grandsons had however changed his phone number and she was not aware of it. The owner of the number now was Jamal Hinton.
Jamal, who was the lucky receiver of the text continued chatting with the grandma even though he knew, it was all a mistake. He didn't miss the opportunity to connect with the ever so generous and loving grandma. There are many instances in life, when you connect instantly with a total stranger. Looks like this is what happened, in Jamal and Wanda's case. The pair instantly connected. Later, Wanda came to know that person whom she was chatting with is not her grandson.
Exchange of messages that went viral.
Here's the exchange of texts between the two that had gone viral on twitter.
Wanda: Thanksgiving dinner is at my house on November 24 at 3: pm. Let me know if you're coming. Hope to see you all. Of course that includes Amanda &&; Justin.
Jamal: Who is those?
Wanda: Your grandma
Jamal: Grandma? Can I have a picture?
Wanda: Of who?
Jamal: You lol
...........
...........
Jamal: You not my grandma
Can I still get a plate tho?
Wanda: Of course you can. That's what grandma's do...feed everyone
Jamal took the first initiative to ask Wanda, if he could still come for a plate. Knowing very well, that that's not her grandson, Wanda still invited him to come over for Thanksgiving. Isn't that sweet? And guess what? Jamal did turn up at Wanda's place last year.
They clicked pictures of them together and shared it on twitter. According to Arizona public, they've stayed close after their first meet and chat at least once a week. Jamal has discussed about his future goal of becoming a sports agent with her.
To top that, Jamal has been invited to Wanda's place for Thanksgiving every year.
Friendship can develop between strangers too.
We live in a society engulfed by violence, that we are often forced to scrutinize our own neighbours, from head to toe. It's not easy to trust someone, as fear has taken over our hearts. Thanks to all the atrocities that take place at regular intervals. Nonetheless, incidents like Jamal and Wanda's friendship that bloomed between two complete strangers, gives us hope that humanity exists and there are still warm and trustworthy people around. If Wanda desired, she could have disconnected with Jamal and their story could have ended right there. But no ! She analysed him and trusted him. Without meeting him, her heart told her that he's a kind soul, only by reading his texts. Probably, when a person is a good soul, the goodness overruns in their text messages too.
One more lesson to learn from this heart-warming story is that friendship can blossom between two individuals even if they belong to diverse age groups. Jamal is only a student whereas Wanda is a grandmom, but how beautifully the two of them connected. They've taken a step forward and committed to keeping their friendship alive in the years to come.
The pair united this Thanksgiving and Jamal brought all along his girlfriend too. Wanda told The Arizona Republic "We're more of extended family and, best of all, friends"
Three cheers to their ever growing friendship!
Get our hottest stories delivered to your inbox.
Sign up for Scrabbl Newsletters to get personalized updates on top stories and viral hits.