War of AI Voice Assistants – Google Assistant and Amazon's Alexa on Winning Spree
As the curtain goes down on Consumer Electronics Show (CES) in Las Vegas, we can see that the competition over consumer AI platforms is going to get tougher this year.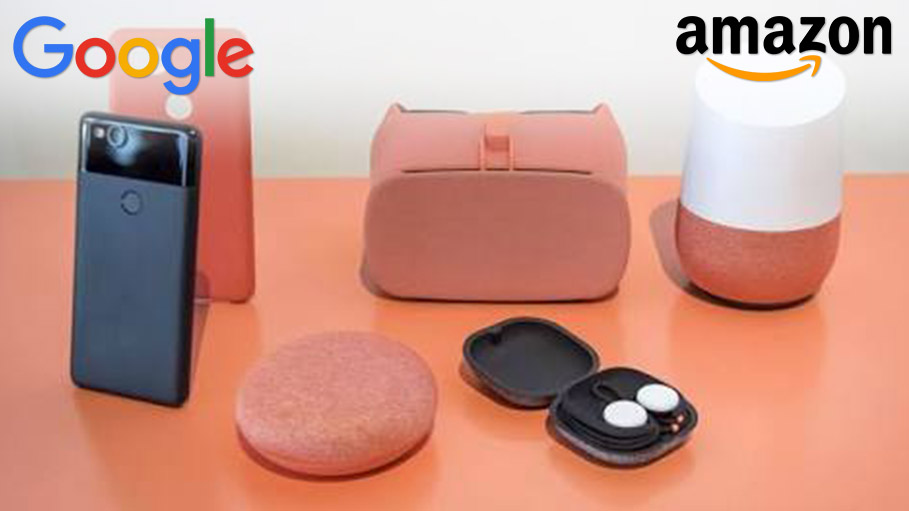 As the curtain goes down on Consumer Electronics Show (CES) in Las Vegas, we can see that the competition over consumer AI platforms is going to get tougher this year. Many of the ruling tech titans are taking measured steps to inspire people across the globe to welcome their respective voice assistants into homes, refrigerators, washing machines, phones, cars and offices. We have been hearing for long about voice taking precedence in a way that humans use appliances, automobiles, equipments and other gadgets by simply talking to them and it seems that time has arrived. It's a huge space to explore, the companies producing the best and unique end-user experiences, will be encashing big.

Google and Amazon Leading from the Front
At the CES last week, Google announced the integration of its Google Assistant with a wide range of gadgets, appliances and automobiles. Amazon too was enthusiastic about Alexa's conglomeration with a host of products.Google and Amazon's voice assistants appear to be very much on the rise, with dozens of third-party device manufacturers vying for their platforms. Google Assistant attracts crowd with its expertise in answering complex questions, its ability to adapt to different settings and broader language support. Alexa can be used to command more devices, is associated with making purchases, and has become a household name. Microsoft Corp's Cortana is optimized to work with its services, including Skype. Apple Inc, whose Siri assistant features on millions of iPhones, has yet to weigh in on the market. The future of the other primary players in the market, namely Apple's Siri, Samsung's Bixby and Microsoft's Cortana, are now questionable.
At the offset, the war of the AI voice assistants appears to be similar to the last decade's tussle between mobile operating systems, when mobile app designers had to pick the platform where to invest their limited development resources. Amazon and Google pitched against the other competitors, resembles the situation of Android and iOS versus BlackBerry, Windows Mobile and others, not to forget about the long-run warfare between computer operating systems in the years gone by. Looking at things from this perspective, the future for Apple, Samsung and Microsoft don't appear to be so bright, but there is a twist to the story.
Why does Microsoft need to Rework Its AI Plans?
As per statistics there was room for only two or three players in the PC and mobile segments, there are definitely more opportunities in voice-based Artificial Intelligence, provided that competitors understand their strengths and weaknesses and focus on their niches. First up, there's Microsoft. With Cortana, the computing giant hoped to become a voice power on PCs. But with Amazon having released Alexa for PCs last year and a similar move by Google all but unavertable, Microsoft will likely need to reshuffle its plans.

Market Growth and Effectiveness of AI
According to UK-based research analysts Ovum, the number of AI-powered devices is set to grow to 7.5 billion by 2021. Smartphones will lead the way, but AI assistants such as Samsung's Bixby and Apple's Siri will increasingly find their way into smart home products, such as speakers, televisions and other home appliances. The revenue from such smart-home products is due to grow by a compound annual rate of 13 per cent to US$137 billion by 2023, according to Seattle-based research firm Markets and Markets.
For AI based apps and devices, the computing power and effectiveness increases exponentially basis the data it gathers. So some of the players will get the advantage of time. If Alexa and Google Assistant do a smart job at crawling the web for queries, controlling home appliances and delivering news reports, they're only going to get better as they learn from an ever-growing repository of user-supplied information. Perhaps AI enriched user-experience awaits us.

Get our hottest stories delivered to your inbox.
Sign up for Scrabbl Newsletters to get personalized updates on top stories and viral hits.