Ways to Deal with Micro Influencers and Where You are Going Wrong
Micro influencing is the tool everyone is using. Here how you can manage such a campaign for your brand.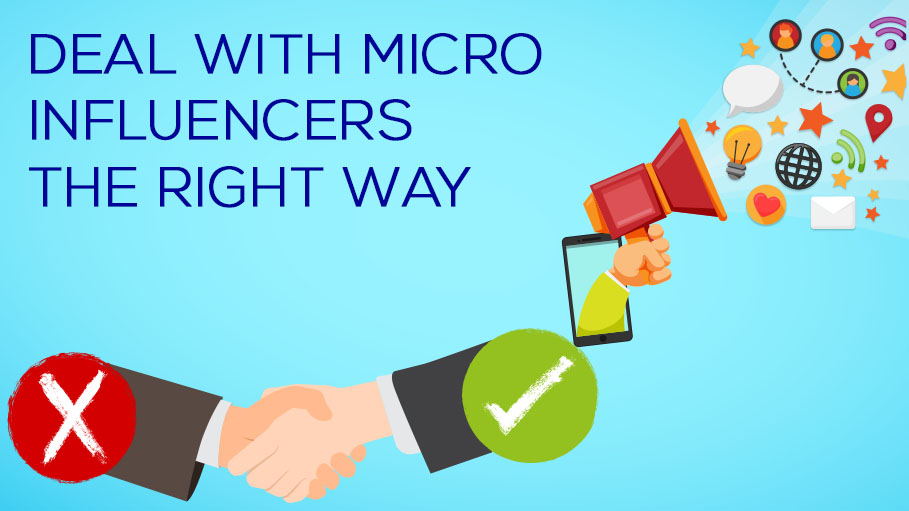 Micro influencing has become the buzzword around the digital world. Everyone, even aspiring marketers know how powerful YouTube, Twitter or Instagram influencers are. In fact, if the prediction for 2018 goes right, micro influencing will be the thing to look forward to.
Micro influencers are the people with small follower base. Why such influencers are valuable? This is a question, you need to ponder before you go ahead with the influencer marketing strategy. There are mistakes which the marketers make. You must be careful about the strategy you are making about influencer marketing.
Micro influencing is important because, influencers with huge follower base don't have a lot of likes and comments. A study has confirmed this. Therefore, when you are going to begin with the influencer marketing, you need to start slow. You need to get going with the influencers with small follower base but higher power.
With time more and more studies are getting out supporting this theory. So, now you can understand why instead of attaching a large amount of money on one influencer, you can attach a large number of influencers to promote your product.
However, micro influencer campaigning sounds easy. But, when you start exploring the options, you will see that the task is difficult. You need to know what works in the world of influencers. You also need to be aware of what does not work. When you are equipped with such information, you are better at dealing with the micro influencers.
Treating the Micro Influencers
Well, the influencers are not your employees. This is what you need to understand even before you send out the first email. Yes, you are paying them to promote your product. But, they are not working under you. Rather they are working for you.
They have associated with you because, they like what you are selling and they love the idea of being a part of the rising brand. It is your duty to make the contribution fun and stimulating. When this happens they will enjoy working with you. This is when your brand gains from the influencing.
You need to plan unique rewards for the micro influencers who are working actively for your brand. This will give the influencers more reasons to work with you. The extra mileage is the thing you need to target.
The Process of Attaching the Influencer
Well, think about it when you are planning influencer marketing. You need to think how you would make them a part of your work process. Since you are attaching them to your team, it is your duty to make them feel at home from the day one.
They need to be excited about working with you. They need to be happy with the brand they are promoting. Give them something to be happy about. This can be a great welcome to your team. Or, you can let them take the first step. Or, you can assign two different teams of influencers for a healthy competition.
What mostly brands forget about while attaching an influencer is the expectation. They don't set it clearly. This creates problem later on. Therefore, don't wait till the third week or the next month to set the goal. You need to set it on the first day.
Community Sense
You need to set the sense of community as well. This works as the motivator. When your influencer feels like a part of a close community they usually give extra effort to make the brand promotion a success. Therefore, from the day one, you need to plan how you would set this sense.
If you play this right, the team will start motivating each other. They will start working for the community itself. Community will help you get authentic feedback. When you start getting the feedbacks, you will know what's working for you and what's don't work for you.
Make Sharing Easy
You need to understand that when an influencer agrees to promote your brand, the influencer also agrees to share what you are writing. It is up to you to make sure that they don't face much friction while sharing your content.
Remember that if you can keep your influencer motivated about your brand, you are better at making the brand promotion a success. However, there are some mistakes which you might end up making. So, we thought of mentioning them as well.
Lack of Detailed Plan
This is the most common mistake which can ruin the entire effort of influencer marketing. You need to proceed with a plan. Yes, not only you need a plan, you need a detailed plan.
Don't go for this, because everyone else is going after it. Before, you start emailing them, chalk out a plan for the campaign. You need to get as detailed as you can.
Follower Counts
Well, follower counts work. But you should not focus on that aspect only. There are other things which you need to pay attention to. The success does not depend on the follower count. It depends on the person you are attaching to your brand promotion campaign.
When you are going for this, you should not forget that the right influencer will not only work for you. They will also motivate people to work for you. This is what you should be looking for rather than follower count.
Social Media Platform Mistakes
You see there will always be that social media platform which will give you the highest number of followers. However, instead of focusing solely on this platform, you need to choose an influencer from the other platform to distribute the promotion campaign.
Don't restrict yourself to one platform. Spread your wings everywhere. This will help you achieve your marketing goal.
Remember that when used right the influencer marketing campaign can help you handle your business effectively. You will be better at reaching out to people. However, it is essential that you avoid stepping into the common traps which might restrict your progress.
Get our hottest stories delivered to your inbox.
Sign up for Scrabbl Newsletters to get personalized updates on top stories and viral hits.