WikiLeaks Founder Julian Assange, Now an Ecuador Citizen
The WikiLeaks founder Julian Assange was made an Ecuadorian citizen last month, the foreign ministry of Ecuador has finally declared officially, in an attempt to resolve the political impasse over his continued presence in the United Kingdom.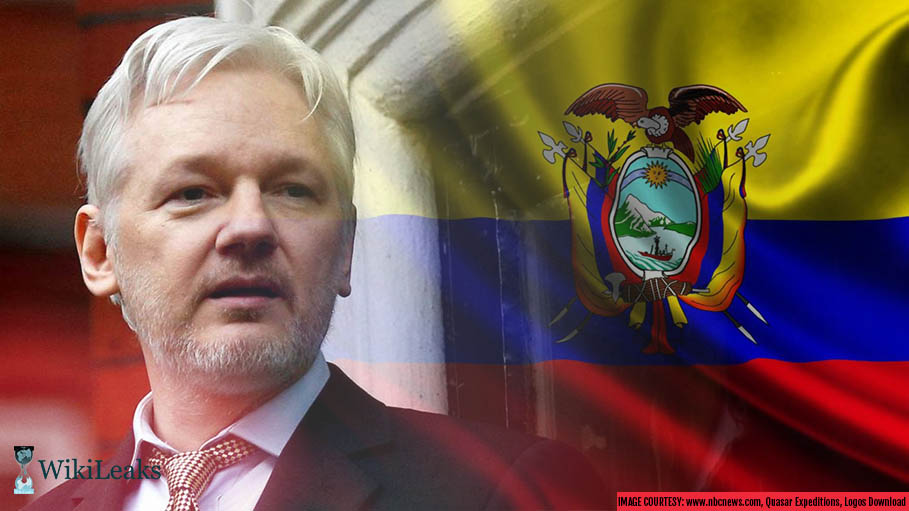 The WikiLeaks founder Julian Assange was made an Ecuadorian citizen last month, the foreign ministry of Ecuador has finally declared officially, in an attempt to resolve the political impasse over his continued presence in the United Kingdom. The 46-year-old Assange has been naturalised after staying for five and a half years in the Latin American country's embassy in Knightsbridge in London.
At a press conference on 11th January 2018, in the Ecuadorian capital, Quito, the foreign minister, Maria Fernanda Espinosa, explained that Assange had sought citizenship and that it had been granted on 12 December last year. "The Ecuadorian government is empowered to grant nationality to the protected person and thus facilitate his inclusion in the host state".
Assange's life could be under threat from other states, she warned, adding that she was seeking a "dignified and just" solution to his situation with Britain.
Adding to this Espinosa said the issue was not about Assange facing British law, but "founded fears that we have about possible risks to the life and integrity of citizen Assange, not necessarily from the United Kingdom, but possibly by third states".
Ecuador was obliged to give him protection as "long as the life, integrity of this protected person could be at risks and danger," she also said, adding that her government was exploring other options to resolve the seven-year standoff.
On being asked about Naturalization, Espinosa said, "What naturalization does is provide the asylum seeker another layer of protection".
The new citizenship status, however, appears to change little for Assange in the immediate future. He would still need to alert British authorities of any movement outside the embassy.
Earlier this week the United Kingdom's Foreign Office revealed that Ecuador had asked for Assange, who was born in Australia, to be accredited as a diplomat. The request was dismissed.
The United Kingdom Foreign Office put out a statement explaining that: "The government of Ecuador recently requested diplomatic status for Assange here in the United Kingdom. The United Kingdom did not grant that request, nor are we in talks with Ecuador on this matter. Ecuador knows that the way to resolve this issue is for Julian Assange to leave the embassy to face justice."
The Ecuadorian initiative to grant him citizenship was intended to confer legal immunity on Assange, allowing him to slip out of the embassy and Britain without being arrested for breaching his former bail conditions.
The Australian-born activist took refuge in the Ecuadorean embassy in the UK capital in 2012 to avoid extradition to Sweden, amid fears that he would have been handed over to the United States to face prosecution over the publication of classified military and diplomatic documents by WikiLeaks.
He was wanted in Sweden for questioning over rape accusations. Prosecutors there dropped the case last year, but Assange remained in the embassy after British police said he would still be arrested for violating bail conditions.
Recently Assange appeared on his Twitter account for the first time wearing an Ecuadorian national football shirt. This may be perceived as his glad acceptance to the nationality of the country, though he haven't declared anything in writing.
A statement by Assange's legal team said: "The UN ruling, issued almost two years ago, is crystal clear in its language. [He] is unlawfully and arbitrarily detained by the United Kingdom authorities and must be released. The United Kingdom should not permit itself to be intimidated by the Trump administration's public threats to 'take down' Assange."
Though protected by Ecuador, the relationship between Assange and the nation's leaders of Ecuador has at times been not that good.
Ecuador has time and again repeatedly urged Assange not to interfere in the affairs of other countries following his frequent online comments and remarks on international issues.
The biggest crisis came in October 2016, when the embassy cut his Internet service after WikiLeaks published a trove of emails from then-US presidential candidate Hillary Clinton's campaign, bringing in hues and cries.
He was also a point of contention in Ecuador's 2017 presidential election. When, the Conservative candidate Guillermo Lasso pledged to evict the Julian Assange within 30 days of taking office, while current President Lenin Moreno said he would allow him to stay.
A small backgrounder about Julian Paul Assange. Assange founded WikiLeaks in 2006, but came to international attention in 2010, when WikiLeaks published a series of leaks provided by Chelsea Manning. These leaks included the Collateral Murder video (April 2010), the Afghanistan war logs (July 2010), the Iraq war logs (October 2010), and Cable Gate (November 2010). Following the 2010 leaks, the Government of United States launched a criminal investigation into WikiLeaks and asked allied nations for assistance.
In November 2010, a request was made for Assange's extradition to Sweden, where he had been questioned months earlier over allegations of sexual assault and rape. Assange continued to deny the allegations, and expressed concern that he would be extradited from Sweden to the United States because of his perceived role in publishing secret American documents.
Assange surrendered himself to United Kingdom police on 7 December 2010, and was held for ten days before being released on bail. Having been unsuccessful in his challenge to the extradition proceedings, he breached his bail and absconded. He was granted asylum by Ecuador in August 2012 and has remained in the Embassy of Ecuador in London since then.
Get our hottest stories delivered to your inbox.
Sign up for Scrabbl Newsletters to get personalized updates on top stories and viral hits.