World Bank, CropIn Partnership: 20,000 Farmers in MP and Bihar Adopt Climate-Smart Agriculture Practices
The advisory module developed by CropIn has heaped in numerous benefits for the farmers of MP and Bihar. The platform has been validated and recommended by the World Bank and can serve as a model project for other states in the country as well.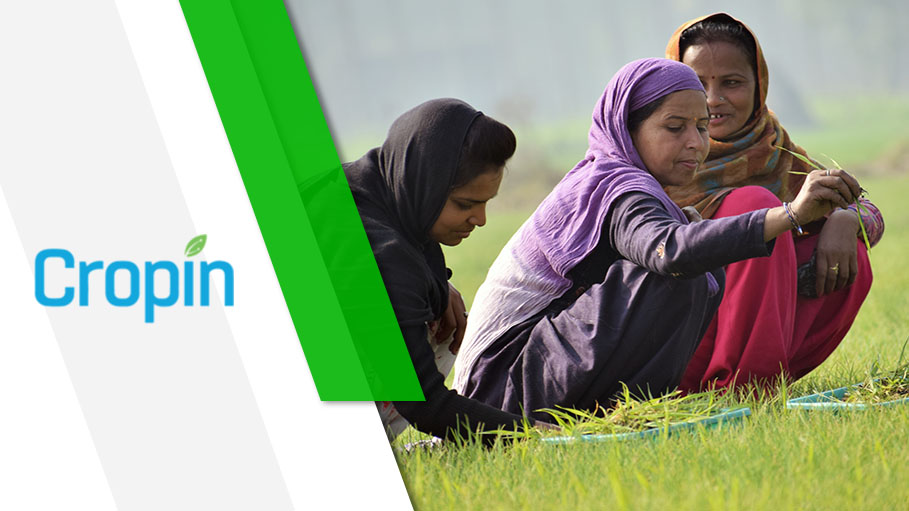 India is the most vulnerable country to climate change as per an HSBC study of 67 developed, emerging and frontier markets in the world. These 67 nations represent almost a third of the world's nation-states, 80 percent of the global population and 94 percent of the global gross domestic product. The constant rise in temperatures and extreme weather events such as droughts, floods, and storms have a distressing effect on agriculture given that the sector is highly sensitive to climate change.
A 2017 climate study report states that for every 1°F rise in the temperature, crop yield decreases by 3 percent to 5 percent, and the mean temperature in India is bound to increase by 0.4°‒2.0°C (32.7-35.6°F) in Kharif (monsoon) season and 1.1°‒4.5°C (34-40.1° F) in Rabi (winter) season by 2070. With 55% of India's population depending on agriculture for a living, and nearly 70% living in rural areas that constitute larger agro-economic systems, climate change raises concerns about food produce, food security and the livelihoods of the poorer and marginalized communities in developing countries.
Climate Resilience: The Need of the Hour
Changing trends in temperature, precipitation, and other weather parameters will continue to have a significant impact on agriculture, thereby also affecting food security, terrestrial ecosystems, economy, human health and social life in the country. To ensure that farming continues to be sustainable, the Food and Agriculture Organization (FAO) states building climate resilience is the most effective way forward. The scope of climate resilience includes practices that focus on strengthening the ability of families, communities, and governments to manage and respond to climate extremities. As an initiative towards building climate resilience in India, the Ministry of Rural Development (MoRD), supported by the World Bank, has initiated the Sustainable Livelihoods and Adaptation to Climate Change (SLACC) Project. The pilot program is currently being implemented in 200 villages spread across four districts of Madhya Pradesh and Bihar, in partnership with National Rural Livelihoods Project (NRLP) and supported by the State Rural Livelihood Missions (SRLM).
CropIn: The Technology Partner
One of the interventions of the project being provision of weather-based agro advisory to farmers, SLACC has leveraged the climate-smart advisory module developed by CropIn Technology Solutions, a Bengaluru based AgTech startup, to help farmers adapt to climate change. The first of its kind advisory module of the project has thus far transformed the lives of over 20,000 farmers in the 200 villages.
Through their advisory module, CropIn has digitized over 90,000 farm plots and helped farmers build sustainability and boost productivity over the last 18 months. CropIn's climate-smart advisory module provided season-wise crop configurations for all the major crops as well as weather-based advisory to SLACC farmers in their local dialect. While the Bihar chapter of SLACC covered the flood-prone district of Madhubani and drought-stricken district of Gaya, Sheopur and Mandla districts were included from Madhya Pradesh.
From Crop Selection to Harvest
The most critical objective of the program is to give farmers climate-smart advisory in order to help them achieve optimal harvests in the face of weather extremities. CropIn's platform provides end-to-end advisory on farming, from choosing the right crop for planting to identifying the right time for harvest. The advisory is about -
● Usage of climate-resilient seeds
● Sustainable agronomic practices
● Right utilization of water
● Pest and disease prevention
● Harvest and post-harvest practices
● Weather-based rule engine that sends alerts on weather forecasts that helps plan package of practices, soil management etc.
The Impact
Making farmers adapt to technology-based advisory was the biggest challenge faced by SLACC as they were used to traditional farming practices that are no longer effective, owing largely to the unpredictability of weather. The project empowered over 200 SRLM-appointed village resource professionals to educate and empower farmers across the two states. These professionals, who belonged to the local communities, were equipped with mobile apps to enable them to disseminate information among farmers.
With an advisory adoption rate of 90% and query/issue resolution rate of over 92%, CropIn has successfully equipped 20,000 farmers of Madhya Pradesh and Bihar with climate-smart practices. The farmers were able to boost their productivity by 20% by following the package of practices recommended by CropIn's advisory. Through this World Bank and NRLP funded initiative, smallholder and marginal farmers were also able to save on consultancy/advisory costs. Furthermore, the project also supported women empowerment by employing many female farmers and village resource professionals under Mahila Kisan Sashaktikaran Pariyojana.
A Model Solution for the Other States
The advisory module developed by CropIn has heaped in numerous benefits for the farmers of MP and Bihar. The platform has been validated and recommended by the World Bank and can serve as a model project for other states in the country as well.
When asked to comment whether this model can be replicated for other states, Kunal Prasad, Co-founder and COO of CropIn said, "Absolutely! Our platform's success with the World Bank's pilot run has given us a lot of incentive to work with other states. We are looking to replicate the same solution to benefit hundreds of millions of farmers across India. We are also working on giving farmers access to markets and connecting them with buyers."
With a hugely successful first run in MP and Bihar, talks are on with the respective state governments to execute the solution in the rest of the districts in both the states.
About CropIn Technology Solutions
CropIn is an AgTech company that enables data-driven farming by connecting the different players in the agro-ecosystem. The company works with farming companies, seed production companies, agri-input companies, banks, insurance companies, government bodies, and development agencies. The company operates in 29 countries, mostly emerging markets, and has digitized over 3.1 million acres of farmland and enriched the lives of nearly 1.6 million farmers while working with over 3,500 crop varieties globally. The Government of Karnataka has recently partnered with CropIn to adopt data-driven farming solutions in 20 districts of the states, which has now been scaled up to 30 districts.
Get our hottest stories delivered to your inbox.
Sign up for Scrabbl Newsletters to get personalized updates on top stories and viral hits.