'Ghoul' from Netflix Ushers in Terrorists from the Other World - Horror Streaming Across India
Netflix's first take on horror for the Indian audience comes from Oscar winning makers and some of the most reputed production houses.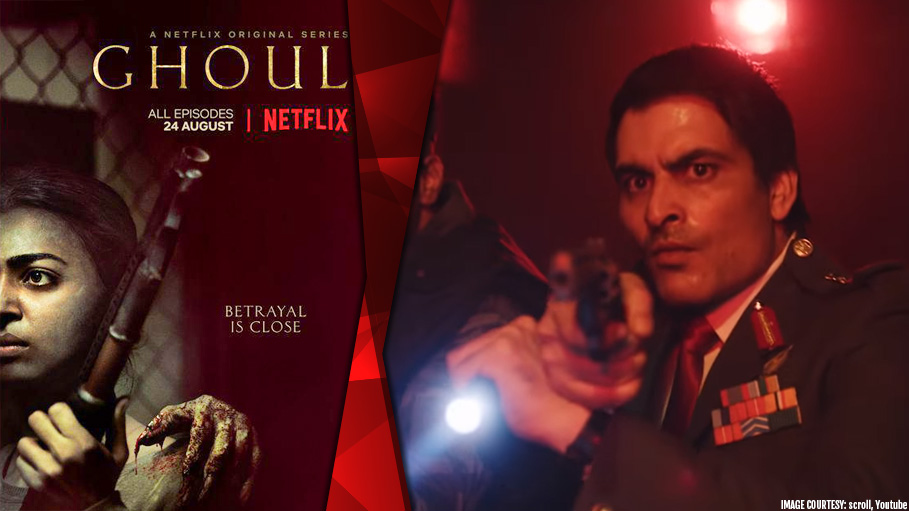 Netflix, one of the most popular names in the online streaming empire is all set to cater to the Indian audience who do relish their taste in the horror genre. The trailer for 'Ghoul' has already hit the market and currently, it is trending on YouTube. Watch the full trailer here.
From the look of the 'Ghoul' poster, it could be easily predicted that this Netflix Original Series is going to be an action-packed horror flick, fear served on such a platter that is quite new to the Indian viewers.
After 'Lust Stories' and 'Sacred Games', actress Radhika Apte is back in a spine-chilling online tale as a newly minted military interrogator who arrives at a covert detention center. The 'Ghoul', as summarized, "...is a chilling series about a prisoner who arrives at a remote military interrogation centre and turns the tables on his interrogators, exposing their most shameful secrets. You can fight the demons of this world but what about the ones that aren't?"
The 'Parched' and 'Padman' famed actress, who is known for appearing in meaningful roles, even in the mainstream Indian films, will be seen in such a character for the first time. Earlier, she did play the lead in the 2016 thriller-mystery 'Phobia' that apparently had some supernatural innuendos, but was not an out-and-out horror project as 'Ghoul'.
Scroll down to watch the full trailer
Apart from Radhika Apte, 'Ghoul' also stars Manav Kaul, Ratnabali Bhattacharjee, Mahesh Balraj amongst others.
What adds to its screen time value is, the series comes from the makers of 'Insidious', 'Get Out' and 'Udta Punjab'. While 'Insidious' is considered one of the finest horror features (first installment, 2010) in the last few years, its sequels have been quite successful as well on the box office, so far. 'Get Out' that won the Academy Awards in four categories in Oscars 2018, redefined the fear factor in a gripping and hair-raising script.
Scroll down to watch the full trailer
'Udta Punjab' the 2016 black comedy deals with the drug addiction issue and its frenzied consequences that affected several families and the political landscape of Punjab, was a critically acclaimed movie giving rise to a number of controversies in the nation.
Blumhouse productions that produced the oh-so-popular 'Paranormal Activity' is co-producing 'Ghoul', while the other two being Phantom Films and Ivanhouse Pictures.
Reportedly, the 'Ghoul' will be having 3 episodes that are scheduled to release altogether on August 24.
Full trailer of 'Ghoul':
Get our hottest stories delivered to your inbox.
Sign up for Scrabbl Newsletters to get personalized updates on top stories and viral hits.