'Godzilla: King of the Monsters' Trailer Unleashes a Few Fear Factors and Other Classic Monsters
A fear wave has pounded on the media shore, proclaiming the return of the 'King of the Monsters', Godzilla. A sequel you must look forward to and why!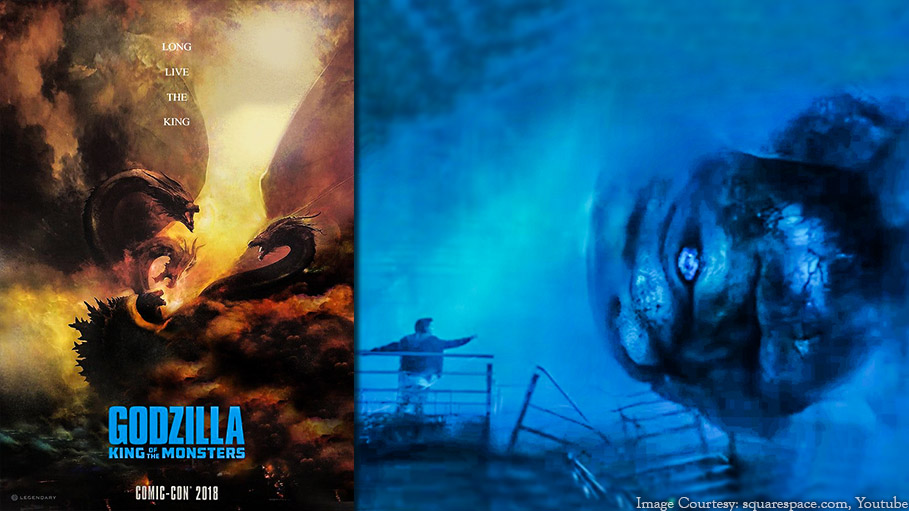 And you thought 'Aquaman' official trailer by Warner Bros. was good enough to thrill your inner sci-fi freak this monsoon… what you might not have known is that 'Godzilla: King of the Monsters' trailer has also crashed onto the shore swashing more thrills and chills, monsters and more monsters.
After 'Godzilla(2014)', it's 2018 when the first trailer of its sequel released, and as the name suggests, 'Godzilla: King of the Monsters' draws in other monsters from Japanese folklore and cinematic references, building a fantasy connection this time.
I'm sure you will be pretty intrigued after watching the first official trailer:
On the verge of mass extinction, invoking the Titanic warriors is the only way out. The existence of human race depends on Godzilla who will fight his nemesis King Ghidorah, a fierce three-headed monster - that's the concept in a nutshell.
Although neither this is Godzilla's second appearance on screen, nor the Ghidorah will be making its screen debut. In fact, this is the 35th film officially in the Godzilla franchise, and Ghidorah already has an entire film (Japanese) to its fame released in 1964 by Japanese film production and theater company, Toho.
The sequel sci-fi thriller is supposed to feature few more monsters like Rodan and Mothra, however according to several trailer reviews the screen time of these monsters, along with the prime characters Godzilla and Ghidorah, is doubtful. How director Michael Dougherty introduces and plays with so many apparently new colossal creatures, remains to be seen.
You'll be glad to know that the horror cult film Trick 'r Treat (2007) and Krampus (2015) are the directorial works of the same director Michael Dougherty, who was also behind the script of 2006 superhero flick 'Superman Returns'. And no wonder, why the expert reviews suggest that there is more than one horror film reference in the movie. Yes, you read it right, horror references in a science fiction feature film.
I don't really mean to scare you on a fine day, but being a 'horrorholic' myself such enthralling suggestions do fascinate me. As per trailer critics (source: cinemablend.com), 'Godzilla: King of the Monsters' bears a strong screen resemblance with 1982 released 'The Thing', where a group of soldiers is seen passing through 'Outpost 32', and the Godzilla sequel trailer has a similar scene.
There would be hardly any thriller/horror genre follower on earth who hasn't yet experienced 'The Exorcist' that came out in 1973. A film that is considered a classic till date and has been adapted later in various other films, has something in common with Godzilla 2. Now, if you have seen 'The Exorcist' you may recollect the statue of Pazuzu, the demon that supposedly possessed the young girl in the film. In a frame of 'Godzilla: King of the Monsters' trailer, a statue quite close to Pazuzu can be spotted.
Want more? Well… two of the 'Godzilla: King of the Monsters' leading actors rose to fame climbing the ladder of horror features. Vera Farmiga (Dr. Emma Russell in the thriller sequel) became an even popular face after her appearances in box-office smasher 'The Conjuring' installments, horror drama 'Bates Motel' among others.
Millie Bobby Brown, who plays Madison Russell in the film, came into the limelight for the character 'Eleven' in Netflix science fiction horror series 'Stranger Things'.

Godzilla, the beast from the series of tokusatsu films in Japan went on to become a global pop culture icon, gradually. From being a destructive, prehistoric sea monster, Godzilla emerged as an antihero and turned out to be a money-spinner everytime it struck the silver screen. Will history repeat again? Wait till 31st may 2019 and keep cheering, "Long Live the King!"
Get our hottest stories delivered to your inbox.
Sign up for Scrabbl Newsletters to get personalized updates on top stories and viral hits.