"I love Indian Media" says Donald Trump Jr.
Donald Trump Junior, son of US President Donald Trump has first time experienced Media to be so friendly and that too Indian Media.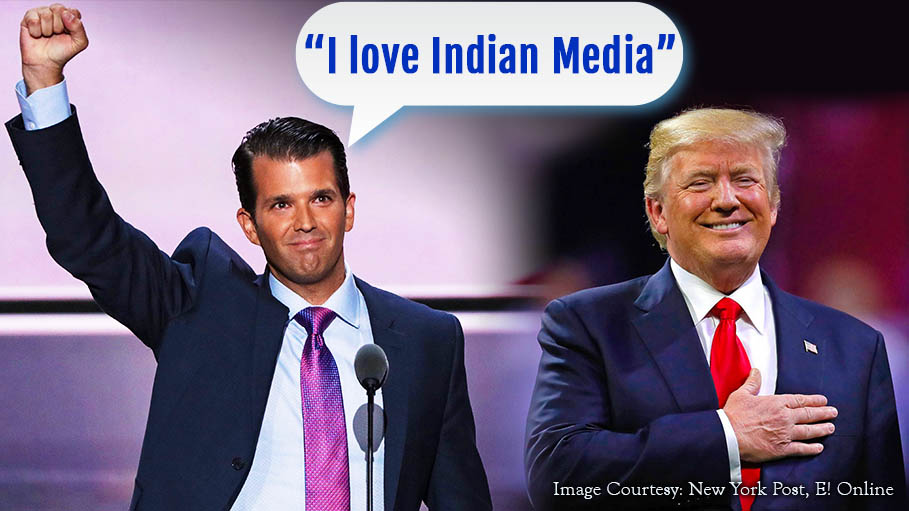 The relationship of Trump's and media is like the cartoon characters Mickey Mouse and Tom Cat. But Donald Trump Junior, son of US President Donald Trump has first time experienced Media to be so friendly and that too Indian Media. Donald Trump Junior who was recently on a business trip to India has said he love the Indian media as it is "mild and nice" compared to the "aggressive and brutal" American media.
The US president's eldest son has heaped praise on the Indian media and accused American journalists of unfair criticism, as he was on a business trip across India promoting Trump-brand luxury real estate.
Speaking at the Global Business Summit in New Delhi recently, Trump Jr. said, "I am the first person in the history of India to say I love the Indian media. They are so mild and nice." He also related an incident, once he said that Indians have smiling faces despite the hardships. On the next day, The 'Washington Post' made it a headline saying "Donald Trump Jr likes poor people because they smile", he informed.
Trump Jr. said at the summit he had been coming to India for more than a decade to build business for The Trump Organisation. He avoided speaking on politics most of time. Time and again he informed that he has come to India as a businessman and not as a politician.
Although Trump Jr.'s India visit has already raised many ethical concerns. The speech he was supposed to deliver in the summit has been canceled after being criticized by experts saying he should avoid weighing in on policy issues as a private citizen. He was earlier scheduled to speak on "Reshaping Indo-Pacific Ties: New Era of Cooperation", it was later changed to "A Fireside Chat with Donald Trump Jr." at the last moment.
The top Democrat on the Senate Foreign Relations Committee, US Senator Bob Menendez, has even wrote to the US ambassador to India to guarantees that the embassy and the State Department is not providing any support Donald Trump Jr.
In his letter Menendez wrote, "If Trump Jr. delivers his speech, it will send a wrong message to everyone, as if he is speaking on behalf of the President of United States of America and American policy and not as a private businessman".
Clearing the air, White House spokeswoman Lindsay Walters said the Trump administration takes seriously its obligation to ensure that government resources are not used to provide a private benefit to anyone. Walters has cleared that, "Donald Trump Jr. is a normal individual or businessman and the state department has not provided him with any support in his trip to India beside coordinating with his Secret Service protection".
Speaking during the summit Trump Jr. appreciated the changing business scenario in India as compared to around a decade ago, Trump Jr. said he sees a lot of energy and has been able to do good deals during this years and he also said his willingness to invest in India 10 times more. Citing an example, Trump Jr. said when he first came to India for real estate business 10 years back, he ran to a businessman who claimed to have a good land at a prime location but at the final moment, the businessman withdrawn.
Trump Jr. has also met carefully selected Indian Journalists and reporters since coming to India, with coverage often focusing on the promised luxury of the real estate developments he is promoting.
Trump Jr. and his brother Eric Trump has been looking after the family's real estate business in Trump Organisation, as his father is busy handling the administration and polity of America. Trump Jr. has traveled to four major cities of India and met business partners and buyers of the luxury residential projects that bear his family's name.
India has the company's largest number of projects outside the United States with five leading projects under the brand. Trump Organization charges a licensing fee from Indian partners who build the properties under the name of Trump. One project in Pune is already open, whereas two projects in Mumbai and Kolkata are at the construction stage. Two other projects are underway in New Delhi and Gurgaon.
Get our hottest stories delivered to your inbox.
Sign up for Scrabbl Newsletters to get personalized updates on top stories and viral hits.