'Shazam!' Teaser Trailer Flashed Like a Bolt of Lightning and Laughter
Slam! Flam! Wham! ...Presenting Shazam! DC Comics' red, hunky superhero has just made his entry!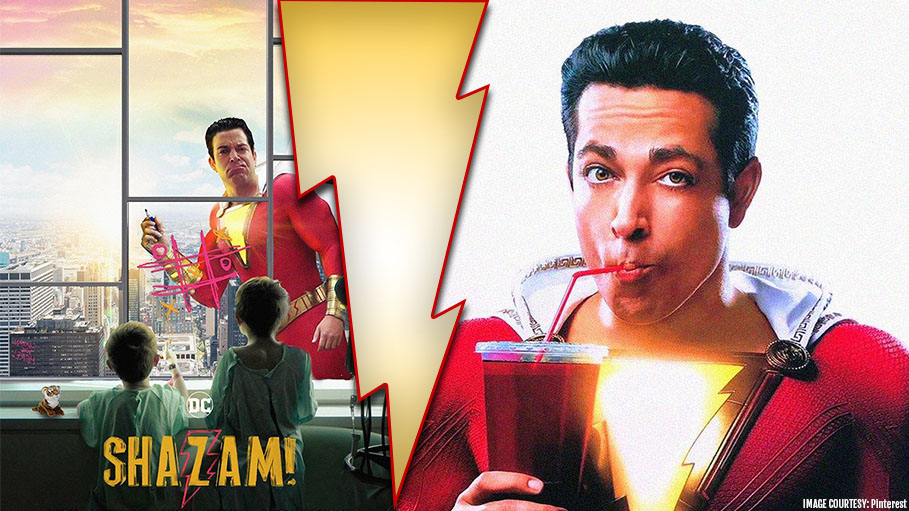 Warner Bros. attempts to disperse the 'serious darkness' of DC with the lightning flash named 'Shazam!'. Captain Marvel aka Shazam is all set to add some fun and frolic to the 2019 superhero business.
If you haven't watched it, it's high time you enjoy DC's upcoming superhero flick 'Shazam!' teaser trailer:
'Shazam!' thrives upon a tale of a young lad, Billy Batson, an orphan, who finds a new foster home, gets into fight with other ill-mannered brats in school, and bumps into an old wizard with grey hair and beard while being in the subway, in fact, something magical happens and from the subway compartment he finds himself in front of the wizard. Interestingly, the wizard is also called Shazam, and he flows his powers into the teenager Billy to turn him into an adult in a red costume, with a big 'flash' emblem on chest. Billy says 'Shazam' and boom! We get our hero 'Shazam!'.
On becoming an accidental superhero, 'Shazam' goes on to unravel his superhero powers one by one, through a few comical chain of events. And it appears from the trailer, 'Shazam' can also go back to his 'Billy Batson' self, or can take the muscley, red-suited up form, whenever he wishes. He just has to utter 'Shazam' and magic happens!
However, the character was formerly known as Captain Marvel and first appeared in Whiz Comics #2. Later to avoid the copyright issues with the Marvel company, after the reboot of DC Universe, the character was reintroduced as 'Shazam' in Justice League Volume 2.
The name Shazam was carefully chosen, as the character has the abilities of the six ancient figures:
S The wisdom of Solomon;
H The strength of Hercules;
A The stamina of Atlas;
Z The power of Zeus;
A The courage of Achilles;
M The speed of Mercury
[Source: Wikipedia]
After 'Aquaman', looks like DC is focusing on its origin films, following some robust strategy to play shoulder to shoulder with MCU, in the sci-fi movie genre.
Directed by David Sandberg, who has some celebrated horror films like 'Lights Out', 'Annabelle: Creation' in his kitty, was quite confident about the project mentioning that his earlier two films were with kids, and 'Shazam!' also is no exception! And it was in last year September, when he posted the following tweet captioning, "Shazam has the best adventures!"
Shazam has the best adventures! pic.twitter.com/NNwG6R38s9

— David F. Sandberg (@ponysmasher) September 9, 2017
You may want to take a look at this video:
The Shazam crew talking about what powers they would have is the most wholesome thing to come out of sDCc #SHAZAMMovie #Shazam #SDCC2018 pic.twitter.com/FcVdz1U0eP

— Aqualad🌊 (@kidcozytoken) July 22, 2018
The cast of 'Shazam!' includes Zachary Levi as Shazam, Asher Angel as Billy Batson (junior), and Ron Cephas Jones, Jack Dylan Grazer, Mark Strong in other characters. Dwayne Johnson, The Rock will be appearing in a villainous character called Black Adam.
But how long we have to wait to see the Dwayne Rock Johnson in his bad guy avatar? Well… Shazam!
Get our hottest stories delivered to your inbox.
Sign up for Scrabbl Newsletters to get personalized updates on top stories and viral hits.