'Stranger Things 3' Final Trailer is the Harbinger of More Blood-Curling Nightmares
The long awaited 'Stranger Things 3' final trailer is freshly out and it's creepy, acutely ominous and packed with Millie Bobby Brown and her gang's thunderous encounters against the evil.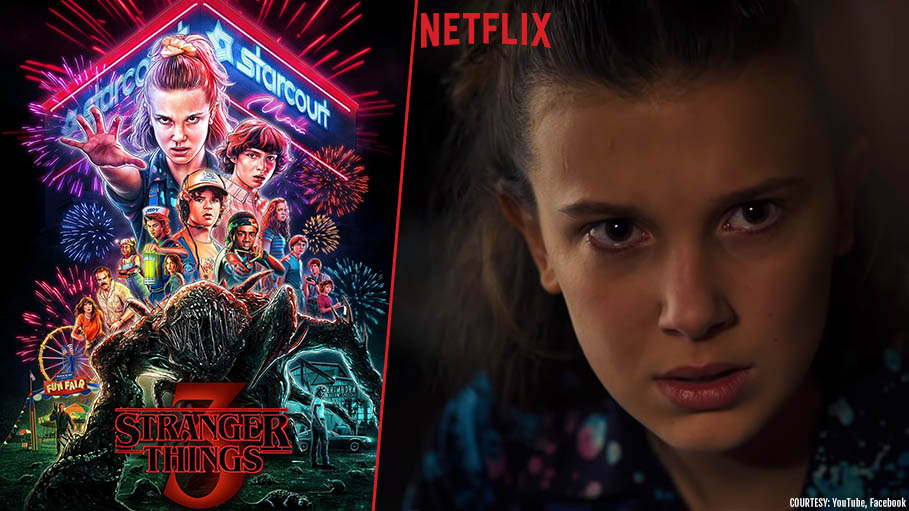 If you have binge-watched this periodic web series, if you know all the characters too well, if you have survived the slimy, ferocious manhunter creatures episode after episode, your long wait has been answered. 'Stranger Things 3' final trailer is here and it indicates that the season 3 is going to be way more challenging for El aka Eleven (Millie Bobby Brown) and her teen gang, for the evil, slimy creatures are in the mood for permanent settlement in our world.
The trailer opens with a sinister voice talking to Millie Bobby Brown that it was she who opened the gate for them and now again, it would be El who would let them stay. The voice speaks in such a cold yet threatening intonation that sets the ambiance for what follows next in the trailer. In fact, this time those vicious creatures are looking for a new host… who is that? Watch trailer to find out.
Watch 'Stranger Things 3' final trailer:

The third season of 'Stranger Things' is definitely introducing new characters to the storyline, however, there hasn't been any leak about their roles or longevity in the series. Like, in season 2, the makers made our acquaintance with Bob Newby played by 'Lord of the Rings' actor Sean Astin. Being a very good and caring boyfriend to Joyce Byres (Winona Ryder) and a responsible guardian to her son Will, Bob touched our hearts. His sacrifice that led to his terrible death came as a shocker!
However, the character of Max, the new in the all-boys' party of Mike, Will, Dustin and Lucas will surely to be seen again in the upcoming season 3.
Another small info, according to sources, 'Stranger Things 3' will be set in the year 1985.
For those, who are still new to the sci-fi supernatural series of 'Stranger Things', the plot surrounds an imaginary town Hawkins in Indiana during the early 80s, where a gifted girl child, El aka Eleven (Millie Bobby Brown) accidentally opens a portal to another dimension, from which, frightening and repellent creatures find a doorway to our world.
Coming from the world 'upside down' these creatures consider themselves as the superior race, want to rule on other races they see as inferiors. These creatures who resemble the aliens kidnap Will and mind-boggling events follow thereafter.
Being an 80s drama, it gives its millennial audience the scope to explore the pop culture of that era, and for the viewers touching their 40s an amazing experience to revisit their adolescence years.
The background score of 'Stranger Things' has been made tremendously interesting and nostalgic due to its frequent use of 80s rock music that takes us back to the times of listening to walkmans, gossiping about boys on telephone sets, secret plannings done on walkie-talkies and more such golden memories.
Created by the Duffer Brothers 'Stranger Things' has become a widely popular Netflix Original series for projecting elements of horror, periodic tale, science fiction, high school adventures at right proportions.
'Stranger Things 3' releases on Netflix on July 4. Feeling the adrenaline rush?
Get our hottest stories delivered to your inbox.
Sign up for Scrabbl Newsletters to get personalized updates on top stories and viral hits.