4 Effective Tools for a Perfect B2B Sales Funnel
Smart B2B businesses use sales funnels to attract new customers. If you're looking to see better marketing results in 2018, keep reading…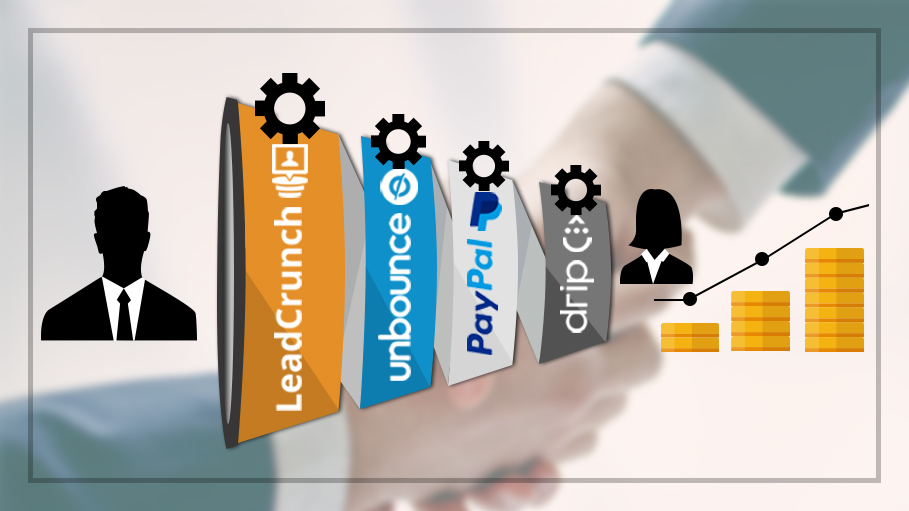 To create a successful B2B sales funnel, you need to gain a deep understanding of the customer journey. The insight of this nature will lead directly to more sales and overall revenue. However, it's not easy to uncover the exact right process.
Selling products and services to other businesses is a strong business model for those who know how to add value. Thankfully, the key to a good sales funnel is empathy.
If you can empathize with your leads, they will feel connected to you throughout the journey. However, that's not always easy, especially in a digital environment. To get a full understanding of the process, let's start by breaking it down into stages.
Stages of the B2B Sales Funnel:
Attract New Leads. Appeal to customers and drive traffic to your website with an effective content marketing strategy.
Lead Nurturing. Provide high-value information in exchange for their email or phone. Then use it to start building a relationship.
Close. The customer has made a purchase, completed the initial sales cycle, and moves into the account management department.
Delight Customers. Aim to turn first-time customers into repeat business. This leads to an increase in top-line revenue, positive reviews, and referrals.
B2B sales funnels are complex. There isn't one solution for all companies. You've got to analyze your data and come to your own conclusions, but that requires the right tools.
In today's article, we're going to outline 4 key tools for building your own strategic B2B sales funnel (one tool for each stage). The above stages are a framework for all companies, but you'll devise the detail the specifics according to your own strategy.
STAGE #1: Use LeadCrunch to Create 'Smart Personas'
Lead generation and connecting with customers is one of the most important parts of your overall sales strategy. After all, you cannot make sales if no-one is willing to buy.
You need to figure out who your best buyer persona is and where to market your business in order to tailor your marketing perfectly. A great content strategy is essential to attract clients. Research into the market and your potential customers will help you create the content that will appeal directly to them.
LeadCrunch uses a sophisticated algorithm and AI technology to create 'smart personas' of your ideal clients and run intelligent campaigns. These campaigns help find and nurture precision leads and convert them into sales.
With tools like LeadCrunch, lead generation can be much less time-consuming for your business. It enables you to analyze your data efficiently and use technology to effectively target quality leads and improve conversion rates.
STAGE #2: Build Landing Pages & Capture Leads With Unbounce
Once you have attracted the right customers, the next stage is to nurture the relationship and keep them interested. Unbounce helps you create custom landing pages and add features such as popups and sticky bars. This will help improve your conversion rates.
With Unbounce you can create high-quality landing pages targeting specific keywords to tailor the customer experience for each client. This can improve your Adword ratings and lower cost per click which is good for your marketing budget.
Keeping people engaged and providing a good customer experience will help to increase conversion rates. With features like popups or sticky bars, you can target leads with customized offers. Or give them the opportunity to subscribe to your mailing list. Popups can go on any page in your website and provide a way to ease your customers into making a purchase. A customized offer triggered at the right time can be very effective.
Having their contact details will help you further nurture the relationship. It enables you to follow up with information or promotions relevant to the customer's interests. Most first-time visitors to a website are not ready to make a purchase straight away. However, a good customer experience and nurturing strategy can improve the likelihood of successfully closing a sale.
STAGE #3: Provide Easy Checkout Options Using Paypal
So you have the leads and have nurtured them to the point they are ready to buy. The next stage is to close the sale. Here the customer experience really comes into play.
The checkout process is the key. It needs to be efficient, trustworthy and simple. Customers will abandon a purchase if the process takes too long, there are hidden costs, or there are issues with the payment options or procedure. According to Cox BLUE, "More than 80% of consumers feel safer seeing logos of trustworthy payment options on a site."
Paypal is one of the easiest ways to send and receive payments online. It is widely recognized and available in more than 200 markets around the world. This versatile digital payment platform works well on both mobile and desktop devices. It provides a trusted way for people to purchase your businesses goods or services.
STAGE #4: Nurture Leads and Recurring Customers With Drip
A study by SumAll showed that returned customers can account for 25-40% of a stable businesses revenue. Loyal customers are valuable and will help your business get through slow times.
Therefore it is important to not only focus your resources on attracting new customers but to also encourage loyalty in customers that have already made a purchase. A good way to do this is through email campaigns. With Drip you can "Send intelligent campaigns using email, Facebook, and more that adapt to your customers' interests and behavior."
These are 4 tools I've found helpful along my journey. What's working for all you B2B professionals out there?
Get our hottest stories delivered to your inbox.
Sign up for Scrabbl Newsletters to get personalized updates on top stories and viral hits.