Air India Creates History by Making Its Maiden Flight to Israel Via Saudi Arabia Airspace
On Thursday, Air India flight 139 arrived at Tel Aviv via Saudi Arabia airspace making history. Here are the details.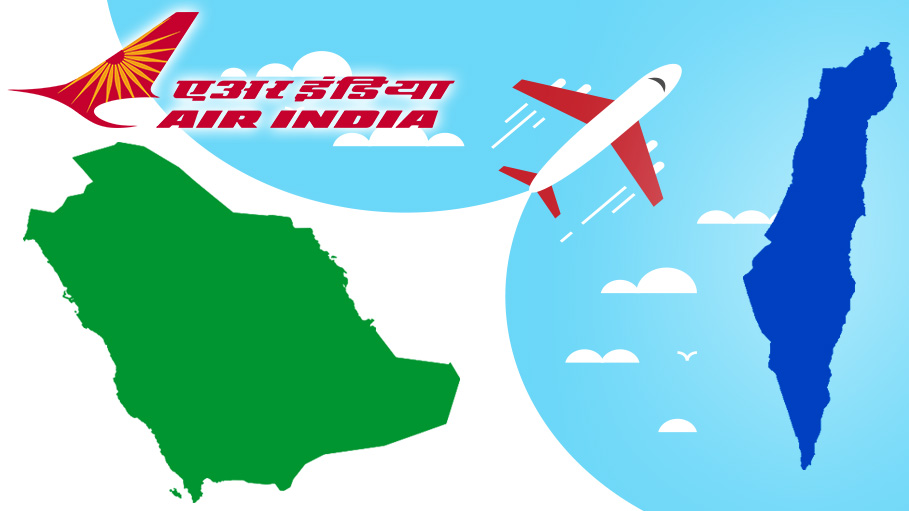 On Thursday, Air India flight 139 arrived at Tel Aviv via Saudi Arabia airspace making history. Here are the details.
Flight AI 139 took its maiden journey and landed at Tel Aviv's Ben Gurion airport at 2215 (Israeli time). It flew over Oman, Saudi Arabia and Jordan to reach Israel. By Saudi Arabia opening up its airspace to Air India, it has enabled the airlines to take a shorter route. It will cover the distance in 7.15 hour which is 2 hours less than the time taken by El Al (Israel's national carrier), which is the only other airline that flies between the two countries.
El Al takes the longer route over Red sea, the Gulf of Aden, while avoiding countries such as Saudi Arabia, UAE, Iran, Afghanistan and Pakistan. In fact, many Islamic and Arabic nations do not recognize Israel and prevent other airlines from using their airspace to enter into Israel.
Indian Ambassador to Israel Pavan Kapoor stated that a lot of efforts for the past two years had gone into yielding this result. The initiative was made possible by the strong support and vision of the prime ministers belonging to the two countries. He also stated that the initiative will strengthen the bond between the two countries in various spheres.
In addition, Air India Chairman and Managing Director (CMD) Pradeep Kharola stated that- Air India has acquired the shortest route to Israel and the initiative will bring the people of the two countries closer. Kharola and Israel Ministry of tourism Director Hassan Madah cut a cake to celebrate the maiden flight.
Israeli tourism minister Yariv Levin said "This is really a historical moment...We are in a new era. I am sure that we will see many more Indian tourists coming to Israel...and Israelis would also come to India in much higher numbers."
He also stated "We have to very cautious. This is really a first step -- a very important one... I hope with times we have more and more normal relation with our neighbour in this region....India played a very important bridge (by introducing this flight over Saudi airspace) not only between India and us but also between Israel and other countries in this region."
The flight will operate every Tuesday, Thursday and Sunday. The scheduled departure will be 4:50 IST from March 25, once the summer operations begin. The authorities would be operating the 256 seater Boeing 787 Dreamliner on this route.
Get our hottest stories delivered to your inbox.
Sign up for Scrabbl Newsletters to get personalized updates on top stories and viral hits.