Air Niugini Plane Overshoots Runway
Images of the airplane show it partially submerged in water. There were 35 passengers and 12 crew onboard albeit none of the passengers were injured.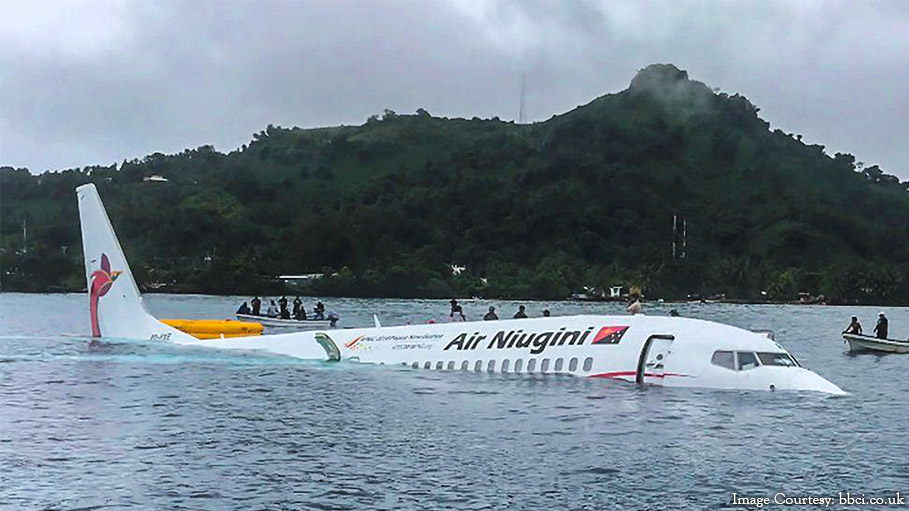 The passenger aircraft missed the Chukk international runway and lands on the lagoon with more than 35 people onboard. Details below.
The Air Niugini plane was flying from the island of Pohnpei in Micronesia to Port Moresby, the capital of Papua New Guinea, making a stop at Micronesia's Weno Island. The plane, however, overshot the runway and came down in a lagoon off Chuuk International airport on Friday morning. The lagoon is just 160 yards from the runway. Images of the airplane show it partially submerged in water. There were 35 passengers and 12 crew onboard. A hospital official told Reuters that 4 passengers were in a serious condition after the crash.
Striking online visuals show people being rescued in boats from the partially submerged plane. Chukk airport manager Jimmy Emilio said those onboard Boeing 737-800 aircraft were taken to the hospital as he believes some of them may have minor injuries. As of now, the cause of the crash is unknown however investigations will resume soon. Micronesia is located in the north of Australia and east of the Philippines and is home to just around 100,000 people. This region is also home to several islands.
The Air Niugini plane landing in the lagoon is a reminder of the iconic US Airways Flight 1549 incident that landed on the Hudson River. The fight that had taken off on January 15, 2009, from LaGuardia Airport in New York was scheduled to land in Charlotte, North Carolina. The skilled pilot of flight 1549 was Chesley Sullenberger who possessed nearly 40 years of flying experience and around 20,000 flying hours. Giving him company was co-pilot Jeff Skiles who had just completed his training in an Airbus A320.
When flight 1549 was at an altitude of about 3,000 feet it encountered a flock of Canadian geese. This flock of birds was sucked into both the engines which ultimately resulted in engine failure of the plane. With engines not working and the plane flying at a dangerously low altitude, the Pilot had no option but to glide the plane towards the Hudson River. Miraculously everyone on board survived and the Pilot was hailed a hero for his highly skilled performance.
Get our hottest stories delivered to your inbox.
Sign up for Scrabbl Newsletters to get personalized updates on top stories and viral hits.