Amazon CEO and World's Richest Person Jeff Bezos Reveals Three Secrets to Being Productive
What are the secrets to Jeff Bezos' productivity? What led him to found the world's biggest E-commerce platform, Amazon? Scroll down to know.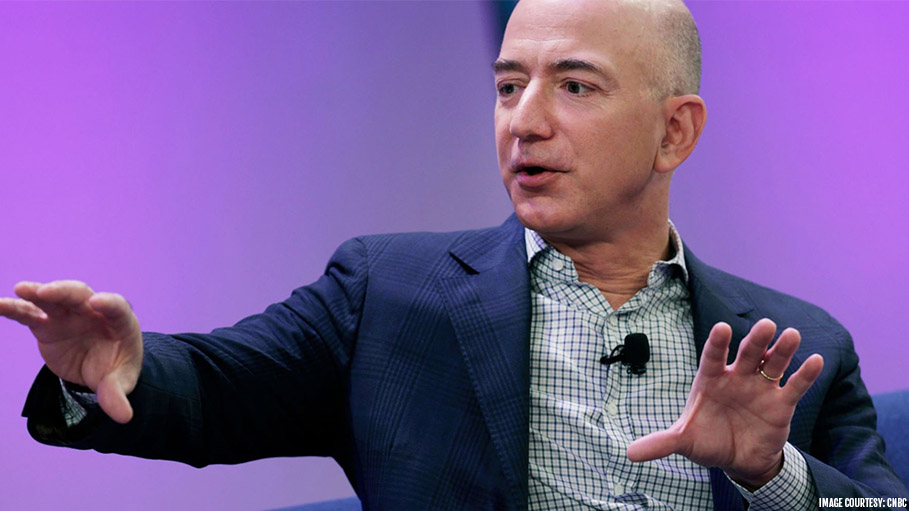 At an event held by the Economic Club of Washington D.C. CEO of Amazon and the owner of the Washington Post, Jeff Bezos revealed three interesting strategies to managing his time. Read on.
In addition to owning the online retail giant Amazon, Jeff Bezos also owns the 'Washington Post' and an aerospace company called 'Blue Origin'. According to the New York Times, the CEO of Amazon has $90.6 billion to his name and he became the world's richest person on July 27, 2017, beating Microsoft founder Bill Gates. Besides being a successful Entrepreneur, let's not forget that the great businessman is an active philanthropist too. He's founded $2 billion charity to help homeless families and to form a network of preschools in low-income areas. One would assume that this businessman would be working round the clock to have established such a massive internet retailer. So, what's his secret to being a successful businessman? Let's read.
Plenty of sleep- Bezos makes sure that he gets plenty of sleep. "I think better, I have more energy, my mood's better," he said. He gets to bed early and makes sure that he gets eight hours of sleep. He wakes up every morning naturally without using an alarm. It might not be possible to attain eight hours of sleep every time, keeping in mind his travel schedules. That said, on most occasions, he makes it his prime goal and urges others to do so. Getting eight hours of sleep helps him to make some high-quality decisions for his company.
Scheduling meetings after 10 a.m. -The Entrepreneur makes sure he has a lazy morning. He likes to putter and laze around reading the newspaper, drinking a cup of coffee and then eating breakfast with his children and his novelist wife MacKenzie. It's not that he's just lazing around but this is the Tech Mogul's way of gearing up for the day. It's the calm before the storm. The Philanthropist reveals that he's most productive at 10 a.m. in the morning. All the high "IQ" meetings are scheduled at 10 a.m. which might last to around lunchtime.
Making small number but high-quality decisions- Bezos makes sure that he makes a small number of high-quality decisions a day. "If I have three good decisions a day, that's enough," he said. "They should just be as high quality as I can make them." This doesn't mean he makes decisions slowly but he ensures it is of high quality even though it may be small in number.
Jeff Bezos who was born in Albuquerque in New Mexico first started Amazon as an online bookstore in late 1993. He was only 30 when he decided to quit his job as a VP of a Wall Street firm D E Shaw to start his own company. Though his family and friends advised him not to leave his secure job, he still went ahead and followed his heart because he didn't want to regret later that he never tried. He firmly believes in having passions. He says once you find your passion, all your work will not feel like work.
The Princeton graduate started Amazon as an online bookstore in his garage and step by step expanded into other products and services. He originally chose the name 'Cadabra' for his venture which is a short form of 'Abracadabra' however his lawyer rejected the name as he misheard it as 'Cadaver' (a dead human body). He finally chose the name 'Amazon' after the Amazon River in South America and also because it begins with the alphabet 'A'. He accepted an amount of $300,000 from his parents and invested it into his dream company.
Ironically, the first book that was sold in Amazon was shipped from Jeff's own garage. The name of the book was called 'Fluid Concepts and Creative Analogies.' The creator of the world's biggest E-commerce platform wrapped and shipped the book himself back then. What started out as a small venture was transformed into the largest online retailer in the world and has changed the way we shop today. Time and distance are no more constraints for shopaholics.
In March 2003, Bezos was one of the three passengers in a helicopter that crashed in West Texas after the helicopter's tail boom hit a tree. Fortunately, Bezos escaped with only minor injuries. "I knew that if I failed I wouldn't regret that, but I knew the one thing I might regret is not trying", the world's richest person once said.

Get our hottest stories delivered to your inbox.
Sign up for Scrabbl Newsletters to get personalized updates on top stories and viral hits.