Anthrax Terror at Prince Harry and Meghan Markle's Door
The Royal Family has been caught up in an anthrax scare after a racist poison pen letter containing white powder was allegedly posted to Prince Harry and Meghan Markle.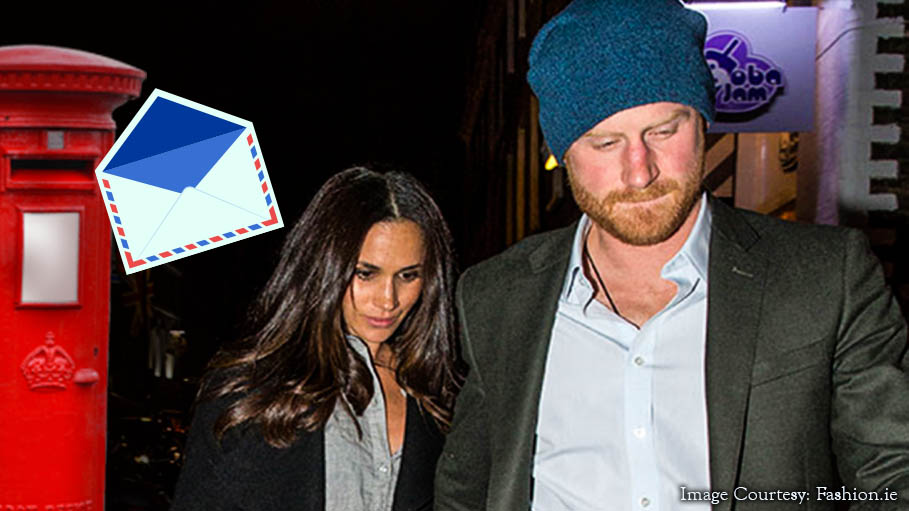 The Royal Family has been caught up in an anthrax scare after a racist poison pen letter containing white powder was allegedly posted to Prince Harry and Meghan Markle. It was addressed at the St James's Palace, where the Duke and Duchess of Cambridge and their children also live.
Police are investigating the suspect package, treating it as a "racist hate crime". The letter was opened by a member of staff and intercepted before it reached the Prince and Meghan Markle, with specialist officers called in to investigate. The couple lives at Kensington Palace and made a trouble-free public appearance in Edinburgh the next day.
Though tests confirmed that the powder was harmless, with the couple informed about what had happened. But the episode has left members of the Royal Household deeply concerned as security has been of paramount concern in the lead-up to the Windsor Castle Royal wedding on May 19th, where the couple are due to take a carriage ride through the streets to allow as many well-wishers as possible to see them, also several public appearances before then.
The Windsor destination is considered easier to police than the Duke and Duchess of Cambridge's London wedding in 2011, which saw them travel between Westminster Abbey and Buckingham Palace. Then, the security arrangements were tight and were observed the "biggest security operation in a generation" with 5,000 police officers, snipers on rooftops and undercover officers mingling with crowds devoted to keeping the day running smoothly.
Ms Markle is understood to already have specialist police protection, ahead of marrying into the Royal family. While she has previously been the subject of racist abuse online, this is the first known physical threat aimed at her and Prince Harry.
Police are now investigating whether there is any link between the incident and a package send to the Houses of Parliament the following day, reported to have been addressed to Amber Rudd, the Home Secretary.
A spokesman for the Met confirmed police are investigating "The substance was tested and confirmed as non suspicious," he said.
Such hate messages directed at Ms Meghan Markle are of significant personal concern to the Prince, who has previously defended his partner against a "wave of abuse and harassment".
The royal family has been the subject of a number of security alerts in recent years. It recently emerged that a terror suspect had encouraged attacks on Prince George at his primary school in messages he sent out.
Louise Chantry, a 40 year old former holistic healer and known as a royal fan, also tried to get into Prince George's school, prompting a review of the young prince's protection. Louise Chantry was later given a caution, that further movement such as this will invite any further action.
Anthrax is the name of the potentially deadly disease caused by the spores of bacteria Bacillus anthracis. It can easily survive in different climates, therefore Anthrax spores have been utilized as weapon by five countries of the world namely, US, Russia, Iraq, Britain and Japan.
Just by touching, inhaling or swallowing spores one can contract the affect of anthrax, which can lie dormant in water and soil for years,. It is most deadly, however, when the spores are inhaled, which is why authorities take the threat of a letter containing the disease very seriously.
About 80 per cent of people who inhale the spores will die, in some cases even with immediate medical intervention. Use as a biological weapon
Anthrax's first documented use as a weapon of warfare was by the Japanese in the 1930s, where thousands of prisoners of war were intentionally infected and died.
British trials of the disease on Gruinard Island in Scotland in 1942 severely contaminated the land for half a century, making it a no-go area until 1990.
The disease is particularly dangerous as its spores can be cultivated with minimal scientific training and special equipment.
Letters containing the deadly spores was mailed to several news outlets and the offices of two politicians in America, in what came to be known as the 2001 Anthrax attacks. As a result, 22 were infected and five people died after just a few grams that used across all the letters.
What are the symptoms of Anthrax?
Once inside the body they become active and start producing toxins, which cause the disease and manifest and spread. Symptoms of the presence of anthrax in the body can be like blisters, shortness of breath or diarrhea, depending on how the bacteria enter the body. Infection generally occurs 1 to 7 days after exposure but occasionally, if inhaled, cases may present 2 to 3 months later.
The vast majority of cases are caused by skin contact. This is the least deadly form of the disease, with 75 per cent of patients surviving without treatment. Animals like sheep, cattle and goats are easily and naturally infected by Anthrax, that are infected through ingestion of soil contaminated by B. anthracis spores.
No arrests have yet been made and still it is understood that there are no plans to change any of the details of the wedding in response to the latest security alert.
Miss Markle will become an official member of the Royal Family following her wedding but she has already been given round the clock protection.
She will also have received a number of briefings on security and how she should react in a threatening situation.
Get our hottest stories delivered to your inbox.
Sign up for Scrabbl Newsletters to get personalized updates on top stories and viral hits.