Artificial Intelligence and Machine Learning Implementation - a Business Necessity – PepsiCo Proves
The exponentially growing enterprises are embracing Artificial Intelligence and Machine Learning not to gain an advantage over competitors in their territory, rather to fulfill increasing business demand.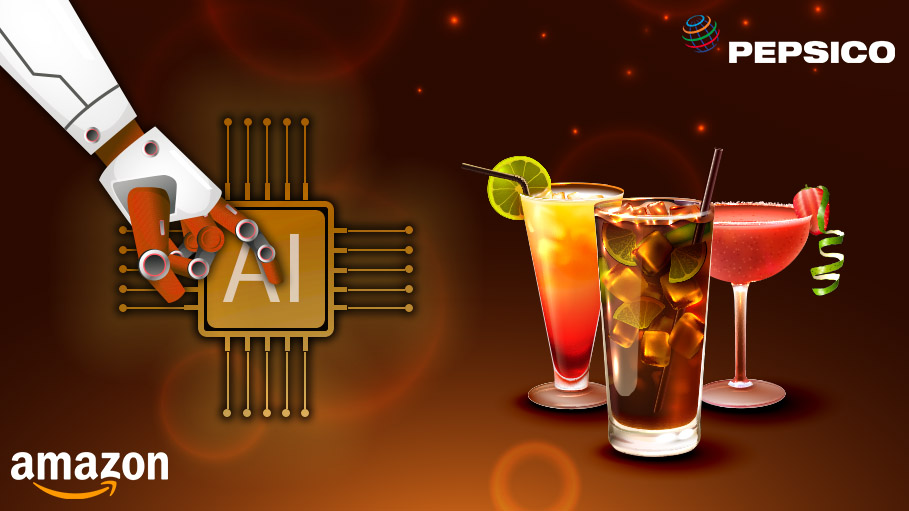 Organizations which have withstood the trials of time, are embracing technology for business expansion and sustenance. They rely on the analysis of their business data to gain detailed insight, ramp up top-line revenue, respond appropriately to market demand and beat the competition. With the evolution of artificial intelligence and machine learning, many of the matured organizations are seen evaluating these exponential technologies in order to gain a competitive edge. However, PepsiCo decided to tread the unique path which led to its massive success. The Food and Beverage Leader went ahead to prove AI/ML implementation as nothing less than a business necessity.

Pepsico, the company behind renowned brands such as Pepsi, Lipton, Tropicana, Gatorade, Quaker, Frito-Lay have a sales presence in 200+ countries and reported 64.7 billion USD in annual revenue. From big data to fast data, robots to machine intelligence, you name it, Pepsico uses all of the AI smart suite throughout the organization in most effective ways possible to extract maximum business mileage.

Robot for Snack Delivery

If you happen to visit the University of the Pacific at Stockton, California, you would be amazed at the mobile vending machine robots launched by Pepsico to provide quick refreshment to the students. The robots supply snacks and beverages from PepsiCo's 'better-for-you' portfolio Hello Goodness, a healthy offering that includes Smartfood Delight, Baked Lay's, SunChips, Pure Leaf Iced Tea, LIFEWTR, Starbucks Cold Brew and bubbly sparkling water. These self-driving robots, christened Snackbot, are built in partnership between Bay Area based Robby Technologies and PepsiCo.

Students can order their snacks via the Snackbot app from 9 a.m. to 5 p.m. The purchased snacks can be sent to more than 50 designated areas across the 175-acre campus without charging delivery fees, according to PepsiCo. The robots have a range of more than 20 miles on a single battery charge. They are equipped with camera and headlights to enable them to see and navigate in complete darkness or rain, as well as all-wheel-drive capabilities to handle curbs and steep hills.

According to PepsiCo's research, the time-strapped university students look for healthier options of food and beverages. Snackbot seems to best represent the solution that not only addresses their needs, but also their preferences and convenience.

Machine Learning for Production Enhancement

Pepsico has been highly instrumental in the adoption and deployment of Machine Learning at Frito-Lay, one of its subsidiaries. The brain behind proving this real-world usefulness of ML is that of Shameer Mirza, senior research and development engineer at PepsiCo. One of his first projects at the company involved building systems that could sense the texture of chips without destroying them for which he was capturing acoustic data and manually processing it. It's a system that hits the chips with lasers, listens to the sound coming on the rebound, and then uses that data to correlate the sound into texture.

Mirza realized this system could provide an automated quality check for the company's chips processing systems. Coding for this project to automate the processing of sensor data led Mirza to further realize the potential impact of programming to handle the large amounts of data collected in industrial applications. He concluded that he could combine the principles of machine learning with computer vision technology to develop more advanced sensors and process control schemes. Through coding large scale, data analysis could be done easily.

The benefits led Mirza to think several more machine learning applications could impact process control within the factory. Next, Mirza developed a machine learning model which could be used in conjunction with a vision system that captured the images of potatoes in order to predict the weight of potatoes being processed. This led to substantial savings for the company because it no longer needed to spend 300,000 USD per line (they had 35 such lines in the U.S. alone) for weighing elements. This machine learning model enabled a mass flow estimation of the potatoes moving through the processing system solely using the visual information captured by the cameras to provide additional data points at no additional cost.

Another project headed by Mirza, under development, is meant for assessing the "percent peel" of a potato after it had gone through the peeling process. Mirza has written an algorithm to find out how a peeled potato is as compared to how unpeeled it is after going through the abrasive peeling process. Analysis and comprehension of this data, can help the Frito-Lay team to optimize the potato peeling process. This project alone is estimated to save the company more than a million USD per year just in the United States.

Pepsico believes in the power of data and wants to draw maximum benefit from its enterprise data-mine built over the years in business. Having organized an introductory course last autumn in the United States and looking at the advantages yielded, PepsiCo is launching a global training course on advanced machine learning and computer vision this year. The sessions are optimized for its internal research and development associates to broaden its team's abilities to use these exponential technologies to continue unravelling insights that will drive efficiencies in its manufacturing facilities.

Robot Vera for Fast-Paced Talent Acquisition

Since last year April, Pepsico is using Artificial Intelligence software named Robot Vera to phone and interview candidates as it seeks to fill vacancies for factory, sales workers and drivers in Russia. Vera was developed by the Russian start-up firm Stafory to conduct telephonic interviews with job seekers, and answer their queries about advertised jobs. The robot recruiter has the capability to interview fifteen hundred (1500) job candidates in nine (9) hours, a task that would take human recruiters nine weeks or more.

Vera is powered by advanced speech recognition software and tools from technology leaders Amazon, Google, Microsoft and Russian firm Yandex. The robot makes calls and screens potential candidates to fill up vacancies in blue-collar job areas, freeing up PepsiCo's recruitment team for other value-added work that demands cognitive abilities. Vera greets candidates with the message "Hello, I am Vera, I am a robot. I work with PepsiCo. Are you looking for a job now?"

Vera has been trained by programmers with self-learning software known as a neural network, with 13 billion words extracted from Wikipedia, television series, the text of 10,000 vacancies, and interview questions. The artificial intelligence software in Vera can scan CVs to determine if a potential candidate has the right qualification, skill and experience for the position, can respond to yes and no answers, ask follow-up questions to determine the suitability of the candidate and send out follow-up correspondence. It also forwards transcripts of a call to a human HR specialist for review and further action. So far, the feedback from the majority of candidates when interacting with the robot has been positive though there was a bit more hesitation from human hiring professionals to reprogram their minds to embrace technology.

PepsiCo concluded the success rate from cold calls made by Vera matches the success rate by human recruiters, but Vera can complete the work in less than one-fifth of the time. Isn't that a fantastic achievement?

In-House Technology Platform Ada for Augmented Intelligence

PepsiCo is leveraging the power of "augmented intelligence" as it seeks to generate powerful consumer and strategic insights. A key driver of the food and beverage leader's efforts in this area is Ada, an in-house platform that launched last year, and was created in partnership with Zappi, a firm that specialises in automated marketing research. The definition of Ada as providing "augmented intelligence", not artificial intelligence, took shape because it draws on the best of human insights and algorithms, rather than depending on the latter.

PepsiCo expects this philosophy will lead to high-pace learning. Ada can pull together data from a variety of sources to allow PepsiCo to better delve into the massive amounts of data it collects. The ultimate plan is to integrate Ada into all aspects of operations including innovation, design, research and price decisions. A few other key areas that PepsiCo will put data to use is in product development, sales and marketing. The company has used social prediction tools that aggregate publicly available customer feedback in combination with its own enterprise data to identify consumer demand and bring new products to market. This represents a transition in the company's way of work to create insights from the data it owns and focus it on actionable activities. As more and more data get layered, PepsiCo is able to identify trends and marketing placements as well as unleash deeper analytics around what actually makes initiatives successful.

Big Data and Analytics Platform Pep Worx for Retail Partners

Pep Worx, PepsiCo's proprietary big data and analytics platform developed in-house, enables the company and its retail partners as well as valuable shoppers by location to help smarter decisions on PepsiCo product assortments and merchandising. The platform provides insights for inventory selection, product placement and promotional strategies. It helps the company advise retail stores on the best items to stock, where to place them and what promotions to use.

At the time of launching Quaker Overnight Oats, Pepsico was able to identify 24 million households from a dataset of 110 million US households that it felt would be appropriate to market the product to. Then, PepsiCo identified the shopping venues that these consumers would be more inclined to use and created promotions to captivate the interest of the audience. Pep Worx made smart use of data for Pepsico and focusing on a very specific market helped drive 80 percent of the product's sales growth in the first 12 months after launch.

PepsiCo's strong faith in the power of Artificial Intelligence, Machine Learning, Big Data and Analytics as well as its right action at the appropriate time, has made the company, the reigning leader in food, snack and beverage industry.

Get our hottest stories delivered to your inbox.
Sign up for Scrabbl Newsletters to get personalized updates on top stories and viral hits.