Bek Air Plane Crashes into Building; over 15 Dead and Several Injured
Kazakhstan's Civil Aviation Committee said that while the plane was heading towards the capital Nur-Sultan, it "lost altitude during takeoff and broke through a concrete fence."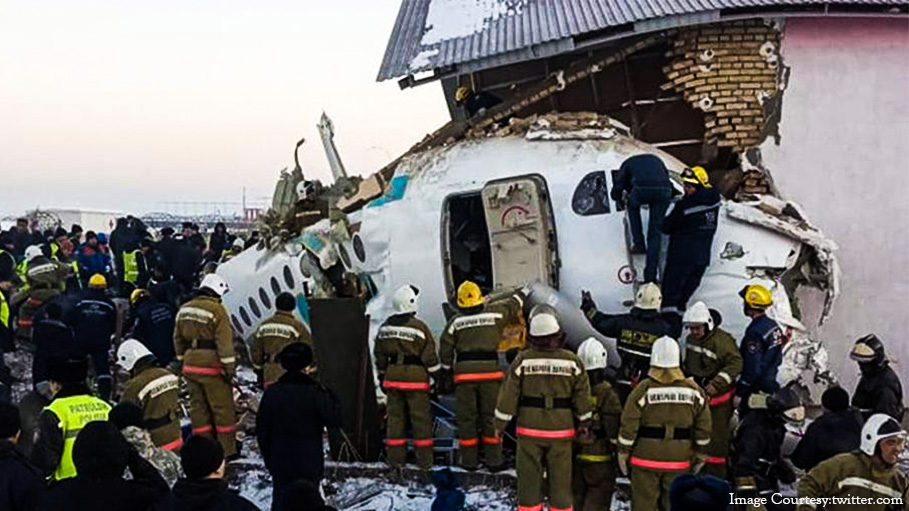 A Bek Air Plane carrying 95 passengers and 5 crew members crashed near the city of Almaty in Kazakhstan on Friday. 15 members are feared to be dead. Around 22 people are said to be in a serious condition according to the Almaty mayor's office.
Kazakhstan's Civil Aviation Committee said that while the plane was heading towards the capital Nur-Sultan, it "lost altitude during takeoff and broke through a concrete fence." It finally hit a two-storied building. The plane had taken off before dawn.
Twitter
Thick fog was said to be in the area according to a Reuters' reporter who was heading to the airport after the crash occurred. A survivor told News website Tengrinews that she heard a "terrifying sound" before the flight starting losing altitude.
"The plane was flying with a tilt. Everything was like in a movie: screaming, shouting, people crying," she said.
Air plane with 100 onboard crashes near Kazakhstan Airport. The woman in the video is heard saying that there are a lot of "dead bodies" and a lot of
people that are screaming for help while no help is arriving #Kazakhstan #Planecrash #Montysaiyed

pic.twitter.com/D7WMfueKjB

— The Desi Times (@TheDesiTimes) December 27, 2019
The crash site just beyond the runway in Almerek village has been cordoned off. Photos circulation online show that the plane had split into two parts.
Over 15 have been killed in a plane crash in #Kazakhstan. At least 100 people were on board the #BekAir flight. #planecrash pic.twitter.com/l9HZSNV9kk

— Annu Kaushik (@AnnuKaushik253) December 27, 2019
Kazakh carrier operates a fleet of Fokker 100 jets and flights of this kind have been suspended till the investigation is completed. The authorities from this air carrier could not be reached for comment.
The cause of the accident is unknown as of now. Rescue operations are underway.
Get our hottest stories delivered to your inbox.
Sign up for Scrabbl Newsletters to get personalized updates on top stories and viral hits.